Essay Writing
Extended Essays
IB Internal Assessment
Theory of Knowledge
Literature Review
Dissertations
Research Writing
Assignment Help
Capstone Projects
College Application
Online Class
Get Assignment Help
0 comments
11 Types of Assignments You'll Write In College in 2022
This is the complete list of the types of assignments that you will come across in high school, college, and university this year and beyond.
Types of Assignments: The Complete List for High School and College Students
The following is the complete list of the types of assignments that you will do in school. Whether you're in high school, college, or university, this list is worth checking.
1. Essay Assignments
Essay assignments give students a chance to express and back up their thought with explanations, statements, facts, and analysis.
Although an essay can have as many paragraphs to express various ideas, the basic format is the 5-paragraph structure, which already includes the introduction, body, and conclusion.
Other than the structure, it's also important to know about the types of essays . These include argumentative, persuasive, analytic, and expository essays.
An analytic essay will disintegrate issues into solutions. An expository essay provides explanations to things. Then an argumentative essay attests topics to give proof.
2. Memo Assignments
Memos are assignments that require students to provide short reports such as a monthly sales report. Memorandum assignments are good because they help cultivate conciseness in students.
That's so because a memo should be short and precise providing only what is important to the reader.
In addition, memos can either request or share important information, and is therefore important to keep it clear.
3. Presentation Skills Assignments
Your instructor may ask you, as an individual or in a group, to go in front of the class and present certain ideas. They do this to see how well students can be at representing ideas to a crowd.
Adequate preparation is the key when it comes to creating presentations. At the end of the day, the last thing you ever want to do is to get nervous in front of other students.
More importantly, presenting ideas as a group is good because it helps you to cultivate collaborative skills.
4. Flowchart Assignments
Flowcharts represent processes or workflow of events using boxes connected together with arrow. Students will use flowcharts to show step-by-step procedures to solve given tasks.
For example, they can use flowcharts to represent service or administrative processes, manufacturing processes, or project plans.
5. Project Report Assignments
Project report assignments are to be written in future tense if the goals intended are yet to be met and in past tense where the intended goal has been achieved.
This assignment provides stakeholders with a brief preview of the projects at hand and clues whether a given project will be a success or will need improvement to meet the set goal. Students should also draft their reports with factual details.
A report should have the following arrangement:
Acknowledgements
Table of content
Introduction
The body should not feature any subtitles. The conclusion, on the other hand, should feature recommendations, references, and appendices.
The aim of having project reports is to ensure students are capable of organizing both their works and goals.
6. Reflective Journal Assignments
A reflective journal is one of the types of assignments that require students to write what they understand according to what they think.
Most students who find reflective assignments hard to do can always request academic writing help from the experts in their areas of study.
7. Research Paper Assignments
With research paper assignments, students are supposed to choose topics they can explore as they come up with explanations to support their investigation.
In this assignment, students are to survey their research to understand the study that they carry out. A good research paper will feature findings that check and marge with the hypothesis .
A good example of a research paper assignment that your teacher may ask you to write is a theology paper .
8. Case study Assignments
The goal of the case study assignment is to find out whether or not students can investigate situations.
The assignment will suggest scenarios to students for a given study and provide secondary or subordinate questions. It is the work of the student to treat the scenario as real. That way, they can get the right answers for the given case study within the shortest time possible.
A case study response should be authentic, reasonable, and based on facts. In a case study assignment, students are at liberty of having politicians, the public, and professionals as their audiences.
When it comes to writing, you have to avoid the use of a massive block of words instead but make the findings should be precise and direct to the point.
8. Wiki Assignments
Wiki assignments involve putting together information modified to about any imaginary audience. Wikis let students share their ideas and provide supportive pieces of evidence to illustrate amalgamation of understanding.
Wiki is another way of telling students the importance of collaborating with fellow students, as it allows them to come up with their own posts on given studies.
Students are at liberty of creating a list, writing research questions, or starting discussions. They are also able to comment and edit any document shared. Or they can collaborate and come up with a single well-researched and detailed post.
This is one of the simplest assignments you will ever come across in school. You can get wiki free and inexpensive wikis on websites like Wikispaces, PBwiki and Wetpaint.
Lastly, a wiki is among the tools used in colleges to help students get to an immense diversification of instructional targets.
9. Literature Review Assignments
A literature review assignment is an important pedagogical tool for students in college. Depending on the given scenario or topic, students have to validate answers by studying given literatures.
Students are supposed to use the official language and maintain high levels of literature as they prepare literature reviews.
While writing this assignment, you are encouraged to have an introduction, body, and conclusion. The introduction grabs the attention of the reader, the body explains the main idea and the conclusion tells the reader the overall summary of your study.
Apart from providing similarities and differences after evaluating more than one source, you are still supposed to give their conclusive judgments.
10. Personal Narrative Assignments
Most lecturers allocate 5% to 10% of their overall grade to personal narrative assignments.
Personal narrative essays are two pages long, which means students should always provide brief answers to the topic.
Most lecturers use this assignment to get to know their students as the semester kicks off.
11. Annotated Bibliography Assignments
Annotated Bibliography is a type of college assignment that requires students to gather related findings relevant to the topic under investigation arranged alphabetically.
Annotated bibliography assignment also requires students to use the official language and be as objective as possible.
A good annotated bibliography should have a summary of the assignment in the first section. The assignment checks whether students are collect and recognize literature relating to given topics.
You may also like
How much does it cost for a 3 page position paper, how to write a term paper assignment fast, personal statement format: a student's guide with examples, 10 tips for writing a personal statement for university applications, personal statement vs statement of purpose: how they compare, book review vs book report: here's how they compare.
Search entire site
Search for a course
Browse study areas
Analytics and Data Science
Data Science and Innovation
Postgraduate Research Courses
Business Research Programs
Undergraduate Business Programs
Entrepreneurship
MBA Programs
Postgraduate Business Programs
Communication
Animation Production
Business Consulting and Technology Implementation
Digital and Social Media
Journalism and Sports Media
Media Arts and Production
Media Business
Media Practice and Industry
Music and Sound Design
Social and Political Sciences
Strategic Communication
Writing and Publishing
Postgraduate Communication Research Degrees
Design, Architecture and Building
Architecture
Built Environment
DAB Research
Design Innovation
Public Policy and Governance
Secondary Education
Education (Learning and Leadership)
Learning Design
Postgraduate Education Research Degrees
Engineering
Civil and Environmental
Computer Systems and Software
Engineering Management
Mechanical and Mechatronic
Systems and Operations
Telecommunications
Postgraduate Engineering courses
Undergraduate Engineering courses
Sport and Exercise
Child and Family Health
Health (Postgraduate)
Health Services Management
Nursing (Postgraduate)
Nursing (Undergraduate)
Palliative Care
Public Health
Research and Honours
Women's and Children's Health
Health (GEM)
Coursework Degrees
Clinical Psychology
Genetic Counselling
Good Manufacturing Practice
Physiotherapy
Speech Pathology
Research Degrees
Information Technology
Business Analysis and Information Systems
Computer Science, Data Analytics/Mining
Games, Graphics and Multimedia
IT Management and Leadership
Networking and Security
Software Development and Programming
Systems Design and Analysis
Web and Cloud Computing
Postgraduate IT courses
Postgraduate IT online courses
Undergraduate Information Technology courses
International Studies
Criminology
Postgraduate International Studies Research Degrees
Sustainability and Environment
Practical Legal Training
Commercial and Business Law
Employment Law
Juris Doctor
Legal Studies
Master of Laws
Intellectual Property
Migration Law and Practice
Overseas Qualified Lawyers
Postgraduate Law Programs
Postgraduate Law Research
Undergraduate Law Programs
Life Sciences
Mathematical and Physical Sciences
Postgraduate Science Programs
Science Research Programs
Undergraduate Science Programs
Transdisciplinary Innovation
Creative Intelligence and Innovation
Diploma in Innovation
Transdisciplinary Learning
Postgraduate Research Degree
Types of assignments
This section provides an overview of how to tailor your writing based on the type of assignment you are required to write.
Discover the basic structure of all essays and see what a good essay introduction and conclusion look like.
Learn about the main elements of a good report and see example paragraphs from the key sections of a well written report.
Literature Reviews
See what a good literature review looks like and learn about the essential steps are for writing one.
Annotated Bibliographies
Discover the main features of an annotated bibliography by examining real examples.
Reflective Tasks
Develop the skill of asking appropriate questions that allow you to write reflectively as well as descriptively.
Case Studies
Identify the differences between a case study and other types of reports, and develop the skill of analysing the essential aspects of the case.
Learn how to do a group assessment task by understanding how to interact and communicate with others to achieve a shared goal.
group presentation skills
Learn how to create effective content and deliver your message in a way that engages your audience.
UTS acknowledges the Gadigal people of the Eora Nation, the Boorooberongal people of the Dharug Nation, the Bidiagal people and the Gamaygal people, upon whose ancestral lands our university stands. We would also like to pay respect to the Elders both past and present, acknowledging them as the traditional custodians of knowledge for these lands.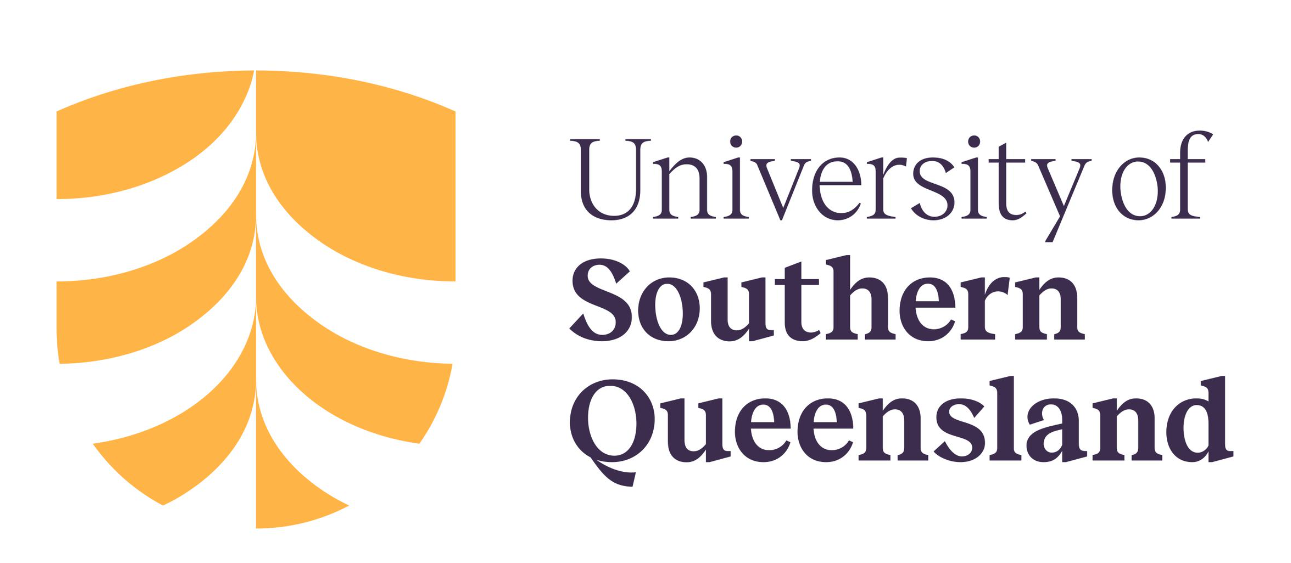 Want to create or adapt books like this? Learn more about how Pressbooks supports open publishing practices.
Types of Assignments
Cristy Bartlett and Kate Derrington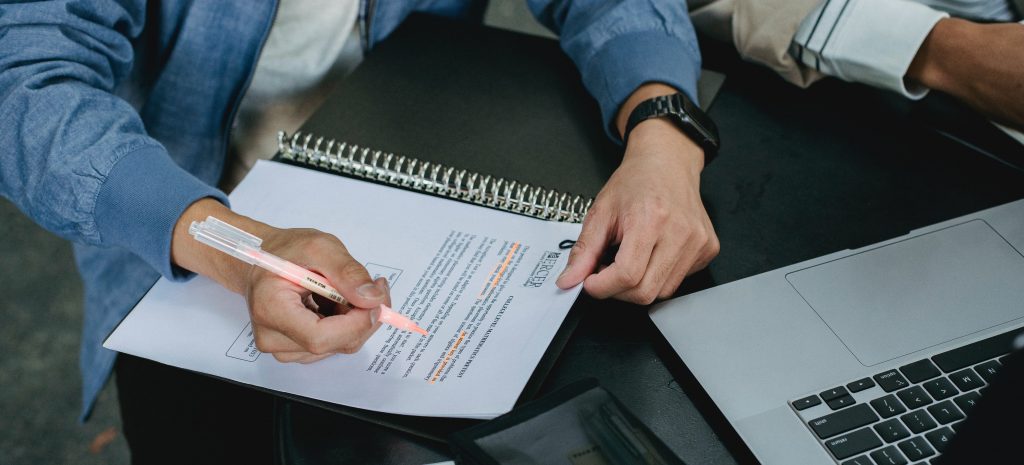 Introduction
As discussed in the previous chapter, assignments are a common method of assessment at university. You may encounter many assignments over your years of study, yet some will look quite different from others. By recognising different types of assignments and understanding the purpose of the task, you can direct your writing skills effectively to meet task requirements. This chapter draws on the skills from the previous chapter, and extends the discussion, showing you where to aim with different types of assignments.
The chapter begins by exploring the popular essay assignment, with its two common categories, analytical and argumentative essays. It then examines assignments requiring case study responses , as often encountered in fields such as health or business. This is followed by a discussion of assignments seeking a report (such as a scientific report) and reflective writing assignments, common in nursing, education and human services. The chapter concludes with an examination of annotated bibliographies and literature reviews. The chapter also has a selection of templates and examples throughout to enhance your understanding and improve the efficacy of  your assignment writing skills.
Different Types of Written Assignments
At university, an essay is a common form of assessment. In the previous chapter Writing Assignments we discussed what was meant by showing academic writing in your assignments. It is important that you consider these aspects of structure, tone and language when writing an essay.
Components of an essay
Essays should use formal but reader friendly language and have a clear and logical structure. They must include research from credible academic sources such as peer reviewed journal articles and textbooks. This research should be referenced throughout your essay to support your ideas (See the chapter Working with Information ).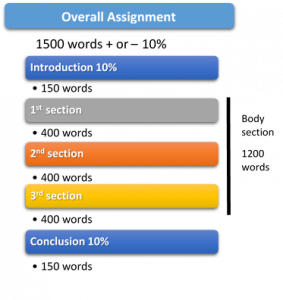 If you have never written an essay before, you may feel unsure about how to start.  Breaking your essay into sections and allocating words accordingly will make this process more manageable and will make planning the overall essay structure much easier.
An essay requires an introduction, body paragraphs and a conclusion.
Generally, an introduction and conclusion are approximately 10% each of the total word count.
The remaining words can then be divided into sections and a paragraph allowed for each area of content you need to cover.
Use your task and criteria sheet to decide what content needs to be in your plan
An effective essay introduction needs to inform your reader by doing four basic things:
Table 18.1 An effective essay
An effective essay body paragraph needs to:
An effective essay conclusion needs to: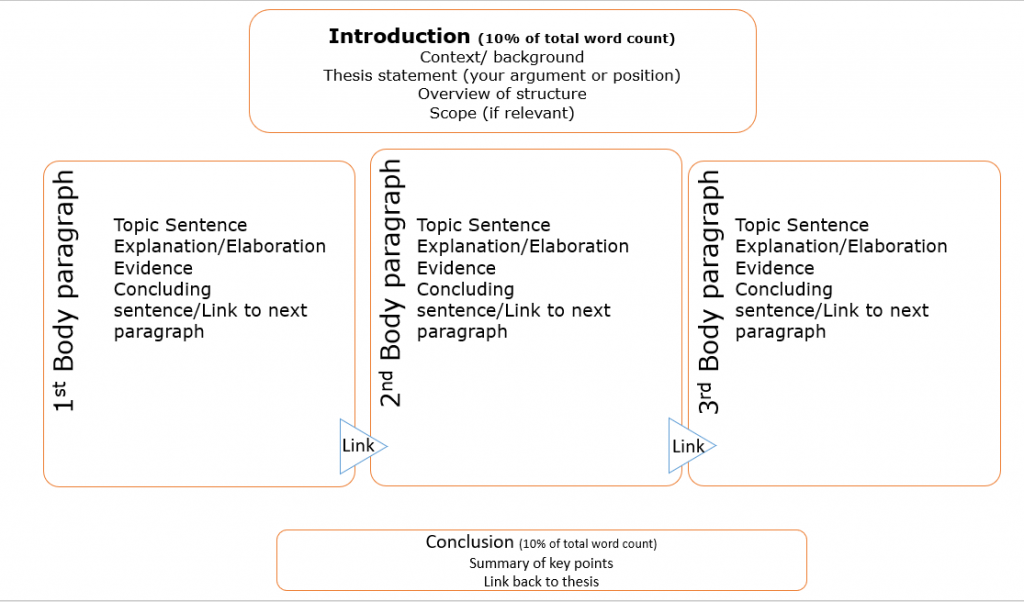 Common types of essays
You may be required to write different types of essays, depending on your study area and topic. Two of the most commonly used essays are analytical and argumentative .  The task analysis process discussed in the previous chapter Writing Assignments will help you determine the type of essay required. For example, if your assignment question uses task words such as analyse, examine, discuss, determine or explore, you would be writing an analytical essay . If your assignment question has task words such as argue, evaluate, justify or assess, you would be writing an argumentative essay . Despite the type of essay, your ability to analyse and think critically is important and common across genres.  
Analytical essays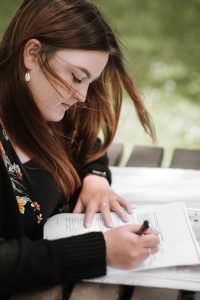 These essays usually provide some background description of the relevant theory, situation, problem, case, image, etcetera that is your topic. Being analytical requires you to look carefully at various components or sections of your topic in a methodical and logical way to create understanding.
The purpose of the analytical essay is to demonstrate your ability to examine the topic thoroughly. This requires you to go deeper than description by considering different sides of the situation, comparing and contrasting a variety of theories and the positives and negatives of the topic. Although in an analytical essay your position on the topic may be clear, it is not necessarily a requirement that you explicitly identify this with a thesis statement, as is the case with an argumentative essay. If you are unsure whether you are required to take a position, and provide a thesis statement, it is best to check with your tutor.
Argumentative essays
These essays require you to take a position on the assignment topic. This is expressed through your thesis statement in your introduction. You must then present and develop your arguments throughout the body of your assignment using logically structured paragraphs. Each of these paragraphs needs a topic sentence that relates to the thesis statement. In an argumentative essay, you must reach a conclusion based on the evidence you have presented.
Case Study Responses
Case studies are a common form of assignment in many study areas and students can underperform in this genre for a number of key reasons.
Students typically lose marks for not:
Relating their answer sufficiently to the case details
Applying critical thinking
Writing with clear structure
Using appropriate or sufficient sources
Using accurate referencing
When structuring your response to a case study, remember to refer to the case. Structure your paragraphs similarly to an essay paragraph structure but include examples and data from the case as additional evidence to support your points (see Figure 18.5 ). The colours in the sample paragraph below show the function of each component.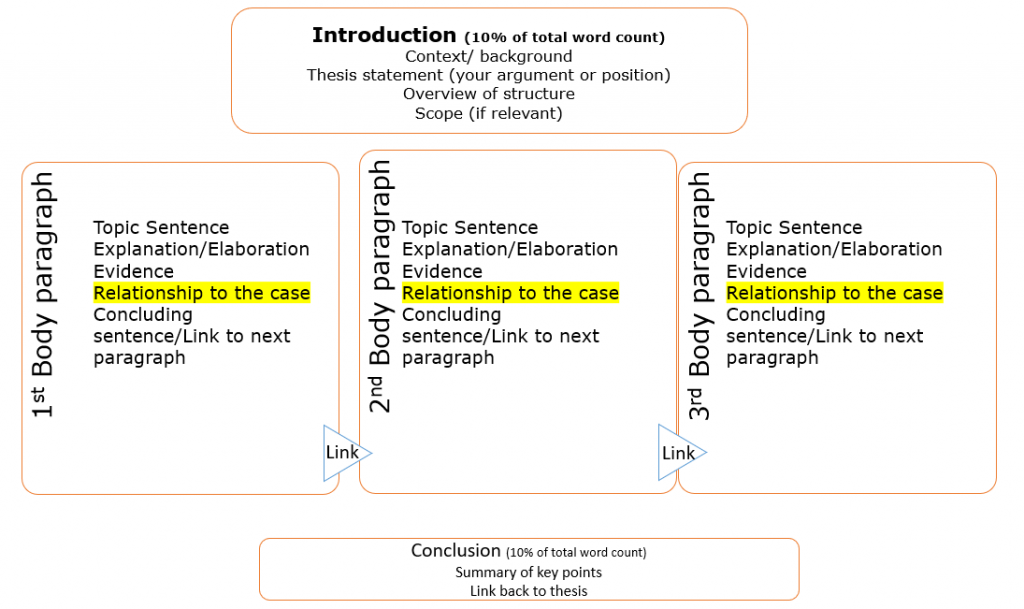 The Nursing and Midwifery Board of Australia (NMBA) Code of Conduct and Nursing Standards (2018) play a crucial role in determining the scope of practice for nurses and midwives. A key component discussed in the code is the provision of person-centred care and the formation of therapeutic relationships between nurses and patients (NMBA, 2018). This ensures patient safety and promotes health and wellbeing (NMBA, 2018). The standards also discuss the importance of partnership and shared decision-making in the delivery of care (NMBA, 2018, 4). Boyd and Dare (2014) argue that good communication skills are vital for building therapeutic relationships and trust between patients and care givers. This will help ensure the patient is treated with dignity and respect and improve their overall hospital experience. In the case, the therapeutic relationship with the client has been compromised in several ways. Firstly, the nurse did not conform adequately to the guidelines for seeking informed consent before performing the examination as outlined in principle 2.3 (NMBA, 2018). Although she explained the procedure, she failed to give the patient appropriate choices regarding her health care. 
Topic sentence | Explanations using paraphrased evidence including in-text references | Critical thinking (asks the so what? question to demonstrate your student voice). | Relating the theory back to the specifics of the case. The case becomes a source of examples as extra evidence to support the points you are making.
Reports are a common form of assessment at university and are also used widely in many professions. It is a common form of writing in business, government, scientific, and technical occupations.
Reports can take many different structures. A report is normally written to present information in a structured manner, which may include explaining laboratory experiments, technical information, or a business case.  Reports may be written for different audiences including clients, your manager, technical staff, or senior leadership within an organisation. The structure of reports can vary, and it is important to consider what format is required. The choice of structure will depend upon professional requirements and the ultimate aims of the report. Consider some of the options in the table below (see Table 18.2 ).
Table 18.2 Explanations of different types of reports
Reflective writing.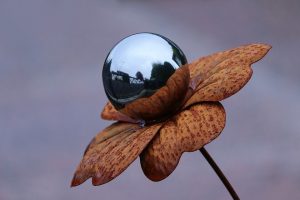 Reflective writing is a popular method of assessment at university. It is used to help you explore feelings, experiences, opinions, events or new information to gain a clearer and deeper understanding of your learning. A reflective writing task requires more than a description or summary.  It requires you to analyse a situation, problem or experience, consider what you may have learnt and evaluate how this may impact your thinking and actions in the future. This requires critical thinking, analysis, and usually the application of good quality research, to demonstrate your understanding or learning from a situation. Essentially, reflective practice is the process of looking back on past experiences and engaging with them in a thoughtful way and drawing conclusions to inform future experiences. The reflection skills you develop at university will be vital in the workplace to assist you to use feedback for growth and continuous improvement. There are numerous models of reflective writing and you should refer to your subject guidelines for your expected format. If there is no specific framework, a simple model to help frame your thinking is What? So what? Now what?   (Rolfe et al., 2001).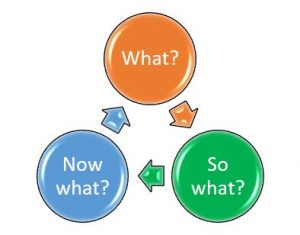 Table 18.3 What? So What? Now What? Explained.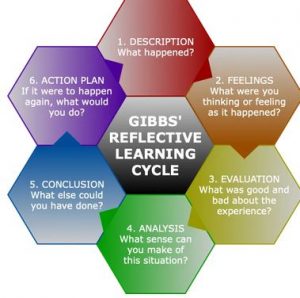 The Gibbs' Reflective Cycle
The Gibbs' Cycle of reflection encourages you to consider your feelings as part of the reflective process. There are six specific steps to work through. Following this model carefully and being clear of the requirements of each stage, will help you focus your thinking and reflect more deeply. This model is popular in Health.
The 4 R's of reflective thinking
This model (Ryan and Ryan, 2013) was designed specifically for university students engaged in experiential learning.  Experiential learning includes any 'real-world' activities including practice led activities, placements and internships.  Experiential learning, and the use of reflective practice to heighten this learning, is common in Creative Arts, Health and Education.
Annotated Bibliography
What is it.
An annotated bibliography is an alphabetical list of appropriate sources (books, journals or websites) on a topic, accompanied by a brief summary, evaluation and sometimes an explanation or reflection on their usefulness or relevance to your topic. Its purpose is to teach you to research carefully, evaluate sources and systematically organise your notes. An annotated bibliography may be one part of a larger assessment item or a stand-alone assessment piece. Check your task guidelines for the number of sources you are required to annotate and the word limit for each entry.
How do I know what to include?
When choosing sources for your annotated bibliography it is important to determine:
The topic you are investigating and if there is a specific question to answer
The type of sources on which you need to focus
Whether they are reputable and of high quality
What do I say?
Important considerations include:
Is the work current?
Is the work relevant to your topic?
Is the author credible/reliable?
Is there any author bias?
The strength and limitations (this may include an evaluation of research methodology).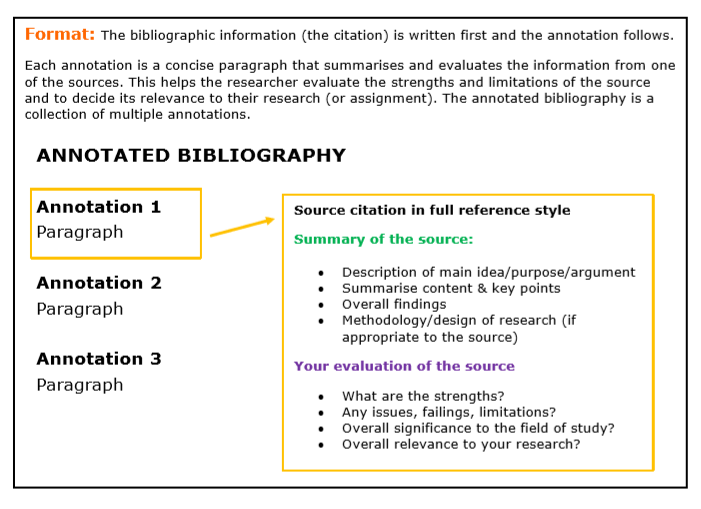 Literature Reviews
It is easy to get confused by the terminology used for literature reviews. Some tasks may be described as a systematic literature review when actually the requirement is simpler; to review the literature on the topic but do it in a systematic way. There is a distinct difference (see Table 15.4 ). As a commencing undergraduate student, it is unlikely you would be expected to complete a systematic literature review as this is a complex and more advanced research task. It is important to check with your lecturer or tutor if you are unsure of the requirements.
Table 18.4 Comparison of Literature Reviews
Generally, you are required to establish the main ideas that have been written on your chosen topic. You may also be expected to identify gaps in the research. A literature review does not summarise and evaluate each resource you find (this is what you would do in an annotated bibliography). You are expected to analyse and synthesise or organise common ideas from multiple texts into key themes which are relevant to your topic (see Figure 18.10 ). Use a table or a spreadsheet, if you know how, to organise the information you find. Record the full reference details of the sources as this will save you time later when compiling your reference list (see Table 18.5 ).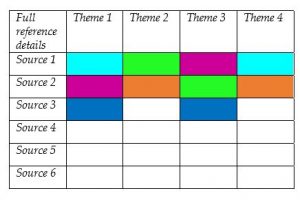 Overall, this chapter has provided an introduction to the types of assignments you can expect to complete at university, as well as outlined some tips and strategies with examples and templates for completing them. First, the chapter investigated essay assignments, including analytical and argumentative essays. It then examined case study assignments, followed by a discussion of the report format. Reflective writing , popular in nursing, education and human services, was also considered. Finally, the chapter briefly addressed annotated bibliographies and literature reviews. The chapter also has a selection of templates and examples throughout to enhance your understanding and improve the efficacy of your assignment writing skills.
Not all assignments at university are the same. Understanding the requirements of different types of assignments will assist in meeting the criteria more effectively.
There are many different types of assignments. Most will require an introduction, body paragraphs and a conclusion.
An essay should have a clear and logical structure and use formal but reader friendly language.
Breaking your assignment into manageable chunks makes it easier to approach.
Effective body paragraphs contain a topic sentence.
A case study structure is similar to an essay, but you must remember to provide examples from the case or scenario to demonstrate your points.
The type of report you may be required to write will depend on its purpose and audience. A report requires structured writing and uses headings.
Reflective writing is popular in many disciplines and is used to explore feelings, experiences, opinions or events to discover what learning or understanding has occurred. Reflective writing requires more than description. You need to be analytical, consider what has been learnt and evaluate the impact of this on future actions.
Annotated bibliographies teach you to research and evaluate sources and systematically organise your notes. They may be part of a larger assignment.
Literature reviews require you to look across the literature and analyse and synthesise the information you find into themes.
Gibbs, G. (1988). Learning by doing: A guide to teaching and learning methods. Further Education Unit, Oxford Brookes University, Oxford.
Rolfe, G., Freshwater, D., Jasper, M. (2001). Critical reflection in nursing and the helping professions: a user's guide . Basingstoke: Palgrave Macmillan.
Ryan, M. & Ryan, M. (2013). Theorising a model for teaching and assessing reflective learning in higher education.  Higher Education Research & Development , 32(2), 244-257. doi: 10.1080/07294360.2012.661704
Academic Success Copyright © 2021 by Cristy Bartlett and Kate Derrington is licensed under a Creative Commons Attribution-NonCommercial-ShareAlike 4.0 International License , except where otherwise noted.
Share This Book
Essay Writing
Dissertation Writing
Assignment Writing
Report Writing
Literature Review
Proposal Writing
Poster and Presentation Writing Service
PhD Writing Service
Coursework Writing
Tutoring Service
Exam Notes Writing Service
Editing and Proofreading Service
Technical and Statistical Services
Appeals and Re-Submissions
Personal Statement Writing Service
Sample Dissertations
Sample Essays
Free Products
Different Types of Academic Assignment and How to Get Top Marks
Assignment can be broadly defined as a piece of work or task given to a student to assess their knowledge and understanding of a particular topic and academic progress. Whilst at university, you will be tasked to complete different types of written assignment, each of which has its own features and structure. Depending on the course you are studying, you will be set different types of assignment, the most common of which are essays and reports. Nonetheless, it is also possible that you will be set other types of assignment to test your knowledge and strengthen your academic skills. We have put together a helpful guide that contains the most common types of written assignment.
Essays are written to answer a specific question or address a specific issue.
They present an argument on the basis of facts.
Essays are usually written in a very open manner and without headings. Their structure, however, is made up of three key elements, namely introduction, main body, and conclusion.
They are factual and concise in tone, written as one long prose, and usually use the active voice.
Essays are written for the academic community and peers.
Most reports involve presenting a student's investigation, analysis, and interpretation of information, a situation, or issue.
Based on the produced analysis findings, a set of recommendations and proposals is provided.
Reports are usually composed of various sections and subsections that can vary depending on what is required from a student.
Reports may include a table of contents, abstract, and bullet-pointed lists.
They are predominantly written for an outside organisation.
Case Studies
A case study is an in-depth investigation of a particular situation, study, or event conducted over a given length of time.
They collect and present information and data to understand what has happened, as well as the reasons why it has happened.
Case studies tend to identify the positives and negatives of a particular situation or event.
Based on the analysis findings, case studies make relevant recommendations and outline how they can be implemented.
They link theory to real-life scenarios.
Case studies have numbered headings and subheadings, a table of contents, and an executive summary.
Reflections
The main purpose of any reflective report or journal is to identify the level of your understanding and comprehension of a particular topic, situation, or experience.
They require you to think about your own abilities, situation, or experiences.
Reflections are used in order to understand what you have learnt and how this new knowledge has affected you.
They are written in a conversational style and first-person.
Reflections refer to lectures, text, and practical situations.
Free resources
Check out the free resources page on our website to help you get a better understanding of various types of written assignment, as well as the differences between them. You can also find high quality Essay examples and Report examples to help you with your academic work. Alternatively, if you are really stuck, our expert writers are ready and waiting to hear from you.
Monday - Friday:   9am - 6pm
Saturday: 10am - 6pm
Got Questions?
Email:  [email protected]
*We do NOT use AI (ChatGPT or similar), all orders are custom written by real people.
Our Services
Essay Writing Service
Assignment Writing Service
Coursework Writing Service
Report Writing Service
Reflective Report Writing Service
Literature Review Writing Service
Dissertation Proposal Writing Service
Dissertation Writing Service
MBA Writing Service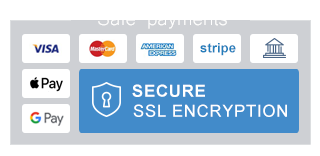 TYPES OF ASSIGNMENTS
Business reports.
Business reports are written assignments in which students analyze a situation to uncover problems, discuss areas of strengths, weaknesses, opportunities and threats, and then apply business theories to develop a range of recommendations for improvement. Download a Business Report PDF >
Case Study Assignments
A case study normally involves a turning point within an organization where a decision needs to be made. Cases can vary in length from one page to 40 pages and up. Students are provided relevant information allowing them to step into the shoes of the decision-maker to develop, evaluate and recommend potential solutions. Case studies can be an assignment to hand in to the instructor or as an in-class assignment where the class discusses the case study together.
Class Presentations
An individual student/group of students present findings on a subject matter or the results of a project to the instructor and fellow classmates. Download a Class Presentation PDF >
An essay is a written assignment composed by the student to address a question or topic assigned by the instructor, usually within a set word-limit.
Download an Essay PDF >
Lab Reports
This type of evaluation is most often used in the science, technology and engineering programs. Laboratory reports are used to describe and interpret the results of an experiment that a student performed or a process that was observed.
A portfolio is a compilation of an individual's achievements from photographs of a student's work to a culinary portfolio including recipes, menus and prepared food plates. Portfolios are used to demonstrate the development of knowledge and skills over time.
Research Papers
A research paper is usually between 10-25 pages that combines a student's research findings and their own ideas on a course related topic. Students identify a question or take a position; through research the student collects resources to support or provide evidence to answer the question or position. The information is presented in a clear and original manner, with proper citations for all statements and facts.
Download a Research Paper PDF >
Simulations
Simulations are hands-on scenarios/demonstrations that vary from a realistic flight simulator, to a role-play exercise, to a business situation reconstructed on a spreadsheet or through a computer program.
GA4 Tracking Code
Gen ed writes, writing across the disciplines at harvard college.
Gen Ed courses transcend disciplinary boundaries in a variety of ways, so the types of writing assignments that they include also often venture outside the traditional discipline-specific essays. You may encounter a wide variety of assignment types in Gen Ed, but most can be categorized into four general types: 
Traditional academic assignments include the short essays or research papers most commonly associated with college-level assignments. Generally speaking, these kinds of assignments are "expository" in nature, i.e., they ask you to engage with ideas through evidence-base argument, written in formal prose. The majority of essays in Expos courses fall into this category of writing assignment types.  
Less traditional academic assignments include elements of engagement in academia not normally encountered by undergraduates. 
Traditional non-academic assignments include types of written communication that students are likely to encounter in real world situations. 
Less traditional non-academic assignments are those that push the boundaries of typical 'writing' assignments and are likely to include some kind of creative or artistic component.
Examples and Resources
Traditional academic.
For most of us, these are the most familiar types of college-level writing assignments. While they are perhaps less common in Gen Ed than in departmental courses, there are still numerous examples we could examine.
Two illustrations of common types include: 
Example 1: Short Essay  Professor Michael Sandel asks the students in his Gen Ed course on Tech Ethics to write several short essays over the course of the semester in which they make an argument in response to the course readings. Because many students will never have written a philosophy-style paper, Professor Sandel offers students a number of resources—from a guide on writing in philosophy, to sample graded essays, to a list of logical fallacies—to keep in mind. 
Example 2: Research Paper In Who Lives, Who Dies, Who Cares?, a Gen Ed course co-taught by multiple global health faculty members, students write a 12–15 page research paper on a biosocial analysis of a global health topic of their choosing for the final assignment. The assignment is broken up into two parts: (1) a proposal with annotated bibliography and (2) the final paper itself. The prompt clearly outlines the key qualities and features of a successful paper, which is especially useful for students who have not yet written a research paper in the sciences. 
Less Traditional Academic
In Gen Ed, sometimes assignments ask students to engage in academic work that, while familiar to faculty, is beyond the scope of the typical undergraduate experience. 
Here are a couple of examples from Gen Ed courses: 
Example 1: Design a conference  For the final project in her Gen Ed course, Global Feminisms, Professor Durba Mitra asks her students to imagine a dream conference  in the style of the feminist conferences they studied in class. Students are asked to imagine conference panels and events, potential speakers or exhibitions, and advertising materials. While conferences are a normal occurrence for graduate students and professors, undergraduates are much less likely to be familiar with this part of academic life, and this kind of assignment might require more specific background and instructions as part of the prompt. 
Example 2: Curate a museum exhibit In his Gen Ed class, Pyramid Schemes, Professor Peter Der Manuelian's final project offers students the option of designing a virtual museum exhibit . While exhibit curation can be a part of the academic life of an anthropologist or archaeologist, it's not often found in introductory undergraduate courses. In addition to selecting objects and creating a virtual exhibit layout, students also wrote an annotated bibliography as well as an exhibit introduction for potential visitors. 
Traditional Non-academic
One of the goals of Gen Ed is to encourage students to engage with the world around them. Sometimes writing assignments in Gen Ed directly mirror types of writing that students are likely to encounter in real-world, non-academic settings after they graduate.
The following are several examples of such assignments: 
Example 1: Policy memo In Power and Identity in the Middle East, Professor Melani Cammett assigns students a group policy memo evaluating "a major initiative aimed at promoting democracy in the Middle East and North Africa (MENA)." The assignment prompt is actually structured as a memo, providing context for students who likely lack experience with the format. It also outlines the key characteristics of a good memo, and it provides extensive advice on the process—especially important when students are working in groups. 
Example 2: Letter In Loss, Professor Kathleen Coleman asks students to write a letter of condolence . The letter has an unusual audience: a mother elephant who lost her calf. Since students may not have encountered this type of writing before, Professor Coleman also provides students with advice on process, pointing to some course readings that might be a good place to start. She also suggests a list of outside resources to help students get into the mindframe of addressing an elephant. 
Example 3: Podcast  Podcasts are becoming increasingly popular in Gen Ed classes, as they are in the real world. Though they're ultimately audio file outputs, they usually require writing and preparing a script ahead of time. For example, in Music from Earth, Professor Alex Rehding asks students to create a podcast in which they make an argument about a song studied in class. He usefully breaks up the assignments into two parts: (1) researching the song and preparing a script and (2) recording and making sonic choices about the presentation, offering students the opportunity to get feedback on the first part before moving onto the second. 
Less Traditional Non-academic
These are the types of assignments that perhaps are less obviously "writing" assignments. They usually involve an artistic or otherwise creative component, but they also often include some kind of written introduction or artist statement related to the work.
The following are several examples from recently offered Gen Ed courses: 
Example 1: Movie Professor Peter Der Manuelian offers students in his class, Pyramid Schemes, several options for the final project, one of which entails creating a 5–8 minute  iMovie making an argument about one of the themes of the course. Because relatively few students have prior experience making films, the teaching staff provide students with a written guide to making an iMovie as well as ample opportunities for tech support. In addition to preparing a script as part of the production, students also submit both an annotated bibliography and an artist's statement. 
Example 2: Calligram In his course, Understanding Islam and Contemporary Muslim Societies, Professor Ali Asani asks students to browse through a provided list of resources about calligrams, which are an important traditional Islamic art form. Then they are required to "choose a concept or symbol associated with God in the Islamic tradition and attempt to represent it through a calligraphic design using the word Allah," in any medium they wish. Students also write a short explanation to accompany the design itself. 
Example 3: Soundscape In Music from Earth, Professor Alex Rehding has students create a soundscape . The soundscape is an audio file which involves layering sounds from different sources to create a single piece responding to an assigned question (e.g. "What sounds are characteristic of your current geographical region?"). Early on, as part of the development of the soundscape, students submit an artist's statement that explains the plan for the soundscape, the significance of the sounds, and the intention of the work. 
Unpacking the Elements of Writing Prompts
Receiving Feedback
Assignment Decoder
Griffith University
Popular sites
Home > Library > Study and assignment skills > Write assignments > Assignment types
Write assignments
About the library
Resources and borrowing
Study and assignment skills
Research and publishing
Visit our libraries
Study spaces
Student orientation
Staff orientation
Corporate information
Course resources
Library guides
Borrowing and my account
Interlibrary loan
Library catalogue help
Library apps
Resolve access issues
Manage your time
Read effectively
Think critically
Make effective notes
Work in groups
Prepare for exams
Assess your skills
Record and edit video
Social media
Effective email communication
Understand your assessment
Prepare to search
Search for information
Evaluate your sources
Structure assignments
Write with academic style
Edit and proofread
Use feedback
AGPS Harvard
Chicago 17 Notes and Bibliography
Chicago 17 Author-date
Manage and plan
Find and reuse
Create and capture
Process and analyse
Share and archive
Research metrics
Researcher profiles
Before you publish
Develop a publishing strategy
Promote your research
Engage with open research
Make research open
Discover open research
Read and publish agreements
Academic writing for researchers
Search and find research literature
Organise your research literature
Literature management software
Systematic-style reviews
Research repository
Guide for students
Staff setup guide
Add resources
Structure reading lists
Request digitisations
Resources for teaching
Workshops and eLearning
Academic skills model
Support for individual students
Contact the library
Check your assignment task sheet to see the writing format required. View the various formats typically required at university.
Essays are an assessment item that can indicate your understanding of a topic. They can demonstrate how well you search for information, put ideas together in a logical sequence and write academically.
An essay can be analytical, argumentative or persuasive. You may be asked to discuss, analyse, explain, investigate, explore or review a topic. Your essay must show evidence of research, using a wide range of quality, peer reviewed academic sources.
Steps for writing an essay
Essays require a specific structure . The introduction, body and conclusion have a specific function within the writing. Check with your lecturer or tutor if you are unsure how to approach your essay.
Use the assessment task question to work out what you are required to do, and guide you with the essay format.
Do you have to compare and contrast, evaluate or discuss? These directive verbs indicate the type of essay you need to write and how to structure it.
Identify the keywords and phrases to use when searching for information around your topic.
Use the marking criteria sheet to help you decide the most important elements of the essay.
A thesis is the central argument or position around which your essay flows.
The thesis statement is placed in your essay's introduction. Each paragraph is used as evidence to support or refute the claim, and it is reiterated in the conclusion.
Edit your essay, ask yourself:
Have I clearly introduced my thesis in the introduction?
Have I used the body of the essay to support my thesis statement?
Does the conclusion show how I have proven my thesis?
Use the essay paragraphs to develop your argument.
The paragraphs should:
have a logical flow of ideas to sequentially build on the points you are making
use evidence and examples to support your argument.
Academic arguments require balance and counterarguments. The relationships between your reasons are important to consider. A good essay should be easy to follow as it presents your thoughts in a logical manner.
Make sure that the essay answers the question, and your writing supports your thesis. Demonstrate how each piece of information included in the paragraphs is relevant. This should be easy for the reader to figure out.
Keep the question and marking criteria open while writing your essay so that you remain focused on the task. The conclusion should include a summarised answer to the question, reiterating your thesis.
Report writing is an essential skill in many disciplines. You should develop effective report writing skills because it's highly likely you'll be writing reports in the workplace.
A report is a formal written document used to provide concise information on a specific subject. It can be used to communicate the results of an experiment, inform on the progress of a project or to make recommendations.
An effective report is an accurate presentation of information. It should be objective, concise and structured to guide the reader through the main points.
The task instructions usually specify what sections need to be included in your report. However, a report often has the following sections:
Title page and acknowledgements—include the title of the report, who commissioned it (or for assessment include your lecturer, course code, and student number) and the date.
Executive summary or abstract—provide a summary of the report's main points. It briefly covers the aims, objectives, research methods and the findings. It identifies what action is required. Although the abstract is located at the beginning of the report, it is usually written last as it is a summary of the whole report.
Table of contents—outline the structure of the report.
Introduction—state the aims and objectives of the report, the problem or situation that prompted the report and identify what the report intends to achieve. Include definitions, research methods and background history (if relevant).
Methodology—explain what you did and how you did it. For instance, the materials used in an experiment, the subjects involved in a survey or the steps you took in a project.
Results or findings—detail the findings from the experiment, survey or research project.
Discussion—present and discuss the facts or evidence.
Conclusions—provide implications from the content of the report.
Recommendations—describe a clear course of action. Demonstrate your professional competence in a specific situation that clearly aligns with the conclusions.
References—acknowledge all the sources used in the report. Learn more about referencing .
Appendices—contains additional graphical, statistical or other supplementary material. Each item should be clearly labelled (for example, Appendix 1) and referred to in the report.
A case study gives you the opportunity to apply what you are learning to a real life or fictitious case. It requires you to do further research to show how the theory applies to the practical situation.
Steps for responding to a case study
Get a clear understanding of the case study by reading it several times.
Make notes and consider how it relates to what you have learnt.
Reflect on how to show your learning through your understanding of the case study.
Identify the questions that need to be answered to address the case.
Determine if the answers will come from the case, the literature or a combination of both.
Research to find the answers to the questions.
Take notes to show evidence (such as theory) to support your thinking.
Compare your notes—from the research and case—against the marking criteria, have you addressed the required content?
Use evidence and examples from the literature and case to support your argument in the body of the assignment.
Avoid summarising the whole case as you will use too much of the word count.
See how to structure your assignment to help guide you in organising your work.
Reflective writing
You may be asked to think about, or reflect upon, a situation or event that has occurred and document your feelings and reactions. For example, you may be asked to write a reflective essay on a work placement experience.
Reflective writing requires you to make a link between your experience and the course content. It's a way of clarifying the relationship between theory and practice.
Taking time to reflect allows you to become more aware of your own values and belief system and any assumptions you may hold to support those.
Steps for reflective writing
Document the facts, what happened, when did it happen and how did it happen?
For example if writing a reflective essay on a work placement experience, include:
tasks you completed and when
processes or steps involved to complete the task
why the task needed to be done
how long it took to complete
the challenges involved.
Record all the relevant details.
Describe what you think about the event or experience, dig deep and get in touch with your feelings.
What emotions did you experience?
Do you have any new insights?
Can you make a connection with other things you know or concepts in the course?
What were the strengths and weaknesses of the concept, process, event or procedure?
Identify what you have learnt from the experience.
Did it change your thinking or shift your values, assumptions or opinions about the event?
What else could you have done in the situation or event?
Are there any actions that could have helped
What hindered the situation?
How will you use this information in the future?
Literature review
You may be required to write a literature review as part of your university studies.
Literature reviews can be used alone or in research projects, reports, articles and theses.
They are a way of bringing together, analysing and evaluating a range of sources in relation to a particular topic or research question.
Steps for writing a literature review
If you have a research topic, problem or question to analyse, it is important to take time to clarify what is expected before you start researching and writing.
When developing your own research topic and question, try to:
define the general topic area
identify the particular problem or issue you are interested in investigating
turn the problem into questions. For example, why does this happen? How can we solve this problem? What are the main features of this issue?
brainstorm ideas and key points.
As you get started, it is important to formulate key questions to focus your research.
To find relevant research you will need a search strategy. A search strategy is a structured organisation of terms used to search an online research tool, such as the library catalogue or databases. The search strategy shows how these terms combine in order to retrieve the best results.
Online research tools work in different ways so you need to adapt your search strategy for each one.
To develop a search strategy:
Identify the keywords in your assessment topic.
Identify any related words (use a dictionary, encyclopaedia or provided readings).
Combine your keywords and related words into a search strategy using the terms AND, OR and NOT.
Enter your search strategy in the Library catalogue to find relevant literature. Identify other research tools such as library databases to find highly specialised information.
In a literature review, you are not simply recounting what each author says about a topic. You need to critically evaluate and discuss the literature to convince the reader of its relevance to your work.
Critically evaluate by questioning each item you read to assess its:
reliability—are the facts accurate?
credibility—is the author an authority?
perspective—is there bias or opinion?
purpose—does the information inform, explain or persuade?
evidence—does the author use facts, examples, statistics, expert testimony?
There are many ways to sort and classify the literature that you are reading, including:
thesis chapters (if applicable)
your own categories
theoretical perspective (for example, 'Marxist', 'behaviourist' or 'post-modernist')
discipline categories
whether it supports, or conflicts with, your thesis or central argument
reliability.
How your review is organised depends on what information is gathered and how your discipline structures them. This is one way to organise it:
Introduction—include your topic, aim, main ideas, overall plan, limits and scope.
Body—include your research (where applicable), discussion of evidence, theories, concepts and relationships between different literature.
Conclusion—bring together the key issues, trends, common threads, major gaps and agreements/disagreements in the literature.
Annotated bibliography
Writing an annotated bibliography is the first step in collecting information about a topic of interest, or to find the scope of an issue. It helps establish what current research exists, and the value or quality of that research. It allows you to gain a clearer perspective and develop critical appraisal skills.
Structure your annotated bibliography
An annotated bibliography looks like an extended reference list, it has three parts—a reference, main summary and critique.
Provide the full bibliographic details of the text—including, title, author and year—in the required referencing style.
Learn more about referencing
Each annotation is one paragraph. It retells the main points, identifying the theoretical perspectives, research findings, methods and conclusions.
Critique the text by considering the research's findings, relevancy and limitations. Give an evaluative comment about the usefulness of the research for your own work. For example:
Is there any bias?
Are the findings relevant to certain populations or groups?
Does it look at an issue from a broad or narrow perspective?
What ideas does it support or oppose?
Is it useful in practical situations?
How does it inform your understanding of the topic?
It is important to be concise. Limit to about 100-300 words per annotation—consult your task sheet for guidance on word length.
Eakin, E., Reeves M., Winkler E., Lawler S., & Owen, N. (2010). Maintenance of physical activity and dietary change following a telephone-delivered intervention. Health Psychology , 29 , 566-573. http://dx.doi.org/10.1037/a0021359
A randomised controlled trial was conducted and 434 patients with Type 2 diabetes or hypertension were recruited from ten primary care practices in a disadvantaged community. Five practices were randomised to a telephone-counselling intervention (n = 228) and five practices to usual care (n= 206). The aim was to examine the maintenance of behavioural changes six months after a telephone-delivered physical activity and diet intervention. Participants received 18 phone calls, a workbook with information on physical activity and healthy eating that followed the 5 A's approach, and a pedometer. The usual care group received brief feedback on their assessment and health related brochures. The main outcome measures included the use of validated, self-report measures of physical activity and diet. Data was collected at baseline, twelve months, and 18 months (months post intervention). The findings showed both interventions were found to show significantly improved behaviour changes particularly in those who adhered to the study. The research is relevant for managing people with type 2 diabetes and hypertension living in disadvantaged communities. The researchers concluded that telephone-delivered interventions promoted maintenance of health behaviour change but studies with longer term follow-up are needed to determine how intervention duration and intensity might enhance maintenance .
Presentations—video, in-person, online
You may be asked to deliver a presentation individually, in partnership or as part of a group.
Consider the following to help inform your style, language and delivery.
Who is the presentation targeted at or intended for?
What do they already know on the subject?
Why are they there?
What would they like to know?
For example, a Business course presentation may be targeted at stakeholders, or be a pitch for potential investors.
The intention of the presentation influences the type of language, rhetorical features and tone used.
Are you pitching:
a new service
an idea or product
to enlighten and inform your audience?
For example, a persuasive presentation may use more emotive language, rhetorical questions and repetition. Whereas, this approach may not be suitable for a formal report.
When, where and how will your presentation be delivered? Will it be delivered live, online or pre-recorded?
This will influence your preparations for organising the visual, environmental and technical elements, to ensure a successful presentation.
Do you need to record and edit video for your presentation?
Create an effective and engaging presentation
Regardless of the type of presentation and how it is delivered a successful presentation should take into account the following:
Matter—does the subject and content address the task and marking criteria?
Manner—practise the verbal (volume, pace, pause) and non-verbal (eye contact, gestures) delivery elements.
Method—have it structured in a logical way (introduction, body, conclusion) with support of visual aids.
Visual elements
You may be asked to support your presentation with visual aids, such as PowerPoint or an infographic. Visual aids, used appropriately, can enhance your presentation and engage your audience.
Ensure your visual aids support your presentation in purpose and style and reinforce your message.
Communicate your message effectively using a simple and strategic design.
Limit the text quantity, use three to five bullet points per slide.
Use high resolution images and pictures.
Limit animation and flashy transitions.
Use contrasting colours for readability.
Maintain continuity in text font, images and colour.
Finally, your choices should reflect the audience, purpose and context.
Practice makes perfect
Practise frequently to ensure a smooth, successful and confident presentation delivery.
aloud—consider recording yourself to identify areas for improvement
in front of peers and/or family
with the technology and visuals that will be used on the day
with your partner or group members, if relevant, to ensure smooth transition between presenters.
Academic integrity
Before starting your assignment complete our Academic integrity module to help you understand how to produce honest work
Enrol in the module
Ask the library
Common questions.
More answers
We are here to help!
Find us in the libraries or contact us by phone or online.
Request form
(07) 3735 5555
We offer online workshops on researching, referencing, structuring assignments and exam preparation. Come along and improve your skills!
Peer assisted study sessions
Attend a student facilitated group study session.
Griffith mentors study support
Get study support by connecting with a Griffith student mentor.
+91 80562 90962.
The Different Types of Academic Assignments
At the tertiary level of education, the academic knowledge of students increases so does the level of assignments. Academic assignments are frequently given to students to test their understanding of the subject and area as a whole.
In general, there are four main types of academic assignments as follows: essays, reports, case studies, and reviews.
An essay is a text that provides the author's answer and standing on a particular question and issue, respectively. The student is required to choose a particular stance, formulate a thesis statement and present an argument supporting the same. The argument is expected to be backed by evidence from verified academic materials to increase the credibility. The first stage of essay writing is researching on the topic given. Based on the research, you have to choose your standing on the issue. After this, one can start penning the essay in the following structure: Introduction (outline the topic and stance), body (detail the evidence supporting your argument) and conclusion (provide a general comment/judgment on the entire essay).
A report is an investigation of any problem or a procedure such as a scientific experiment. As in a thesis, you are expected to make recommendations. In general, there are two types of reports: business report and scientific and research report. In the former, one has to write a report in such a way that it helps one make apt decisions. In the latter, one has to evaluate and discuss the research executed. A report, irrespective of the type, follows a skeletal structure: executive summary, introduction, the definition of terms, process, findings, and conclusion.
Case studies:
A case study is an analysis that is carried out over a selected period of time. This type of text amasses and presents a detailed account on any chosen subject such as a situation, community or even an organization. Through this analysis, one can understand the reasoning behind the occurrence of a particular event. In turn, one can use the knowledge to solve the proposed problem. In a case study, one has to identify the issue in the abstract and introduction, detail the research methodology used, present the findings drawn, discuss the findings, conclude and make recommendations.
A critical review of an article or a journal is carried out so as to expose oneself to a multitude of works of other authors. While writing an article review the questions to ask yourself are as follows:
Who is my reader?
Do I and the reader have a common ground of knowledge? If no, what are the terms I have to define beforehand?
What is the argument of the article?
What is the significance of the article?
What is the significance of the review?
What is my standing?
What is the evidence for my standing?
Contrarily, in the literature review, one examines the important ideas written across literature on the selected area rather than focusing on an individual article. It helps understand the current trends in the area and also the gaps in the same for further research.
#TypesofAcademicAssignments #Essays #Reports #Casestudies #Review
Recent Posts
5 Ways To Elevate Your Academic Essays
7 hacks that will improve your business writing
Steps to craft strong research paper outline
AllAssignmentHelp.com
Types of University Assignments
Table of Contents
As high school and middle school students, we must all be aware of the assignments we were given. We must have completed various types of course material in school, but university assignments are slightly different and more difficult to complete. Assessments and exams are different for different educational endeavors. However, there are a few types of assignments that we must be aware of. You need not be concerned if you are unfamiliar with them. Allassignmenthelp.com has created this blog specifically to answer all of your questions about assignment writing in the university. You will gain a thorough understanding of the various types of assignments and how to write them efficiently as you continue reading this blog post.
"Great ability develops and reveals itself increasingly with every new assignment." -Baltasar Gracian
Also Read: Most Useful University Degree for the Walk of Your Life
Different Types of University Assignments
There are many types of assignments you could be asked to write during your academic life. You need to have the right idea of these assignment types to write them effectively. because each of the assignments is different from the others. The students must follow all the formatting rules while writing. Being aware of the format can help the students prepare themselves in advance and score higher marks. Having little or no knowledge can get a student into trouble. If you want to escape from the trouble, then I would suggest you entirely read this blog post.
Every student should be familiar with the essay as a type of assignment. We have all written essays at some point in our lives. We enjoy writing about our best friend, my pet, and a visit to Grandma's house, among other topics. It is a type of essay in which you must respond to a question and present your argument by citing facts to back it up. Your classmates and the academic community are likely to be the primary audience for your essay. Argumentative, expository, narrative, and descriptive essays are the four types of essays. A three-part introduction, main body, and conclusion is the standard essay format. Each component is critical and requires equal knowledge and consideration.
Introduction:
The introduction is the first section of an essay. The way you write your introduction determines whether or not your reader will pay attention. As a result, the writer must be well prepared before beginning to write the introduction. The most important thing to remember when writing an introduction is to keep it short and sweet. The correct use of words in a sentence is critical.
In an essay, the main body is an area where you can write all the necessary information. The main body consists of three short, big paragraphs. All these paragraphs work in a loop and are connected. The thoughts and words must be beautifully presented without making them look forced in the content.
Conclusion:
The conclusion is the last part of the essay. In this part, the students must include all the information in a summarised way. Including questions in the last part will encourage the reader to actively read your essay.
"Personal essay writing, dialectic discourse with the self, is a process of taking ideas and crushing them like grapes to create a homemade wine." – Kilroy J. Oldster
The conclusion is the end part of the essay. Case study assignments are very common for medical and engineering students. The purpose of writing a case study is to investigate a situation, take a look at the positives as well as negatives of something, and recommend something based on the facts shown in the case study. An executive summary and table of contents must be included in the case studies. Your audience comprises professionals, politicians, and the general public. The case study structure must have a proper beginning, a worthwhile middle, and a perfect end.
Different types of case studies
Collective case studies: "Collective case studies." The name itself suggests that this represents a study of a collective group of people and communities. A single individual or a group of people can do this type of case study.
Descriptive case studies: Each of these case studies consists of a descriptive theory. In these, the pre-existing and pro-existing information theories are compared with each other.
Explanatory case studies: normal case studies with casual investigations represent an explanatory case study. It mainly deals with real-life situations by answering basic questions like what, why, and how.
Exploratory case studies: An exact description of the case with a clear explanation is called an exploratory case study. With these case studies, the readers have the opportunity to clearly understand everything in a detailed manner.
Instrumental case studies: Instrumental case studies are used when a person wants to have knowledge of a particular issue. Here, the observers understand more than the normal phenomena.
Intrinsic case studies: These types of case studies allow the readers to know the past and present state of the issue or thing. If an intrinsic case study is done for a patient, then the reader can know every detail of the patient's history to draw a valuable conclusion.
Lab or practical report
A lab report or practical report is also an assignment that you have to do if you are a science, technology, mathematics, or engineering student. In this assignment, you have to explain what you have done in the lab practical and what your final opinion is on the topic. The title, abstract, introduction, method, results, discussion, conclusion, references, and appendices are the various sections of the lab report. You write it for fellow students and researchers thinking of doing the same practice.
Literature review
The most important part of the assignment is the literature review. A literature review is a type of academic paper that is very important in students' academic careers. During this writing process, you must identify key ideas from the literature and consider current thinking. Throughout the article, the formal language of words must be used. Your target audience will be academics, researchers, and other authors. The structuralization of the literature is comprised of the introduction, main content, and discussion of results. The correct citation and source must be included. The main purpose of writing a review of an article is to criticize the data, the research methods, and the results.
What is the use of writing a literature review?
A literature review can act as a guide for students who are searching for something on the internet. If you want to compile an assignment but are not aware of how to start, then a literature review can be quite useful. It also keeps people up to date on current events in their respective fields. It also acts as a research paper, investing in comprehensive knowledge.
Annotated bibliography
What is annotated bibliography.
An annotated bibliography is a task in which you have to find the most important items on a topic and have to assess how useful these items are about the topic. While writing an annotated bibliography, the students must write the sources in alphabetical order. Academicians, researchers, and other professionals will benefit from your annotated bibliography.
What can be included in this?
You can include sources that you have searched.
The investigating topic can also be included.
Research methodology can be evaluated and included.
Reflective journal
A reflective journal is one of the types of assignments that you could be asked to write at the university level. Here, you have to realize what your understanding is and have to reflect on your thinking. With that, you have to show what and how you have learned something. You are your audience in the reflective journal.
These are the types of assignments you will encounter during your academic career. I hope you find it helpful and put it to use in your writing. If you're having trouble writing these assignments, you can pay someone to do your homework and have them written by an academic. Those expert writers can provide you with high-quality assignment papers without charging you a fortune.
Also Read: How To Get Admission To Top University Overseas From India
Guidelines for Writing Assignments
Know the requirements:
Before you start writing your assignment, try to understand the requirements of the assignments. Do not postpone things for later and try to clear up your doubts then and there.
Research everything before writing:
Research everything and start writing your assignment after that. Collecting and arranging the information before writing will help to write effectively.
Brainstorm and start writing:
Writing an assignment for a university requires a lot of dedication and patience. Assignment writing is a process of many steps, like drafting, revising, editing, and proofreading. Being human, we cannot dedicate ourselves to all things at a time. For that, you can allot separate time for each and work accordingly.
Getting feedback from near and dear ones:
It can be difficult to research, write, proofread, and judge it all by yourself. So, to check your completed assignment, you can get feedback from your family, friends, and relatives. Getting a third opinion has always proven to be the best. 
Divide a separate time for editing:
Editing and proofreading the content are as important as others. So the students at university must surely allot a separate time for this. If they are not aware of how to do the editing on their own, then they can pay someone to do their assignment . By seeking professional assistance, students can be confident that their assignments will be edited and proofread, resulting in higher grades.
Try to complete it within the deadline:
Some students follow each of the steps above but become drowsy at the end and fail to finish their assignments. To avoid this, students can keep a chart and adhere to it without fail. This will aid in their time management and stability.
I hope that the above-given guidelines will have helped you to write your assignments. Some students criticize themselves for what they have not done and never praise themselves for what they have done. Try never to be one of them. If you are unable to write well-to-do assignments, then always remember that no one is human and tends to make mistakes. Failure is the stepping stone to success, so learn from it and keep working again and again.
Are you in search of a " do my assignment " service? Then end your search here. All Assignment Help is a well-known name among students for assignment writing and services. We have years of experience in this field and have helped thousands of students with their assignments, homework, dissertations, case studies, and reflective writing. Whether you need assistance during the day or night, our professional assignment writers are always ready to help you. On our website, we have qualified experts from different fields who have expertise in providing the highest quality of writing.
Frequently Asked Questions
By Susan White
Hi, I am Susan White. I am a Senior Marketing Executive and Content Editor at AllAssignmentHelp.com. For the past few years I have been working with this company. I hope you liked the post above from one of our team members. If you want to share any improvements or want some more on this blog, please share your request on our email [email protected]. I have been in this academic industry for a very long time. You can know more about me from my LinkedIn profile . Below are some of my achievements that I prize: - Successfully published five academic research papers in the marketing field - Assisted hundreds of students get best grades in their courses - Regularly helping my colleagues do their best at their job - Toured several places around the world in the past five years! - A proud mother of a kid! :) Thank you again for reading this article. I look forward to your feedback and continued support.
South Africa
Entertainment
House of Zwide
Generations
Privacy Policy
7 College Assignment Types You Should Be Aware Of
7 Types of College Assignments You Need to Know
Are you a student studying at a top-level university? Do you know about the different types of assignments? Understanding your course outline and assignment types is crucial. You are not supposed to make progress in your academic career without developing a good understanding.
Many students get confused during their freshman year. They do not have any idea about how things work at a university level. The word assignment becomes a nightmare for many of them. 
For instance, you have been asked to write a research paper and you don't even know the basics of it. What would you do in such a situation? Many think of getting expert assistance. They consider a reliable research paper writing service as the perfect way out. 
Stop getting worried if you do not possess knowledge about various types of assignments that teachers ask students to complete during a course of study. This write-up is going to discuss important types of student assignments that you should be aware of at a university level.
1. Essay Writing Assignments
This is the most common type of assignment that students receive from their teachers at a college or university level. The basic purpose of an essay writing assignment is to defend an opinion or present it with the help of evidence. 
There are different types of essays. Mainly, they are divided into four categories including argumentative, descriptive, persuasive, and expository. An essay allows students to present their opinion on a specific topic.
It has a basic structure and most educational institutions follow the same outline. You don't have to create a plan which should be out of this world. Just follow in the footsteps of other successful writers. The basic structure includes an intro, thesis statement, a body consisting of up to five paragraphs, and finally the conclusion.
2. Case Study Solutions
Another noteworthy assignment type that students are often asked to complete is the case study solution. The reason behind such an assignment is to educate and train students on analyzing different situations and making recommendations to solve issues.
Here you might have to analyze a situation, event, people, an idea, or even an object. This is kind of an investigation. You have to find out what has happened. What factors gave rise to the outcome.
In most cases, you might have to identify the major issues and find how these came into existence. Other things that you are expected to do include finding the best possible solution to the problem, making justifications and recommendations.
3. Report Writing Assignment
Students often get report writing assignments from mentors. A report delivers information in a highly organized way so that readers can grasp key data without getting confused. The information can be related to a specific problem or situation.
You can derive that information either from your personal experience or through comprehensive research. 
Reports are likely to have dissimilar outlines depending upon the requirements of teachers. Other things that help decide the structure include context and discipline.
Generally, most of the students follow a standard outline for report writing which includes an Abstract, introduction, method of research, findings of the study, discussion, conclusion, recommendations, and appendices.
Don't you have any experience writing reports? No worries, there are several academic report examples on the internet that you can learn from. Find a couple of reports already published on the web. Follow their discipline to create a fabulous report to secure high grades in your studies.
4. Group Work 
Educational institutions teach you to work collaboratively and achieve shared goals. That's the reason they assign group work tasks to students . This sort of assignment helps you understand each other and work with different people to achieve common objectives.
A group assessment assignment allows you to learn about interacting with each other and communicating without being restricted.
At a university level, you are not supposed to study alone all the time. You should make maximum use of classmates by exchanging ideas and team up with each other. You don't have to get anxious the next time when you get a group assessment task.
5 . Literature Review Assignments
In a literature review assignment, the core purpose is to review the key research work relating to a topic under discussion. This is written to explain why additional research work is required on a specific topic. 
Many students get confused when they hear about a literature review assignment. However, this is nothing to be concerned about. You just have to follow the right approach. Normally, a literature review begins with selecting a research topic. 
Next, you move on to searching the literature, taking important notes, collecting the required materials, categorizing the information, and finally writing the review. You can make changes to the sequence if required.
 6 . Presentation Skills
You are not supposed to sit back in your classroom, relax, and watch the teacher explaining concepts for you. At a university level, you should demonstrate your presentations skills. That's the reason professors ask students to present ideas in front of the class.
You have to prepare for the presentation so that you can present the ideas effectively without getting nervous in front of the class. Universities emphasize development of group presentation skills. This helps students in improving their collaborative and cognitive skills. 
7. Reflective Assignments
A reflective assignment can be based on either an analytical or descriptive approach. Aside from explaining the situation, you also have to shed some light on how you felt after exploring it. Your personal opinion is of great importance, so make sure you tell why something happened in a specific way.
You can feel free to give reasons and explain how it could have been handled differently. Students get reflective assignments not too often. However, it is important to stay on top of important types so that you can don't get surprised after hearing about a new kind of assignment.
Recent Posts
Nomzamo Mbatha Pays Tribute to the Women of 'Shaka iLembe
Sannah Mchunu's Final Day on Set as Zodwa: Day 134 of 134
Makhadzi Teases Her New Album
Ex-CEO Peter Moyo loses last-ditch bid in R250m case against Old Mutual
Pitso Mosimane employs former Chiefs star
Wiseman Mncube to star in My Brother's Keeper: New drama replacing Gomora
Elon Musk's 4 Tips for Success: Are They the Key to Getting Rich?
Survivors recount horror of Joburg fire: 'We woke up to people screaming' as death toll rises
RIP Mlungisi: Popular 'Umkhokha: The Curse' character dies
Mzansi Thrilled by Former Chiefs' Star Jabu Pule Mahlangu's Message to Dr Kaizer: 'Give Him a Job'
Savanna Media (Pty) Ltd.
Savanna News is part of Savanna Media (Pty) Ltd. a internet media group operating in Southern Africa with offices in South Africa
Physical Address: First Floor, Court House, 32 Richard Rd, Industria North, Johannesburg, 1709, South Africa Email: [email protected] Phone: +27 81 745 5679
© 2021 Savanna News - Website by Savanna Media .