Thesis Helpers
Find the best tips and advice to improve your writing. Or, have a top expert write your paper.
156 Hot Agriculture Research Topics For High Scoring Thesis
Are you preparing an agriculture research paper or dissertation on agriculture but stuck trying to pick the right topic? The title is very important because it determines how easy or otherwise the process of writing the thesis will be. However, this is never easy for many students, but you should not give up because we are here to offer some assistance. This post is a comprehensive list of the best 156 topics for agriculture projects for students. We will also outline what every part of a thesis should include. Keep reading and identify an interesting agriculture topic to use for your thesis paper. You can use the topics on agriculture as they are or change them a bit to suit your project preference.
What Is Agriculture?
Also referred to as farming, agriculture is the practice of growing crops and raising livestock. Agriculture extends to processing plants and animal products, their distribution and use. It is an essential part of local and global economies because it helps to feed people and supply raw materials for different industries.
The concept of agriculture is evolving pretty fast, with modern agronomy extending to complex technology. For example, plant breeding, agrochemicals, genetics, and relationship to emerging disasters, such as global warming, are also part of agriculture. For students studying agriculture, the diversity of the subject is a good thing, but it can also make selecting the right research paper, thesis, or dissertation topics a big challenge.
How To Write A Great Thesis: What Should You Include In Each Section?
If you are working on a thesis, it is prudent to start by understanding the main structure. In some cases, your college/ university professor or the department might provide a structure for it, but if it doesn't, here is an outline:
Thesis Topic This is the title of your paper, and it is important to pick something that is interesting. It should also have ample material for research.
Introduction This takes the first chapter of a thesis paper, and you should use it to set the stage for the rest of the paper. This is the place to bring out the objective of the study, justification, and research problem. You also have to bring out your thesis statement.
Literature Review This is the second chapter of a thesis statement and is used to demonstrate that you have comprehensively looked at what other scholars have done. You have to survey different resources, from books to journals and policy papers, on the topic under consideration.
Methodology This chapter requires you to explain the methodology that was used for the study. It is crucial because the reader wants to know how you arrived at the results. You can opt to use qualitative, quantitative, or both methods.
Results This chapter presents the results that you got after doing your study. Make sure to use different strategies, such as tables and graphs, to make it easy for readers to understand.
Discussion This chapter evaluates the results gathered from the study. It helps the researcher to answer the main questions that he/she outlined in the first chapter. In some cases, the discussion can be merged with the results chapter.
Conclusion This is the summary of the research paper. It demonstrates what the thesis contributed to the field of study. It also helps to approve or nullify the thesis adopted at the start of the paper.
Interesting Agriculture Related Topics
This list includes all the interesting topics in agriculture. You can take any topic and get it free:
Food safety: Why is it a major policy issue for agriculture on the planet today?
European agriculture in the period 1800-1900.
What are the main food safety issues in modern agriculture? A case study of Asia.
Comparing agri-related problems between Latin America and the United States.
A closer look at the freedom in the countryside and impact on agriculture: A case study of Texas, United States.
What are the impacts of globalisation on sustainable agriculture on the planet?
European colonisation and impact on agriculture in Asia and Africa.
A review of the top five agriculture technologies used in Israel to increase production.
Water saving strategies and their impacts on agriculture.
Homeland security: How is it related to agriculture in the United States?
The impact of good agricultural practices on the health of a community.
What are the main benefits of biotechnology?
The Mayan society resilience: what was the role of agriculture?
Sustainable Agricultural Research Topics For Research
The list of topics for sustainable agriculture essays has been compiled by our editors and writers. This will impress any professor. Start writing now by choosing one of these topics:
Cover cropping and its impact on agriculture.
Agritourism in modern agriculture.
review of the application of agroforestry in Europe.
Comparing the impact of traditional agricultural practices on human health.
Comparing equity in agriculture: A case study of Asia and Africa.
What are the humane methods employed in pest management in Europe?
A review of water management methods used in sustainable agriculture.
Are the current methods used in agricultural production sufficient to feed the rapidly growing population?
A review of crop rotation and its effects in countering pests in farming.
Using sustainable agriculture to reduce soil erosion in agricultural fields.
Comparing the use of organic and biological pesticides in increasing agricultural productivity.
Transforming deserts into agricultural lands: A case study of Israel.
The importance of maintaining healthy ecosystems in raising crop productivity.
The role of agriculture in countering the problem of climate change.
Unique Agriculture Research Topics For Students
If students want to receive a high grade, they should choose topics with a more complicated nature.This list contains a variety of unique topics that can be used. You can choose from one of these options right now:
Why large-scale farming is shifting to organic agriculture.
What are the implications of groundwater pollution on agriculture?
What are the pros and cons of raising factory farm chickens?
Is it possible to optimise food production without using organic fertilisers?
A review of the causes of declining agricultural productivity in African fields.
The role of small-scale farming in promoting food sufficiency.
The best eco-strategies for improving the productivity of land in Asia.
Emerging concerns about agricultural production.
The importance of insurance in countering crop failure in modern agriculture.
Comparing agricultural policies for sustainable agriculture in China and India.
Is agricultural technology advancing rapidly enough to feed the rapidly growing population?
Reviewing the impact of culture on agricultural production: A case study of rice farming in Bangladesh.
Fun Agricultural Topics For Your Essay
This list has all the agricultural topics you won't find anywhere else. It contains fun ideas for essay topics on agriculture that professors may find fascinating:
Managing farm dams to support modern agriculture: What are the best practices?
Native Americans' history and agriculture.
Agricultural methods used in Abu Dhabi.
The history of agriculture: A closer look at the American West.
What impacts do antibiotics have on farm animals?
Should we promote organic food to increase food production?
Analysing the impact of fish farming on agriculture: A case study of Japan.
Smart farming in Germany: The impact of using drones in crop management.
Comparing the farming regulations in California and Texas.
Economics of pig farming for country farmers in the United States.
Using solar energy in farming to reduce carbon footprint.
Analysing the effectiveness of standards used to confine farm animals.
Technology And Agricultural Related Topics
As you can see, technology plays a significant role in agriculture today.You can now write about any of these technology-related topics in agriculture:
A review of technology transformation in modern agriculture.
Why digital technology is a game changer in agriculture.
The impact of automation in modern agriculture.
Data analysis and biology application in modern agriculture.
Opportunities and challenges in food processing.
Should artificial intelligence be made mandatory in all farms?
Advanced food processing technologies in agriculture.
What is the future of genetic engineering of agricultural crops?
Is fertiliser a must-have for success in farming?
Agricultural robots offer new hope for enhanced productivity.
Gene editing in agriculture: Is it a benefit or harmful?
Identify and trace the history of a specific technology and its application in agriculture today.
What transformations were prompted by COVID-19 in the agricultural sector?
Reviewing the best practices for pest management in agriculture.
Analysing the impacts of different standards and policies for pest management in two countries of your choice on the globe.
Easy Agriculture Research Paper Topics
You may not want to spend too much time writing the paper. You have other things to accomplish. Look at this list of topics that are easy to write about in agriculture:
Agricultural modernization and its impacts in third world countries.
The role of human development in agriculture today.
The use of foreign aid and its impacts on agriculture in Mozambique.
The effect of hydroponics in agriculture.
Comparing agriculture in the 20th and 21st centuries.
Is it possible to engage in farming without water?
Livestock owners should use farming methods that will not destroy forests.
Subsistence farming versus commercial farming.
Comparing the pros and cons of sustainable and organic agriculture.
Is intensive farming the same as sustainable agriculture?
A review of the leading agricultural practices in Latin America.
Mechanisation of agriculture in Eastern Europe: A case study of Ukraine.
Challenges facing livestock farming in Australia.
Looking ahead: What is the future of livestock production for protein supply?
Emerging Agriculture Essay Topics
Emerging agriculture is an important part of modern life. Why not write an essay or research paper about one of these emerging agriculture topics?
Does agriculture help in addressing inequality in society?
Agricultural electric tractors: Is this a good idea?
What ways can be employed to help Africa improve its agricultural productivity?
Is education related to productivity in small-scale farming?
Genome editing in agriculture: Discuss the pros and cons.
Is group affiliation important in raising productivity in Centre Europe? A case study of Ukraine.
The use of Agri-Nutrition programs to change gender norms.
Mega-Farms: Are they the future of agriculture?
Changes in agriculture in the next ten years: What should we anticipate?
A review of the application of DNA fingerprinting in agriculture.
Global market of agricultural products: Are non-exporters locked out of foreign markets for low productivity?
Are production technologies related to agri-environmental programs more eco-efficient?
Can agriculture support greenhouse mitigation?
Controversial Agricultural Project For Students
Our team of experts has searched for the most controversial topics in agriculture to write a thesis on. These topics are all original, so you're already on your way towards getting bonus points from professors. However, the process of writing is sometimes not as easy as it seems, so dissertation writers for hire will help you to solve all the problems.
Comparing the mechanisms of US and China agricultural markets: Which is better?
Should we ban GMO in agriculture?
Is vivisection a good application or a necessary evil?
Agriculture is the backbone of modern Egypt.
Should the use of harmful chemicals in agriculture be considered biological terror?
How the health of our planet impacts the food supply networks.
People should buy food that is only produced using sustainable methods.
What are the benefits of using subsidies in agriculture? A case study of the United States.
The agrarian protests: What were the main causes and impacts?
What impact would a policy requiring 2/3 of a country to invest in agriculture have?
Analysing the changes in agriculture over time: Why is feeding the world population today a challenge?
Persuasive Agriculture Project Topics
If you have difficulty writing a persuasive agricultural project and don't know where to start, we can help. Here are some topics that will convince you to do a persuasive project on agriculture:
What is the extent of the problem of soil degradation in the US?
Comparing the rates of soil degradation in the United States and Africa.
Employment in the agricultural sector: Can it be a major employer as the population grows?
The process of genetic improvement for seeds: A case study of agriculture in Germany.
The importance of potatoes in people's diet today.
Comparing sweet potato production in the US to China.
What is the impact of corn production for ethanol production on food supply chains?
A review of sustainable grazing methods used in the United States.
Does urban proximity help improve efficiency in agriculture?
Does agriculture create economic spillovers for local economies?
Analysing the use of sprinkle drones in agriculture.
The impact of e-commerce development on agriculture.
Reviewing the agricultural policy in Italy.
Climate change: What does it mean for agriculture in developed nations?
Advanced Agriculture Project Topics
A more difficult topic can help you impress your professor. It can earn you bonus points. Check out the latest list of advanced agricultural project topics:
Analysing agricultural exposure to toxic metals: The case study of arsenic.
Identifying the main areas for reforms in agriculture in the United States.
Are developed countries obligated to help starving countries with food?
World trade adjustments to emerging agricultural dynamics and climate change.
Weather tracking and impacts on agriculture.
Pesticides ban by EU and its impacts on agriculture in Asia and Africa.
Traditional farming methods used to feed communities in winter: A case study of Mongolia.
Comparing the agricultural policy of the EU to that of China.
China grew faster after shifting from an agro to an industrial-based economy: Should more countries move away from agriculture to grow?
What methods can be used to make agriculture more profitable in Africa?
A comprehensive comparison of migratory and non-migratory crops.
What are the impacts of mechanical weeding on soil structure and fertility?
A review of the best strategies for restoring lost soil fertility in agricultural farmlands: A case study of Germany.
Engaging Agriculture Related Research Topics
When it comes to agriculture's importance, there is so much to discuss. These engaging topics can help you get started in your research on agriculture:
Agronomy versus horticultural crops: What are the main differences?
Analysing the impact of climate change on the food supply networks.
Meat processing laws in Germany.
Plant parasites and their impacts in agri-production: A case study of India.
Milk processing laws in Brazil.
What is the extent of post-harvest losses on farming profits?
Agri-supply chains and local food production: What is the relationship?
Can insects help improve agriculture instead of harming it?
The application of terraculture in agriculture: What are the main benefits?
Vertical indoor farms.
Should we be worried about the declining population of bees?
Is organic food better than standard food?
What are the benefits of taking fresh fruits and veggies?
The impacts of over-farming on sustainability and soil quality.
Persuasive Research Topics in Agriculture
Do you need to write a paper on agriculture? Perfect! Here are the absolute best persuasive research topics in agriculture:
Buying coffee produced by poor farmers to support them.
The latest advances in drip irrigation application.
GMO corn in North America.
Global economic crises and impact on agriculture.
Analysis of controversies on the use of chemical fertilisers.
What challenges are facing modern agriculture in France?
What are the negative impacts of cattle farms?
A closer look at the economics behind sheep farming in New Zealand.
The changing price of energy: How important is it for the local farms in the UK?
A review of the changing demand for quality food in Europe.
Wages for people working in agriculture.
Work With Experts To Get High Quality Thesis Paper
Once you pick the preferred topic of research, it is time to get down and start working on your thesis paper. If writing the paper is a challenge, do not hesitate to seek thesis help from our experts. We work with ENL writers who are educated in top universities. Therefore, you can trust them to carry out comprehensive research on your paper and deliver quality work to impress your supervisor. Students who come to us for assistance give a high rating to our writers after scoring top grades or emerging top in class. Our trustworthy experts can also help with other school assignments, thesis editing, and proofreading. We have simplified the process of placing orders so that every student can get assistance quickly and affordably. You only need to navigate to the ordering page to buy a custom thesis paper online.
Make PhD experience your own
Leave a Reply Cancel reply
Your email address will not be published. Required fields are marked *
130 Agriculture Research Topics To Write An Excellent Paper
The preparation of an agriculture research paper involves several nuances and complexities. The first aspect is technical requirements, such as text formatting, structure, and source list. It's also important to choose those agriculture topics that you can analyze and find expert material. Any research paper is based on theses and statements, which are supported by evidence and factual information.
This is especially important when you tend to choose agricultural controversial topics. Then you need to find studies with verified information and prepare arguments for your paper. The whole process of work requires meticulous data collection and analysis of alternative sources. Then choosing any agricultural essay topics won't seem like a heady decision.
Your academic paper may relate to environmental factors, the economic feasibility of starting a farm, or the nuances of breeding. The main plus is that you can choose any of the agricultural related topics for research preparation. Here are 130 options for you.
Fisheries And Aquaculture
Such agricultural research paper topics allow revealing the topic of fishery and agricultural procurement. Students can concentrate on many aspects of the payback of farms and fisheries. The topics are quite extensive, and you can find a lot of research on the Internet for choosing trust sources.
Trout breeding in freshwaters.
Effect of algae on oxygen levels in fish rates.
Seasonal spawning of oceanic fish.
Prohibited fishing waters in the United States.
Exploration of the Pacific Ocean.
The impact of cyclones on fishing.
Poisonous fish and the reasons for their breeding in North America.
Seasonal diseases of trout.
Sea horse: A case study.
Risk analysis of water quality in aquaculture.
Plant Science And Crop Production
Crop Production agricultural research topics and plant science are not the easiest, but they contain a ton of information on the Internet. It is not a problem to find research by leading scientists and create your own research paper based on their statistics. The plus is that you don't have to start from scratch.
Innovative plant breeding.
Reclamation as a method of increasing yields.
Hybrid plants of Montana.
Citrus growing methods.
Technical cannabis and plantations in the USA.
Analysis of the yield of leguminous crops.
Method for creating genetically modified plants.
Field analysis of wheat for pesticides.
New plants and methods of growing them.
Hybrids and cold-resistant plants.
Topics in Agricultural Science
Agriculture essay topics like this allow you to select a specific aspect to research. You can concentrate on vegetation breeding or high tech greenhouse methodology. A large amount of research is a definite plus because you can build your theses on the basis of available data, criticizing or supporting research by scientists.
Harvesting robots.
Methodology for improving agricultural performance.
The influence of technology on the growth of grain crops.
How important is the timely irrigation of fields?
Climatic changes and impact on yield.
Breeding earthworms.
Hydroponic gardening.
Genetically modified organisms and their distribution.
Starting a garden.
How can we make medicine from plants?
Topics in Agronomy
Agronomy agriculture projects for students allow you to consider the aspects of growing crops in conditions with a specific soil type and natural characteristics. You can base your claims on statistics with the ability to draw on facts from other research. For example, this is relevant for papers examining the fertility of the topsoil.
Choosing the type of soil for the cornfield.
Innovative land reclamation.
New branches in agronomy.
Phosphate-free fertilizers.
Hydroponics and greenhouses.
Hybrid yield analysis.
Methodology for assessing agronomic losses.
Stages of preparing a field for harvesting.
The role of GMOs in the fight against insect pests.
Cultivation of technical hemp and soil fertilization methods.
Topics in Animal Breeding And Genetics
Agriculture related topics are interesting because you can touch on aspects of genetics and breeding. Students can concentrate on specific aspects of species modification and animal rearing. The research paper will look more convincing when there are references to real scientific papers with statistics and experimental results.
Breeding new types of sheep.
Breeding bulls and genetic engineering.
The influence of selection on the growth of the animal population.
Proper nutrition for livestock in winter.
Vitamin complexes for animals.
Genetic changes in chickens for resistance to cold.
Nuances of animal genetic modifications.
Stages of caring for newborn kittens.
What is a negative selection?
Basic methods of genetic experiments on animals.
Topics in Animal Production And Health
Such agriculture research paper topics are especially interesting because you can write about farming aspects in the context of raising animals, vegetables, and various crops. It is broad enough, so you will not be limited by narrow boundaries and will be able to consider many aspects of your research paper.
Environmental threats to the oversupply of the sheep population.
The role of livestock in marginal areas.
Livestock digitalization.
Animal selection for meat preparation.
Analysis of livestock farms.
Animal production evaluation technique.
Cow health during calving.
The importance of animal vaccination.
Technical aspects of the medical treatment of animals.
Environmental aspects of animal husbandry.
Topics in Ecotourism And Wildlife
Ecotourism is gaining momentum all over the world. The new trend is aimed at bringing people closer to nature and exploring the beauty of different countries. This issue will be of interest to those who want to talk about wildlife and nature reserves. The topic is quite extensive, so students will not have problems with preparing a research paper.
Minnesota and Eco-Tourism.
The influence of wolves on the formation of the local ecosystem.
Recreational tourism in the USA.
Methods for preparing resorts for eco-tourism.
Lakes and environmental factors.
A technique for preserving wildlife in its original form.
Classic models of eco-tourism.
Stages of creating ecological reserves.
The role of tourism in the restoration of the ecological environment.
The main factors of wildlife conservation.
The legislative framework for wildlife protection.
The nuances of creating a farm in reserve.
Consolidation of resources for the development of a livestock farm.
Topics in Farm Management
Managing a farm can be a complex and multifaceted process. Many students may choose this topic to talk about aspects of breeding and breeding pets or crops. The topic is quite extensive and allows you to touch on any aspect of the farmer's activities related to the production and sale of products.
Farm methods to improve performance.
Stages of creating a livestock farm.
Farm success analysis forms.
Management of the process of planting crops.
The role of modern equipment in cow milking.
Farm reporting and profitability analysis.
Breeding exotic animals.
Rabbit population management.
Statistical methodology for farm control.
Stages of the animal population control on the farm.
Topics in Fisheries And Aquaculture
A similar topic is associated with fish farming, introductory aquaculture, and general aquaculture. Quite a few students can prepare a good research paper if they turn to other people's research and use it as a basis to prove or disprove their own claims and theories. It is also a good opportunity to select food related research topics as you can touch upon the aspect of fish farming and marketing.
Creation and management of a fish rate.
Sturgeon breeding and distribution.
Methods for improving the ecological state of water bodies.
Planting plants in reservoirs for liquid purification.
Fish spawning control.
The aquaculture aspect and social trends.
Methods for increasing fish resources.
Breeding in the fishing industry.
Methods for creating a fish farm.
River resource monitoring and digitalization.
Topics in Agric Business And Financial Management
Control of a livestock or vegetable enterprise depends on many factors, so such a topic's choice will be extremely relevant. The student's most important task is to bring only proven facts and arguments of his own judgments. These agriculture topics for students include an overview of many business processes and farm management.
The farm cost reduction methodology.
US agricultural financing sector.
Agricultural business practices.
Data analysis and farming development.
Financial management of small livestock farms.
Impact of drought on yield.
Cost and payback of farms.
Selecting a region for creating a farm.
A method for analyzing animal resources on a farm.
Management of automated farming enterprises.
Local farming business.
Key factors of farm management.
Farm reports and breeding work.
Topics in Agric Meteorology And Water Management
Meteorological aspects are very important for the management of a company or agricultural enterprises. Another aspect of this topic is water management, which may also be interesting for those who are going to reveal the nuances of fish farming in local waters. The topic will be especially interesting for those who want to connect their lives with agronomy and a similar field.
Cattle breeding methodology.
Pig breeding methods.
Water management to maximize profits.
The choice of a reservoir for growing fish.
Analysis of the ecological situation in water bodies.
Farm equipment management techniques.
Water supply for farm households.
Analysis and selection of a farm development methodology.
Finding the right methods for creating protected reservoirs.
Stages of development of a water farm.
Other Agric Topics
Sometimes choosing a specific topic can be difficult. This is because students are not quite sure which study to base their paper on. You can take a neutral topic that has no specific relation to breeding, meteorology, or farming aspects in such cases.
Innovative farming methods.
Choosing the right water farm management model.
The nuances of trout breeding.
Population control and livestock farm development plan.
Financial analytics and purchase of farm animals.
The self-sufficiency period of the fish farm.
How to create fish spawning tanks?
Selection of breeds of cows for farming.
Methodology for calculating farm risks.
Time management and selection of plants for the plantation.
Features of the legal registration of a farm household.
Modern agricultural drones.
The difference between Ayn Rand's anthem and George Orwell's animal farm.
Animal rights vs. animal welfare.
How to Write a Good Agriculture Research Paper?
One of the main life hacks for getting a high mark is choosing controversial agricultural topics. Choosing this option allows students to consider an interesting statement and back it up with real facts. A paper-based on real statistics with proof of student work is valued above all else.
But even when choosing a good topic, you still need to prepare the right outline for writing your research paper. The introduction should be of the highest quality as well as the final paragraph since these are the main parts that affect the assessment. Real facts and statistics must support all the statements above if you are talking about specific figures. Many colleges and universities have their own paper requirements as well as the nuances of the design of research work. You must consider each parameter in order to get the best result.
If it is difficult to find controversial topics in agriculture and write a high-quality research paper, we can help you with this issue. Our  best essay writing service has been in operation for many years and provides writing assistance for many types of essays, research papers, and theses. We will help you synchronize your preparation process and create an expert paper that gets high marks. You can switch to other tasks and get the opportunity to free up some time to study other disciplines.
An Inspiration List:
Agricultural Research
Current Agriculture Research Journal
Agricultural Research & Technology
Journal of Agriculture and Food Research
Advances in Plants & Agriculture Research
Journal of Bioscience and Agriculture Research
Middle East Journal of Agriculture Research
Official websites use .gov A .gov website belongs to an official government organization in the United States.
Secure .gov websites use HTTPS A lock ( ) or https:// means you've safely connected to the .gov website. Share sensitive information only on official, secure websites.
Animal Health and Welfare
Selected resources on  humane animal care (e.g.,  proper nutrition, housing, and environment, as well as, prevention of pain, suffering, disease, and disability), laws and regulations and certificate programs.
Farms and Agricultural Production Systems
Information on sustainable and organic farming, hydroponics, aquaculture,  irrigation and urban agriculture, as well as farm ownership and heirs' property.
Human Nutrition and Food Safety
Information on various nutrition and food safety topics including food security, nutrient composition, food defense, and local food systems.
Natural Resources, Conservation, and Environment
Topics relating to the environment, including, weather and climate change, conservation practices, environmental justice, invasive species and soil.
Plant Production and Gardening
Community and container gardening, raised beds, seeds and plants, specialty and cover crops, growing vegetables, medicinal herbs and more.
Rural Development and Communities
Resources on community development; environmental justice, rural funding, sustainable rural communities, and links to past and present USDA rural development collections.
Economics, Business, and Trade
Information about agricultural subsidies, funding for farms and businesses, trade policy, food waste and more with these agricultural marketing and trade resources.
An official website of the United States government
Here's how you know
The .gov means it's official. Federal government websites often end in .gov or .mil. Before sharing sensitive information, make sure you're on a federal government site.
The site is secure. The https:// ensures that you are connecting to the official website and that any information you provide is encrypted and transmitted securely.
About Grants
The lifecycle of grants and cooperative agreements consists of four phases: Pre-Award, Award, Post-Award, and Close Out.
Access to Data
The National Institute of Food and Agriculture is committed to serving its stakeholders, Congress, and the public by using new technologies to advance greater openness.
Access Data Gateway
The Data Gateway enables users to find funding data, metrics, and information about research, education, and extension projects that have received grant awards from NIFA.
View Resources Page
This website houses a large volume of supporting materials. In this section, you can search the wide range of documents, videos, and other resources.
Featured Webinar
Grants support technical assistance workshop.
Are you a faculty member new to teaching, research and/or education? Have you applied for a federal grant before and not been successful? Check out the materials from our five-day May 2023 workshop designed to help you learn about different funding opportunities and how to apply.
The National Institute of Food and Agriculture provides leadership and funding for programs that advance agriculture-related sciences.
NIFA supports research, educational, and extension efforts in a wide range of scientific fields related to agricultural and behavioral sciences. In all of these areas, you will find NIFA working in pursuit of our vision. To address contemporary agricultural challenges, we seek to catalyze transformative discoveries and enhance education and engagement.
Advanced Technologies
Business and Economics
Environment
Farming and Ranching
Food Science
Food and Nutrition Security
Human sciences.
International
Natural Resources
Your feedback is important to us.
Thank you for visiting nature.com. You are using a browser version with limited support for CSS. To obtain the best experience, we recommend you use a more up to date browser (or turn off compatibility mode in Internet Explorer). In the meantime, to ensure continued support, we are displaying the site without styles and JavaScript.
Agriculture articles from across Nature Portfolio
Agriculture is the cultivation of plants, animals, and some other organisms, such as fungi, for the production of food, fibre, fuel, and medicines used by society.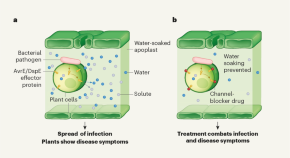 Bacteria deliver water channels to infect plants
A wide range of harmful bacteria introduce proteins into plant cells. Some of these proteins move to the cell membrane and serve as channels for water and nutrients, creating favourable conditions for bacterial growth beside plant cells.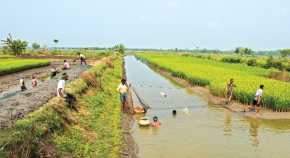 Integrated aquaculture–agriculture production supports food and nutrition security in Bangladesh
Inadequate intakes of animal-derived foods, fruits and vegetables contribute to widespread malnutrition and nutritional deficiencies in Bangladesh. Combining aquatic food with crop production can maximize the nutritional and economic output of smallholder farms.
Latest Research and Reviews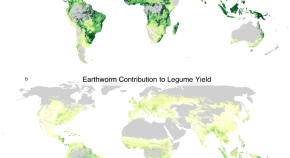 Earthworms contribute significantly to global food production
Earthworms contribute to plant growth. Here, Fonte et al. conduct a global meta-analysis and estimate that earthworms contribute to roughly 6.5% of global grain (maize, rice, wheat, barley) production and 2.3% of legume yields, equivalent to over 140 million metric tons annually.
Steven J. Fonte
Marian Hsieh
Nathaniel D. Mueller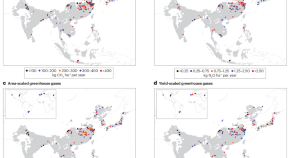 Greenhouse gas emissions and mitigation in rice agriculture
Rice paddies account for a large proportion of total agricultural methane and nitrous oxide emissions. This Review outlines the characteristics, changes and mitigation options for these emissions, highlighting the benefits of water and organic matter management.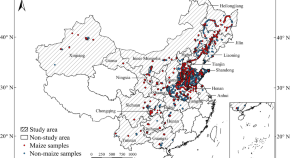 A twenty-year dataset of high-resolution maize distribution in China
Qiongyan Peng
Ruoque Shen
Wenping Yuan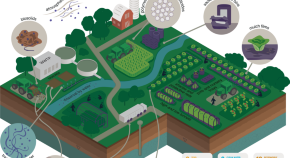 Plastics can be used more sustainably in agriculture
Plastics need to be used more sustainably in agricultural practice, for example by recovery and reuse, and by selected application of safe biodegradable plastics and phasing out of toxic additives, suggests a literature synthesis and perspective on structural polymers in agriculture.
Thilo Hofmann
Subhasis Ghoshal
Kevin J. Wilkinson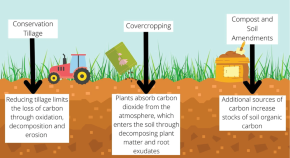 Farmer perspectives on carbon markets incentivizing agricultural soil carbon sequestration
Clare T. Barbato
Aaron L. Strong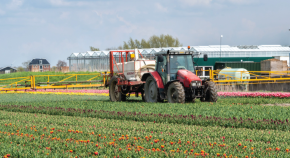 Pesticide reduction amidst food and feed security concerns in Europe
The European Commission's recent proposal for more sustainable use of plant protection products has raised concerns over the impact that reduced pesticide use could have on agricultural yields. This Perspective reviews some of the impact assessments informing policy developments and critically analyses their assumptions.
Kevin Schneider
Jesus Barreiro-Hurle
Emilio Rodriguez-Cerezo
News and Comment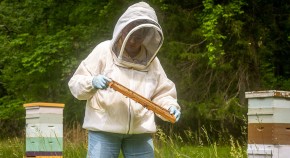 'If I drop this, I'll kill the queen': how I launched a veterinary practice for bees
Elizabeth Hilborn is among just a handful of people in the United States who are medically trained to treat honey bees.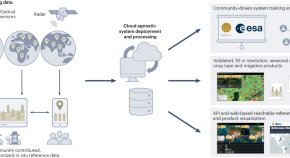 Dynamic global-scale crop and irrigation monitoring
Sven Gilliams
Zoltan Szantoi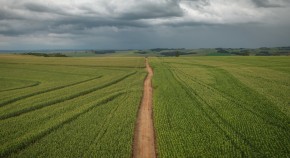 Genetic modification can improve crop yields — but stop overselling it
With a changing climate and a growing population, the world increasingly needs more-productive and resilient crops. But improving them requires a knowledge of what actually works in the field.
Merritt Khaipho-Burch
Mark Cooper
Edward S. Buckler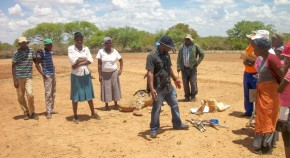 I train farmers to use plant science in the fight against climate change
Plant breeder and geneticist Prince Matova helps farmers in drought-prone areas to increase their yields.
Quick links
Explore articles by subject
Guide to authors
Editorial policies

Agriculture (Research Papers)
Faculty papers, student papers.
Barton, Sarah . "Impact of Cover Crop Use on a Southern Minnesota Soybean and Corn Field: An Analysis of Soil Health and Macroinvertebrate Communities." 2016. Keyword(s): cover crops, macroinvertebrates, soil Barton_view_PDF
Bristol, Emily . "Nitrogen loading in agricultural water drainage in Northfield, Minnesota." 2016. Keyword(s): fertilization, nutrients, tillage Bristol_view_PDF
Gregory, M.M., K.L. Shea, and E.B. Bakko. "Comparing agroecosystems: Effects of cropping and tillage patterns on soil, water, energy use and productivity." 2005. Keyword(s): sustainable agriculture, crop rotation, no-till agriculture, soil organic matter, soil compaction, soil invertebrates, agricultural runoff, fossil fuel consumption, corn-soybean productivity Gregory_view_PDF
Jones, Annika M . "Impact on Soil Quality by Long-term no-till Practices and Artificial Drainage Systems." 2006. Keyword(s): tillage Jones_view_PDF
Klenz, Kendra N . "Promoting soil integrity: the use of cover crops and a microorganism stimulant on a strip-till corn field in southeastern Minnesota." 2015. Keyword(s): cover crops, nutrients, soil Klenz_view_PDF
Knee, Tom . "The Effects of a Cover Crop Mixture on a Strip-Till Corn Field in Southeastern Minnesota." 2016. Keyword(s): cover crops, nutrients, soil Knee_view_PDF
McCormick, Connor . "Comparison of Four Cover Crop Interseeding Methods and Their Effects on Stand Density, Corn Yield, and Soil Properties." 2014. Keyword(s): McCormick_view_PDF
Misch, Lisa . "Comparative analysis of soil quality between agricultural lands varying in farming practices and soil management techniques in southeastern MN." 2014. Keyword(s): Misch_view_PDF
Mitchell, David . "Effects of Hog Manure Fertilizer on Nutrients, Soil Properties, and E. coli Presence in Agriculture Fields in Corn Production in Northfield, Minnesota, U.S.A." 2009. Keyword(s): nutrient cycling Mitchell_view_PDF
Spurr, Rebecca R . "Effects of varying nitrogen fertilizer treatments on soil properties, nutrients, and economic returns in a southeastern Minnesota cornfield." 2010. Keyword(s): fertilization Spurr_view_PDF
Squires, Ellen . "The impact of different nitrogen fertilizer rates on soil characteristics, plant properties, and economic returns in a southeastern Minnesota cornfield." 2013. Keyword(s): fertilization Squires_view_PDF
Agriculture and Food Technology Research Paper Topics
See our collection of agriculture and food technology research paper topics . This page lists 19 topics and provides an overview of agriculture and food technology development.
1. Activated Carbon
Activated carbon is made from any substance with a high carbon content, and activation refers to the development of the property of adsorption. Activated carbon is important in purification processes, in which molecules of various contaminants are concentrated on and adhere to the solid surface of the carbon. Through physical adsorption, activated carbon removes taste and odor-causing organic compounds, volatile organic compounds, and many organic compounds that do not undergo biological degradation from the atmosphere and from water, including potable supplies, process streams, and waste streams. The action can be compared to precipitation. Activated carbon is generally nonpolar, and because of this it adsorbs other nonpolar, mainly organic, substances. Extensive porosity (pore volume) and large available internal surface area of the pores are responsible for adsorption. Activated carbon also found wide application in the pharmaceutical, alcoholic beverage, and electroplating industries; in the removal of pesticides and waste of pesticide manufacture; for treatment of wastewater from petroleum refineries and textile factories; and for remediation of polluted groundwater. Although activated carbons are manufactured for specific uses, it is difficult to characterize them quantitatively. As a result, laboratory trials and pilot plant experiments on a specific waste type normally precede installation of activated carbon facilities.
Need a Custom-Written Essay or a Research Paper?
Academic writing, editing, proofreading, and problem solving services, 2. biological pest control.
Insect outbreaks have plagued crop production throughout human history, but the growth of commercial agriculture since the middle of the nineteenth century has increased their acuteness and brought forth the need to devise efficient methods of insect control. Methods such as the spraying of insecticides, the application of cultural methods, the breeding of insect-resistant plants, and the use of biological control have increasingly been used in the twentieth century. Traditionally limited to checking the populations of insect pests through the release of predatory or parasitic insects, biological control now refers to the regulation of agricultural or forest pests (especially insects, weeds and mammals) using living organisms. It also includes other methods such as the spraying of microbial insecticides, the release of pathogenic microorganisms (fungi, bacteria or viruses), the release of male insects sterilized by radiation, the combination of control methods in integrated pest management programs, and the insertion of toxic genes into plants through genetic engineering techniques. Biological control is also directed against invasive foreign species that threaten ecological biodiversity and landscape esthetics in nonagricultural environments.
3. Crop Protection and Spraying
Humans have controlled agricultural pests, both plants and insects, that infest crops with a variety of biological and technological methods. Modern humans developed spraying pest management techniques that were based on practical solutions to combat fungi, weeds, and insects. Ancient peoples introduced ants to orchards and fields so they could consume caterpillars preying on plants. Chinese, Sumerian, and other early farmers used chemicals such as sulfur, arsenic, and mercury as rudimentary herbicides and insecticides. These chemicals were usually applied to or dusted over roots, stems, or leaves. Seeds were often treated before being sowed. As early as 200 BC, Cato the Censor promoted application of antipest oil sprays to protect plants in the Roman Republic. The nineteenth century potato famine and other catastrophic destruction of economically significant crops including vineyard grapes emphasized the need to improve crop protection measures. People gradually combined technological advances with biological control methods to initiate modern agricultural spraying in the late nineteenth century. Such crop protection technology was crucial in the twentieth century when large-scale commercial agriculture dominated farming to meet global demands for food. Individual farms consisted of hundreds to thousands of acres cultivated in only one or two crop types. As a result, spraying was considered essential to prevent devastating economic losses from pest damage associated with specific crops or locales.
4. Dairy Farming
Throughout the world, especially in the Northern Hemisphere, milk, cheese, butter, ice cream, and other dairy products, have been central elements of food production. Over the centuries improvements in cattle breeding and nutrition, as well as new dairy techniques, led to the increased production of dairy goods. Hand-operated churns and separators were used to make butter and cream, and those close to a barnyard had access to fresh milk. By the late nineteenth century, new science and technology had begun to transform dairy production, particularly in the U.S. and Europe. Rail transportation and iced and refrigerated boxcars made it easier to transport milk to more distant markets. Successful machinery for separating milk from cream came from the DeLaval Corporation in 1879, and the Babcock butterfat tester appeared in 1890. The first practical automated milking machines and commercial pasteurization machines were in use in the decades before 1900. Louis Pasteur's contribution to the dairy industry— discovering the sterilization process for milk— was substantial. By heating milk, pasteurization destroys bacteria that may be harmful to humans. The pasteurization process also increases the shelf life of the product by eliminating enzymes and bacteria that cause milk to spoil. Milk is pasteurized via the ''batch'' method, in which a jacketed vat is surrounded by heated coils. The vat is agitated while heated, which adds qualities to the product that also make it useful for making ice cream. With the ''continuous'' method of pasteurization, time and energy are conserved by continuously processing milk as a high temperature using a steel-plated heat exchanger, heated by steam or hot water. Ultra-high temperature pasteurization was first used in 1948.
5. Farming and Agricultural Methods
Agriculture experienced a transformation in the twentieth century that was vital in increasing food and fiber production for a rising global population. This expansion of production was due to mechanization, the application of science and technology, and the expansion of irrigation. Yet these changes also resulted in the decimation of traditional agricultural systems and an increased reliance on capital, chemicals, water, exploitative labor conditions, and the tides of global marketing. A sign of the transformation of agriculture in the twentieth century was the shift from China and India as countries often devastated by famine to societies that became exporters of food toward the end of the century. As the world's technological leader, the U.S. was at the vanguard of agricultural change, and Americans in the twentieth century experienced the cheapest food in the history of modern civilization, as witnessed by the epidemic of obesity that emerged in the 1990s. Unfortunately, this abundance sometimes led to overproduction, surplus, and economic crisis on the American farm, which one historian has labeled ''the dread of plenty.''
6. Farming and Growth Promotion
Early in the twentieth century, most farmers fed livestock simple mixtures of grains, perhaps supplemented with various plant or animal byproducts and salt. A smaller group of scientific agriculturalists fed relatively balanced rations that included proteins, carbohydrates, minerals, and fats. Questions remained, however, concerning the ideal ratio of these components, the digestibility of various feeds, the relationship between protein and energy, and more. The discoveries of various vitamins in the early twentieth century offered clear evidence that proteins, carbohydrates, and fats did not supply all the needs of a growing animal. Additional research demonstrated that trace minerals like iron, copper, calcium, zinc, and manganese are essential tools that build hemoglobin, limit disease, and speed animal growth. Industrially produced nonprotein nitrogenous compounds, especially urea, have also become important feed additives. The rapid expansion of soybean production, especially after 1930, brought additional sources of proteins and amino acids within the reach of many farmers. Meanwhile, wartime and postwar food demands, as well as a substantial interest in the finding industrial uses for farm byproducts, led to the use of wide variety of supplements—oyster shells, molasses, fish parts, alfalfa, cod liver oil, ground phosphates, and more.
7. Farming Mechanization
Mechanization of agriculture in the twentieth century helped to dramatically increase global production of food and fiber to feed and clothe a burgeoning world population. Among the significant developments in agricultural mechanization in the twentieth century were the introduction of the tractor, various mechanical harvesters and pickers, and labor-saving technologies associated with internal combustion engines, electric motors, and hydraulics. While mechanization increased output and relieved some of the drudgery and hard work of rural life, it also created unintended consequences for rural societies and the natural environment. By decreasing the need for labor, mechanization helped accelerate the population migration from rural to urban areas. For example, in 1790, 90 percent of Americans worked in agriculture, yet by 2000 only about 3 percent of the American workforce was rural. Blessed with great expanses of land and limited labor, technologically inclined Americans dominated the mechanization of agriculture during the twentieth century. Due to mechanization, irrigation, and science, the average American farmer in 1940 fed an estimated ten people, and by 2000 the number was over 100 people. Yet even as mechanization increased the speed of planting and harvesting, reduced labor costs, and increased profits, mechanization also created widespread technological unemployment in the countryside and resulted in huge losses in the rural population.
8. Fertilizers
As the twentieth century opened, fertilizers were a prominent concern for farmers, industrialists, scientists, and political leaders. In 1898, British scientist William Crookes delivered a powerful and widely reported speech that warned of a looming ''famine'' of nitrogenous fertilizers. According to Crookes, rising populations, increased demand for soil-depleting grain products, and the looming exhaustion of sodium nitrate beds in Chile threatened Britain and ''all civilized nations'' with imminent mass starvation and collapse. Yet Crookes also predicted that chemists would manage to discover new artificial fertilizers to replace natural and organic supplies, a prophecy that turned out to encapsulate the actual history of fertilizers in the twentieth century. In addition to obvious links to increased agricultural production, the modern fertilizer industry has been linked with a number of concerns beyond the farm. For example, the short-lived phosphate boom on the Pacific island of Nauru offers a telling case study of the social consequences and environmental devastation than can accompany extractive industries. Further, much of the nitrogen applied to soils does not reach farm plants; nitrates can infiltrate water supplies in ways that directly threaten human health, or indirectly do so by fostering the growth of bacteria that can choke off natural nutrient cycles. To combat such threats, the European Union Common Agricultural Policy includes restrictions on nitrogen applications, and several nations now offer tax incentives to farmers who employ alternative agricultural schemes. Nevertheless, the rapidly growing global population and its demand for inexpensive food means that artificial fertilizer inputs are likely to continue to increase.
9. Fish Farming
Controlled production, management, and harvesting of herbivorous and carnivorous fish has benefited from technology designed specifically for aquaculture. For centuries, humans have cultivated fish for dietary and economic benefits. Captive fish farming initially sustained local populations by supplementing wild fish harvests. Since the 1970s, aquaculture became a significant form of commercialized farming because wild fish populations declined due to overfishing and habitat deterioration. Growing human populations increased demand for reliable, consistent sources of fish suitable for consumption available throughout the year. Fish farming technology can be problematic. If genetically engineered fish escape and mate with wild fish, the offspring might be unable to survive. Cultivated fish live in crowded tanks that sometimes cause suffocation, diseases, and immense amounts of waste and pollutants. Antibiotic use can sometimes result in resistant microorganisms. Coastal fish farms, especially those for shrimp, can be environmentally damaging if adjacent forests are razed.
10. Foods Additives and Substitutes
Advances in food and agricultural technology have improved food safety and availability. Food technology includes techniques to preserve food and develop new products. Substances to preserve and enhance the appeal of foods are called food additives, and colorings fit into this category of additives that are intentionally included in a processed food. All coloring agents must be proven to be safe and their use in terms of permitted quantity, type of food that can have enhanced coloring, and final level is carefully controlled. Fat substitutes on the other hand are technically known as replacers in that they replace the saturated and/or unsaturated fats that would normally be found in processed food as an ingredient or that would be added in formulation of a processed food. Usually the purpose is to improve the perceived health benefit of the particular food substance. Technically speaking, substitutes are not additives but their efficacy and safety must be demonstrated.
11. Food Preparation and Cooking
Twentieth century technological developments for preparing and cooking food consisted of both objects and techniques. Food engineers' primary objectives were to make kitchens more convenient and to reduce time and labor needed to produce meals. A variety of electric appliances were invented or their designs improved to supplement hand tools such as peelers, egg beaters, and grinders. By the close of the twentieth century, technological advancements transformed kitchens, the nucleus of many homes, into sophisticated centers of microchip-controlled devices. Cooking underwent a transition from being performed mainly for subsistence to often being an enjoyable hobby for many people. Kitchen technology altered people's lives. The nineteenth-century Industrial Revolution had initiated the mechanization of homes. Cooks began to use precise measurements and temperatures to cook. Many people eagerly added gadgets to their kitchens, ranging from warming plates and toasters to tabletop cookers. Some architects designed kitchens with built-in cabinets, shelves, and convenient outlets to encourage appliance use. Because they usually cooked, women were the most directly affected by mechanical kitchen innovations. Their domestic roles were redefined as cooking required less time and was often accommodated by such amenities as built-in sinks and dishwashers. Ironically, machines often resulted in women receiving more demands to cook for events and activities because people no longer considered cooking to be an overwhelming chore.
12. Food Preservation by Cooling and Freezing
People have long recognized the benefits of cooling and freezing perishable foods to preserve them and prevent spoilage and deterioration. These cold storage techniques, which impede bacterial activity, are popular means to protect food and enhance food safety and hygiene. The food industry has benefited from chilled food technology advancements during the twentieth century based on earlier observations. For several centuries, humans realized that evaporating salt water removed heat from substances. As a result, food was cooled by placing it in brine. Cold storage in ice- or snow-packed spaces such as cellars and ice houses foreshadowed the invention of refrigerators and freezers. Before mechanical refrigeration became consistent, freezing was the preferred food preservation technique because ice inhibited microorganisms. Freezing technology advanced to preserve food more efficiently with several processes. Blast freezing uses high-velocity air to freeze food for several hours in a tunnel. Refrigerated plates press and freeze food for thirty to ninety minutes in plate freezing. Belt freezing quickly freezes food in five minutes with air forced through a mesh belt. Cryogenic freezing involves liquid nitrogen or Freon absorbing food heat during several seconds of immersion.
13. Food Preservation by Freeze Drying, Irradiation, and Vacuum Packing
Humans have used processes associated with freeze-drying for centuries by placing foods at cooler high altitudes with low atmospheric pressure where water content is naturally vaporized. Also called lyophilization, freeze-drying involves moisture being removed from objects through sublimation. Modern freeze-drying techniques dehydrate frozen foods in vacuum chambers, which apply low pressure and cause vaporization. Irradiation is less successful than freeze-drying. Prior to irradiation, millions of people worldwide became ill annually due to contaminated foods with several thousand being hospitalized or dying due to food-borne pathogens. By exposing food to an electron beam, irradiation enhances food safety. Irradiated human and animal feed, especially grain, can be transported over distances and stored for a long duration without spoiling or posing contamination hazards. The radura is the international food packaging symbol for irradiation. Vacuum-packing food technologies involve a process that removes empty spaces around foods being packaged. Vacuum technology uses environments artificially modified to have atmospheric pressures that are lower than natural conditions. Vacuum packing extends the shelf life of food. The U.K. Advisory Committee on the Microbiological Safety of Foods warned that anaerobic pathogens such as C. botulinum can grow in vacuum-packed foods. Because vacuum packing often results in rubbery sliced cheese, some manufacturers use the modified atmosphere packaging (MAP) system, which utilizes gases to fill spaces so that cheese can mature to become tastier inside packaging.
14. Irrigation Systems
Since the onset of human civilization, the manipulation of water through irrigation systems has allowed for the creation of agricultural bounty and the presence of ornamental landscaping, often in the most arid regions of the planet. These systems have undergone a widespread transformation during the twentieth century with the introduction of massive dams, canals, aqueducts, and new water delivery technology. In 1900 there were approximately 480,000 square kilometers of land under irrigation; by 2000 that total had surged to 2,710,000 square kilometers, with India and China as the world leaders in irrigated acreage. Globally, the agriculture industry uses about 69 percent of the available fresh water supplies, producing 40 percent of the world's food on just about 18 percent of the world's cropland. (It takes 1000 tons of water to produce 1 ton of grain.) New technologies to monitor evaporation, plant transpiration, and soil moisture levels have helped increase the efficiency of irrigation systems. The US is the world leader in irrigation technology, exporting upward of $800 million of irrigation equipment to the rest of the world each year, with the sales of drip irrigation equipment increasing 15 to 20 percent per annum in the 1990s. Golf course and landscape irrigation are also an increasing part of the irrigation technology market. Intense competition for water from cities and for environmental restoration projects might mean a reduction in irrigated agriculture in future years. At the same time, salinization of fields, infiltration of aquifers by sea water, and depleted water availability could lead to a reduction in land under irrigation worldwide.
15. Nitrogen Fixation
In 1898, the British scientist William Crookes in his presidential address to the British Association for the Advancement of Science warned of an impending fertilizer crisis. The answer lay in the fixation of atmospheric nitrogen. Around 1900, industrial fixation with calcium carbide to produce cyanamide, the process of the German chemists Nikodemus Caro and Adolf Frank, was introduced. This process relied on inexpensive hydroelectricity, which is why the American Cyanamid Company was set up at Ontario, Canada, in 1907 to exploit the power of Niagara Falls. Electrochemical fixing of nitrogen as its monoxide was first realized in Norway, with the electric arc process of Kristian Birkeland and Samuel Eyde in 1903. The nitrogen monoxide formed nitrogen dioxide, which reacted with water to give nitric acid, which was then converted into the fertilizer calcium nitrate. The yield was low, and as with the Caro–Frank process, the method could be worked commercially only because of the availability of hydroelectricity.
16. Pesticides
A pesticide is any chemical designed to kill pests and includes the categories of herbicide, insecticide, fungicide, avicide, and rodenticide. Individuals, governments, and private organizations used pesticides in the twentieth century, but chemical control has been especially widespread in agriculture as farmers around the world attempted to reduce crop and livestock losses due to pest infestations, thereby maximizing returns on their investment in seed, fuel, labor, machinery expenses, animals, and land. Until the twentieth century, cultural pest control practices were more popular than chemicals. Cultural methods meant that farmers killed pests by destroying infested plant material in the fields, trapping, practicing crop rotation, cultivating, drying harvested crops, planting different crop varieties, and numerous other techniques. In the twentieth century, new chemical formulations and application equipment were the products of the growth in large-scale agriculture that simultaneously enabled that growth. Large scale and specialized farming provided ideal feeding grounds for harmful insects. Notable early efforts in insect control began in the orchards and vineyards of California. Without annual crop rotations, growers needed additional insect control techniques to prevent build-ups of pest populations. As the scale of fruit and nut production increased in the early decades of the century, so too did the insect problem.
17. Processed and Fast Food
Convenience, uniformity, predictability, affordability, and accessibility characterized twentieth-century processed and fast foods. Technology made mass-produced fast food possible by automating agricultural production and food processing. Globally, fast food provided a service for busy people who lacked time to buy groceries and cook their meals or could not afford the costs and time associated with eating traditional restaurant fare. As early as the nineteenth century, some cafeterias and restaurants, foreshadowing fast-food franchises, offered patrons self-service opportunities to select cooked and raw foods, such as meats and salads, from displays. Many modern cafeterias are affiliated with schools, businesses, and clubs to provide quick, cheap meals, often using processed foods and condiments, for students, employees, and members. Food-processing technology is designed primarily to standardize the food industry and produce food that is more flavorful and palatable for consumers and manageable and inexpensive for restaurant personnel. Food technologists develop better devices to improve the processing of food from slaughter or harvesting to presentation to diners. They are concerned with making food edible while extending the time period it can be consumed. Flavor, texture, and temperature retention of these foods when they are prepared for consumers are also sought in these processes. Microwave and radio frequency ovens process food quickly, consistently, and affordably. Microwaves are used to precook meats before they are frozen for later frying in fast-food restaurants. Nitrogen-based freezing systems have proven useful to process seafood, particularly shrimp. Mechanical and cryogenic systems also are used. The dehydrating and sterilizing of foods remove contaminants and make them easier to package. Heating and thawing eliminate bacteria to meet health codes. These processes are limited by associated expenses and occasional damage to foods. Processing techniques have been adapted to produce a greater variety of products from basic foods and have been automated to make production and packaging, such as mixing and bottling, efficient enough to meet consumer demand.
18. Synthetic Foods, Mycoprotein and Hydrogenated Fats
Food technologists developed synthetic foods to meet specific nutritional and cultural demands. Also referred to as artificial foods, synthetic foods are meat-free and are designed to provide essential fiber and nutrients such as proteins found in meats while having low saturated fat and lacking animal fat and cholesterol. These foodstuffs are manufactured completely from organic material. They have been manipulated to be tasty, nutritionally sound with major vitamins and minerals, have appealing textures, and safe for consumption. Synthetic foods offer people healthy dietary choices, variety, and convenience. Mycoprotein is created from Fusarium venenatum (also known as Fusarium graminearum), a small edible fungi related to mushrooms and truffles that was initially found in the soil of a pasture outside Marlow in Buckinghamshire, England. Concerned about possible food shortages such as those experienced in World War II Europe; as global populations swelled postwar, scientists began investigating possible applications for this organism as a widely available, affordable protein source. Scientists at one of Britain's leading food manufacturers, Rank Hovis McDougall, focused on mycoprotein from 1964. At first, they were unable to cultivate fungus to produce mycoprotein in sufficient quantities for the envisioned scale of food production. Food technologists devoted several years to establishing procedures for growing desired amounts of mycoprotein. They chose a fermentation process involving microorganisms, somewhat like those historically used to create yogurt, wine, and beer. Food technologists create hydrogenated fats by processing vegetable oils, consisting of glycerides and fatty acids, with chemicals to achieve certain degrees of hardening. Partial hydrogenation stiffens oils, while full hydrogenation converts liquid oils into solid fat. The hydrogenation process involves moving hydrogen gas through heated oils in vats containing metals, usually copper, nickel, or zinc. When the metal reacts to the gas, it acts as a catalyst to relocate hydrogen molecules in the oil to create different, stiffer molecular shapes. This chemical reaction creates trans fats. Saturation of fats in these synthetic molecules increases according to the degree of hydrogenation achieved.
19. Transportation of Foodstuffs
Twentieth century foodstuffs were transported by land on vehicles and trains, by air on cargo planes, and by water on ships or barges. Based on innovations used in previous centuries, engineers developed agricultural technology such as refrigerated containers to ship perishable goods to distant markets. Technological advancements enabled food transportation to occur between countries and continents. International agreements outlined acceptable transportation modes and methods for shipping perishables. Such long-distance food transportation allowed people in different regions of the world to gain access to foodstuffs previously unavailable and incorporate new products they liked into their diets. Refrigerated trailers dominate road food transportation methods. This transportation mode minimizes food vulnerability to shipment damage from being harvested to placement on grocery shelves. Refrigerated transport enables fresh produce from milder climates to be shipped out-of-season to colder locations. Refrigeration is achieved by mechanical or cryogenic refrigeration or by packing or covering foods in ice. Ventilation keeps produce cool by absorbing heat created by food respiration and transferred through the walls and floor from the external air beneath and around the shipping trailer. Food technologists design packaging materials for food transportation. Most produce is shipped in corrugated and fiberboard cardboard boxes that are sometimes coated with wax. Wooden and wire-bound crates are also used in addition to bushel hampers and bins. Mesh plastic, burlap, and paper bags hold produce. Meat is often vacuum packed on plastic trays that are placed in wooden lugs. Foods are occasionally wrapped in plastic liners or packed in ice to withstand damage in transit and limit evaporation.
Agriculture and Food Technology
In late-twentieth century Western societies, food was available in abundance. Shops and supermarkets offered a wide choice in products and brands. The fast-food industry had outlets in every neighborhood and village. For those in search of something more exclusive, there were smart restaurants and classy catering services. People chose what they ate and drank with little awareness of the sources or processes involved as long as the food was tasty, nutritious, safe, and sufficient for everyone. These conditions have not always been met over the last century when food shortages caused by economic crises, drought, or armed conflicts and war, occurred in various places. During the second half of the twentieth century, food deficiency was a feature of countries outside the Western world, especially in Africa. The twentieth century also witnessed a different sort of food crisis in the form of a widespread concern over the quality and safety of food that mainly resulted from major changes in production processes, products, composition, or preferences.
Technology plays a key role in both types of crises, as both cause and cure, and it is the character of technological development in food and agriculture that will be discussed. The first section examines the roots of technological developments of modern times. The second is an overview of three patterns of agricultural technology. The final two sections cover developments according to geographical differences.
Before we can assess technological developments in agriculture and food, we must define the terms and concepts. A very broad description of agriculture is the manipulation of plants and animals in a way that is functional to a wide range of societal needs. Manipulation hints at technology in a broad sense; covering knowledge, skills, and tools applied for production and consumption of (parts or extractions of) plants and animals. Societal needs include the basic human need for food. Many agricultural products are food products or end up as such. However, crops such as rubber or flax and animals raised for their skin are only a few examples of agricultural products that do not end up in the food chain. Conversely, not all food stems from agricultural production. Some food is collected directly from natural sources, like fish, and there are borderline cases such as beekeeping. Some food products and many food ingredients are artificially made through complicated biochemical processes. This relates to a narrow segment of technology, namely science-based food technology.
Both broad and narrow descriptions of agriculture are relevant to consider. In sugar production for example, from the cultivation of cane or beets to the extraction of sugar crystals, both traditional and science-based technologies are applied. Moreover, chemical research and development resulted in sugar replacements such as saccharin and aspartame. Consequently, a randomly chosen soft drink might consist of only water, artificial sweeteners, artificial colorings and flavorings, and although no agriculture is needed to produce such products, there is still a relationship to it. One can imagine that a structural replacement of sugar by artificial sweeteners will affect world sugar prices and therewith the income of cane and beet sugar producers. Such global food chains exemplify the complex nature of technological development in food and agriculture.
The Roots of Technological Development
Science-based technologies were exceptional in agriculture until the mid-nineteenth century. Innovations in agriculture were developed and applied by the people cultivating the land, and the innovations related to the interaction between crops, soils, and cattle. Such innovation is exemplified by farmers in Northern Europe who confronted particular difficulties caused by the climate. Low temperatures meant slow decomposition of organic material, and the short growing season meant a limited production of organic material to be decomposed. Both factors resulted in slow recuperation of the soil's natural fertility after exploitation. The short growing season also meant that farmers had to produce enough for the entire year in less than a year. Farmers therefore developed systems in which cattle and other livestock played a pivotal role as manure producers for fertilizer. Changes in the feed crop could allow an increase in livestock, which produced more manure to be used for fertilizing the arable land, resulting in higher yields. Through the ages, farmers in Northern Europe intensified this cycle. From about the 1820s the purchase of external supplies increased the productivity of farming in the temperate zones. Technological improvements made increases in productivity not only possible but also attractive, as nearby markets grew and distant markets came within reach as a result of the nineteenth century transportation revolution.
An important development at mid-nineteenth century was the growing interest in applying science to agricultural development. The two disciplines with the largest impact were chemistry and biology. The name attached to agricultural chemistry is Justus von Liebig, a German chemist who in the 1840s formulated a theory on the processes underlying soil fertility and plant growth. He propagated his organic chemistry as the key to the application of the right type and amount of fertilizer. Liebig launched his ideas at a time when farmers were organizing themselves based on a common interest in cheap supplies. The synergy of these developments resulted in the creation of many laboratories for experimentation with these products, primarily fertilizers. During the second half of the nineteenth century, agricultural experiment stations were opened all over Europe and North America.
Sometime later, experimental biology became entangled with agriculture. Inspired by the ideas of the British naturalist Charles Darwin, biologists became interested in the reproduction and growth of agricultural crops and animals. Botany and, to a lesser extent, zoology became important disciplines at the experimental stations or provided reasons to create new research laboratories. Research into the reproductive systems of different species, investigating patterns of inheritance and growth of plant and animal species, and experimentation in cross-breeding and selection by farmers and scientists together lay the foundations of genetic modification techniques in the twentieth century.
By the turn of the century, about 600 agricultural experiment stations were spread around the Western world, often operating in conjunction with universities or agricultural schools. Moreover, technologies that were not specifically developed for agriculture and food had a clear impact on the sector. Large ocean-going steamships, telegraphy, railways, and refrigeration, reduced time and increased loads between farms and markets. Key trade routes brought supplies of grain and other products to Europe from North America and the British dominions, resulting in a severe economic crisis in the 1880s for European agriculture. Heat and power from steam engines industrialized food production by taking over farm activities like cheese making or by expanding and intensifying existing industrial production such as sugar extraction. The development of synthetic dyes made crop-based colorants redundant, strongly reducing or even eliminating cultivation of the herb madder or indigo plants. These developments formed the basis of major technological changes in agriculture and food through the twentieth century.
Patterns of Technology Development
The twentieth century brought an enormous amount of technology developed for and applied to agriculture. These developments may be examined by highlighting the patterns of technology in three areas—infrastructure, public sector, and commercial factory—as if they were seen in cross section. The patterns are based on combined material and institutional forces that shaped technology.
A major development related to infrastructure concerns mechanization and transport. The combustion engine had a significant effect on agriculture and food. Not only did tractors replace animal and manual labor, but trucks and buses also connected farmers, traders, and markets. The development of cooling technology increased storage life and the distribution range for fresh products. Developments in packaging in general were very important. It was said that World War I would have been impossible without canned food. Storage and packaging is closely related to hygiene. Knowledge about sources and causes of decay and contamination initiated new methods of safe handling of food, affecting products and trade as well as initiating other innovations. In the dairy sector, for example, expanding markets led to the growth and mergers of dairy factories. That changed the logistics of milk collection, resulting in the development of on-farm storage tanks. These were mostly introduced together with compression and tube systems for machine milking, which increased milking capacity and improved hygiene conditions. A different area of infrastructure development is related to water management. Over the twentieth century, technologies for irrigation and drainage had implications for improved ''carrying capacity'' of the land, allowing the use of heavy machinery. Improved drainage also meant greater water discharge, which in turn required wider ditches and canals. Water control also had implications for shipping and for supplies of drinking water that required contractual arrangements between farmers, governing bodies, and other agencies.
During the twentieth century, most governments supported their agricultural and food sectors. The overall interest in food security and food safety moved governments to invest in technologies that increased productivity and maintained or improved quality. Public education and extension services informed farmers about the latest methods and techniques. Governments also became directly involved in technological development, most notably crop improvement. Seed is a difficult product to exploit commercially. Farmers can easily put aside part of the harvest as seed for the next season. Public institutes for plant breeding were set up to improve food crops—primarily wheat, rice, and maize—and governments looked for ways to attract private investment in this area. Regulatory and control mechanisms were introduced to protect commercial seed production, multiplication, and trade. Private companies in turn looked for methods to make seed reproduction less attractive to farmers, and they were successful in the case of so-called hybrid maize. The genetic make-up of hybrid maize is such that seeds give very high yields in the first year but much less in the following years. To maintain productivity levels, farmers have to purchase new seed every season. Developments in genetic engineering increased the options for companies to commercially exploit seed production.
Most private companies that became involved in genetic engineering and plant breeding over the last three decades of the twentieth century started as chemical companies. Genetic engineering allowed for commercially attractive combinations of crops and chemicals. A classic example is the herbicide Roundup, developed by the chemical company Monsanto. Several crops, most prominently soy, are made resistant to the powerful chemical. Buying the resistant seed in combination with the chemical makes weed control an easy job for farmers. This type of commercial development of chemical technologies and products dominated the agricultural and food sector over the twentieth century. Artificially made nitrogen fertilizers are one such development that had a worldwide impact. In 1908, Fritz Haber, chemist at the Technische Hochschule in Karlsruhe, fixed nitrogen to hydrogen under high pressure in a laboratory setting. To exploit the process, Haber needed equipment and knowledge to deal with high pressures in a factory setting, and he approached the chemical company BASF. Haber and BASF engineer Carl Bosch built a crude version of a reactor, further developed by a range of specialists BASF assigned to the project. The result was a range of nitrogen fertilizer products made in a capital and knowledge-intensive factory environment. This type of development was also applied to creating chemicals such as DDT for control of various pests (dichloro-diphenyltrichloroethane), developed in 1939 by Geigy researcher Paul Mu¨ ller and his team. DDT may exemplify the reverse side of the generally positive large-scale application of chemicals in agricultural production—the unpredictable and detrimental effects on the environment and human health.
The commercial factory setting for technology development was omnipresent in the food sector. The combination of knowledge of chemical processes and mechanical engineering determined the introduction of entirely new products: artificial flavorings, products, and brands of products based on particular food combinations, or new processes such as drying and freezing, and storing and packaging methods.
Patterns of Technology Development in the Western World
Technological developments in agriculture and food differ with regard to geography and diverging social and economic factors. In regions with large stretches of relatively flat lands, where soil conditions are rather similar and population is low, a rise in productivity is best realized by technologies that work on the economies of scale. The introduction of mechanical technologies was most intensive in regions with these characteristics. Beginning early in the twentieth century, widespread mechanization was a common feature of Western agriculture, but it took different forms. In the Netherlands, for example, average farm size was relatively small and labor was not particularly scarce. Consequently, the use of tractors was limited for the first half of the twentieth century as emphasis was placed on improved cultivation methods. Tractors became widely used only after the 1950s when equipment became lighter and more cost-effective and labor costs rose sharply. The result was an overall increase of farm size in these regions as well. The Dutch government changed the countryside with a land policy of connecting and merging individual parcels as much as possible. This huge operation created favorable conditions for expansion; but where the land was already under cultivation, the only way to expand was to buy up neighboring farms. The effect was a considerable reduction in the number of farm units. An exception to this process was the Dutch greenhouse sector, in which improvements in construction, climate regulation, and introduction of hydroponic cultivation, increased production without considerable growth of land per farm unit.
The Dutch greenhouse sector is also an exemplary case of technological support in decision making and farm management. In Western countries a vast service sector emerged around agriculture and food. This process in fact started early in the twentieth century with the rise of extension services, set up as government agencies or private companies. Experimental methods based on multivariate statistics, developed by the British mathematician Karl Fisher, are the major tool in turning results of field experiments into general advisories. In keeping with the development of modern computers, digital models of crop growth and farming systems became more effective. Computer programs help farmers perform certain actions and monitor other equipment and machinery; yet even in the most technologically advanced greenhouses, the skilled eye of the farmer is a factor that makes a considerable difference in the quality and quantity of the final product.
The means by which agriculture in the West raised productivity have been questioned. Doubts about the safety of food products and worries over the restoration of nature's capacity became recurrent issues in public debate. Moreover, technological advances in tandem with subsidies resulted in overproduction, confronting national and international governing bodies with problems in trade and distribution, and a public resistance against intensive agriculture, sometimes called agribusiness. Technology is neither good nor bad; much of the knowledge underlying technologies with a detrimental effect also helps detect polluting factors and health hazards. Although a substantial part of research and technological efforts are aimed at replacing and avoiding harmful factors, many such ''clean'' technologies are commercially less interesting to farmers and companies. Subsidies and other financial arrangements are again being used to steer technology development, this time in the direction of environmentally friendly and safe forms of production.
Patterns of Technology Development in Less Developed Countries
From the beginning of the twentieth century, scientific and technological developments in the agricultural and food sector were introduced to less developed countries either by Western colonizing powers or by other forms of global interaction. The search for improved farming methods and new technology were mostly institutionalized at existing botanical gardens and established in previous centuries. Plant transfer and economic botany were a major modality of twentieth century technological improvement in less developed countries.
The early decades of the century featured an emphasis on technological improvement for plantation agriculture. Plantation owners invested in scientific research for agriculture, often supported by colonial administrations. The gradual abolition of slavery during the nineteenth century, increasing labor costs, was a reason to invest in technology. Other factors were more specific to particular sectors; for example, the rise of European beet sugar production encouraging cane sugar manufacturers to invest in technological improvement. Another example was the emergence of the automobile industry, which initiated a boom in rubber production.
Most colonial administrations launched programs, based on the combination of botanical and chemical research, to improve food crop production in the first decades of the twentieth century. It was recognized that dispersion of new technologies to a small number of plantation owners was different from initiating change among a vast group of local food crop producers. The major differences concerned the ecology of farming (crop patterns and soil conditions) and the socioeconomic conditions (organization of labor or available capital). Agronomists had to be familiar with local farming systems, occasionally resulting in pleas for a technology transfer that would better meet the complexity of local production. The overall approach, however, was an emphasis on improvement of fertilization and crop varieties. Transfer of the Western model gained momentum in the decades after World War II. Food shortages in the immediate postwar years encouraged European colonial powers to open up large tropical areas for mechanized farming. Unfortunately, the result was largely either a short-lived disaster, as in the case of the British-run groundnut scheme in Tanzania, or a more enduring problem, as in case of the Dutch-run mechanized rice-farming schemes in Surinam. The 1940s also saw the beginnings of a movement that came to be known as the ''green revolution.'' Driven by the idea that hunger is a breeding ground for communism, American agencies initiated a research program for crop improvement, primarily by breeding fertilizer-responsive varieties of wheat and rice. Agencies were put together in a Consultative Group on International Agricultural Research (CGIAR). Technological progress was realized by bringing together experts and plant material from various parts of the world. Modified breeding techniques and a wide availability of parent material resulted in high-yielding varieties of wheat and rice. Encouraged by lucrative credit facilities, farmers, especially in Asia, quickly adopted the new varieties and the required chemicals for fertilization and pest control. Research on the adoption process of these varieties made clear that many farmers modified the seed technology based on specific conditions of the farming systems. In areas where such modifications could not be achieved—primarily rice growing regions in Africa—green revolution varieties were not very successful. Based on these findings, CGIAR researchers began to readdress issues of variation in ecology and farming systems. This type of research is very similar to that done by colonial experts several decades earlier. However, because of decolonization and antiimperialist sentiments among Western nations, much of this earlier expertise has been neglected. This is just one of the opportunities for further research in the domain of agriculture and food technology.
Browse other Technology Research Paper Topics .
ORDER HIGH QUALITY CUSTOM PAPER
121 Farming Essay Topics
🏆 best essay topics on farming, 🎓 most interesting farming research titles, 💡 simple farming essay ideas, ❓ research question about farmers.
Conventional Farming vs Hydroponic Conventional farming utilizes pesticides and other land requirements to facilitate crop yield. However, pest and plant diseases continue to plague conventional farming.
Farm Subsidies in the USA To safeguard the survival of the important industry, most developed nations have come up with means for ensuring that farmers remain in business.
City Life vs Country Life: Essay on Similarities and Differences The main purpose of this paper is to check the differences and the similarities of two considered places and the effect those places have on society.
Farming Business Innovations: Urban Cultivator and Tree-T-Pee The urban cultivator is an alternative that reduces complications of foul weather or stale herbs and micro greens. Cost-efficient Tree-T-Pee, revolutionizes farming businesses.
Dallas Farmer's Market Advertisement The ads of Dallas Farmer's market conveys a message that people should purchase healthy food provided by this market. It uses a recognizable object and fills it with a new sense.
Immokalee City Development: Farming or Gambling It is necessary to note that economy can benefit from investment into development of education and training as the population is quite young.
Delmarva Area Farming and Hydroponics System Delmarva is a peninsula that is situated at the East Coast of the United States. It covers vast areas of Delaware, Maryland, and Virginia.
Genetically Modified Organisms and Future Farming There are many debates about benefits and limitations of GMOs, but so far, scientists fail to prove that the advantages of these organisms are more numerous than the disadvantages.
Raccoon-Proof Chicken Coop Building and Farming Adopting the idea of Novella Carpenter about farming and taking care of animals, I would like to share my experience of farming and building a raccoon-proof chicken coop.
Gender Identities Within the Farm Family The major phenomenon considered in the article is the development of gender identities within the farm family living in Northern Ireland.
Issue for Farmers in Developing Countries Agriculture is a very important sector in the whole world economy since it makes available, food to every living person.
The Agrarian Protest: Causes, Farmers Alliances, Break Up The Agrarian Protest made a distinctive feature in the history of America, the protests were largely brought about by the American farmers against the economic ills at this time.
McKinsey & Company: State Farm Insurance Assessment In this paper, McKinsey & Company is to be discussed as a management consulting firm that deals in consultancy, especially at senior management levels.
Environmental Issues: Intensive Farming Intensive farming as an issue involves factors such as overgrazing, inappropriate methods during the preparation of land for farming for example slashing of bushes, etc.
The Nature of State Farm State Farm was started in 1902 and it has fifty million members. It was set up because the founders believed there were no good roads or highways that catered for cars.
The Current American Food Situation Influenced by the Immigrant Farmers This research paper is concerned with finding out about the States' food system and how immigrant farmers contribute to the food situation in current American society.
The Great Depression and the New Deal Farm Policies The years of the great depression were characterized by poverty, high unemployment, deflation, low profits and plunging farm incomes.
Organic Farming Methods: Pest Management Methods The organic farming techniques aim is providing highest nutritional foodstuffs with little effect on the natural environment.
The Farm Bill: Description and Analysis The Farm Bill should be analyzed from different perspectives in order to identify its potential influence on the area of farming in the country.
Whiteness and Farmers Markets "Whiteness and Farmers Markets: Performances, Perpetuations… Contestations?" discusses cultural, political, and class issues through the prism of the American farmer markets.
The Shortage of Labor and Inability of European Farmers: Slave Trade The shortage of labor and the inability of European farmers to find alternative sources of it are the major factors that influenced the growth of the transatlantic slave trade.
Rebellion on the Animal Farm: Need to Rise Against Pigs The pigs' tyranny envelops various spheres of the animals' lives, from stolen products, such as milk and apples, to abusing the community representatives' amount of work.
Case Study: Farming the Cerrado The case "Farming the Cerrado" documents the advantages and disadvantages of expansion in soybean farming in Brazil.
"How Factory Farms Play Chicken With Antibiotics": A Response In his 2016 article, "How Factory Farms Play Chicken with Antibiotics," Philpott explains the antibiotics-based approach toward preventing bacteria.
Urban Farming and Smart Greenhouse Scientists created a smart greenhouse that uses state-of-the-art technologies to grow the maximum number of crops, fruits, and vegetables by using the minimum resources.
Organic Farming: Opposition to Traditional Farming As opposed to traditional farming, the benefits of organic are that these farmers avoid using harmful chemicals and work with the environment they are in to produce crops.
Fair Trade and Its Benefits for Local Farmers Fair trade was introduced to support the work of local farmers, whose incomes depend not only on themselves but also on various factors such as drought, crop diseases, and others.
Antibiotics Use in Factory Farms The current approach to food production has serious drawbacks and leads to unexpected health issues nationwide, as huge factory farms use large quantities of antibiotics.
Environmental Impact of Avocado Farming in Mexico Despite the benefits of Avocado growing in the Mexican economy, farming has some detrimental effects on the environment, which, if not checked, could lead to world disaster.
Encouragement of Family Farms by Small Island Countries This paper discusses the importance of family farming in small island countries for achieving food security and explores the challenges and opportunities associated with gardening.
Farmer's Market for a Diverse Community: Risk Factors The paper discusses potential risk factors for the farmer's market for a diverse community. It includes technical, managerial, commercial, and external risk factors.
Multi-Objective Optimization and Design of Farming Systems
Agriculture and Organic Farming
Farming During the Late Nineteenth Century
Entry and Exit From Farming in North Carolina, 1978-87
Organic Farming Can Not Feed the World
Differences Between Conventional and Organic Farming
Farming Safety and Production
Cost Structure and Vertical Integration Between Farming and Processing
Factory Farming Should Not Be Allowed in America
Alabama's Forestry and Farming Industries
Exit From Farming and Land Abandonment in Northern Norway
Land Allotment and the Decline of American Indian Farming
Keynesian Economics and Farming
Chinese Peasant Choices: Migration, Rural Industry, or Farming
Ancient Egypt's Farming System
Hog Farming and the Dangers to the Air and Water
Animal Rights and the Tragedies of Factory Farming
Organic Farming and Organic Food
Ancient Rome: Farming, Clothing, Sports, and Government
Contract Farming: Theory and Practice
Mussel Farming and Its Potential in the Baltic Sea
Living With Low Inflation: Farming for Profit
19th Century Farming, American History
Canada's Forestry, Fishing, and Farming Industries
Farming the Tambopata Reserve
Contract Farming and Agricultural Development of Orissa
Integrating Fish and Azolla Into Rice-Duck Farming in Asia
Grass Conservation and Dairy Farming
Financial and Economic Aspects of Urban Vegetable Farming
Contract Farming and Outgrower Schemes in East and Southern Africa
Farming and the Soil in Our State Today
California Drought and Organic Versus Conventional Farming
Green House Farming and the World Food Crisis
Hill and Upland Farming in the North of England
Difference Between Organic and Conventional Foods and Farming
Comparing Organic Farming and Conventional Farming
Manmade Wetlands and Hog Farming
Land Transfers and Agrarian Changes in Individual Farming
Fish Farming: Meeting the World´S Demand for Fish Supply
Organic Farming and the Food Industry
Health, Health Insurance, and Decision to Exit From Farming
Agriculture Farming and Subsistence Farming
Fish Farming Through Community Participation in Assam
Farming Systems and the Common Market
Nile Basin Farming Systems and Productivity
Farm Size and the Organization of U.S. Crop Farming
Farming Methods and Food Crisis
Improvement Strategies for Farming Systems in the Eastern Highlands of Ethiopia
Factors Influencing the Conversion to Organic Farming in Norway
Factory Farming and Its Effects on the Environment
Fossil Energy and Ghg Saving Potentials of Pig Farming in the EU
Farming During the Daily Lives of Ancient Egypt
Market Signals for Organic Farming
Farming During the 1930s
Information and the Adoption of Precision Farming Technologies
Agriculture and Animal Farming
Absolute and Comparative Sustainability of Farming Enterprises in Bulgaria
Kenya Ameru Tribe People Crops Farming
Factors That Affect the Use of Herbicides in Philippine Rice Farming Systems
Free Range Farming Should Be Banned
Are Organic Farming Practices Safer?
Can Commercial Farming Promote Rural Dynamism in Sub-Saharan Africa?
Why Did Deflation During the Late 1800s Hurt Farmers?
Does Climate-Smart Village Approach Influence Gender Equality in Farming Households?
Are Italian Farming Households Actually Poorer Than Other Non-agricultural Households?
What Are the Barriers to Adopting Carbon Farming Practices?
Can Organic Farming Feed the World?
Are Farmers More Dependent on Rural Communities Than Rural Communities Are Dependent on Farmers?
Who Are Today's Farmers and What Are Their Educational Needs?
Does Carbon Farming Provide a Cost‐Effective Option to Mitigate GHG Emissions?
Can Seaweed Farming Play a Role in Climate Change Mitigation and Adaptation?
Was the Federal Government Biased Against Farmers and Workers in the Late 19th Century?
How Does Corporate Farming Affect the Overall Health of Livestock?
Does Contract Farming Improve Welfare?
Can Organic Farming Reduce Vulnerabilities and Enhance the Resilience of the European Food System?
What Motivates Farmers' Adaptation to Climate Change?
Are African Female Farmers Disadvantaged in the Microfinance Lending Market?
Can Small Farmers Survive in a Globalized World?
How Does Farming Change Between Bredon Hill and Birlingham?
Does Certified Organic Farming Reduce Greenhouse Gas Emissions From Agricultural Production?
Should Farmers Forced the Gas Exploration on Their Lands?
How Did Railroad Development Affect Midwestern Farmers?
Does Rice Farming Shape Individualism and Innovation?
Are Australian and United States Farmers Using Soil Information for Soil Health Management?
What Are the Key Constraints in the Technical Efficiency of Smallholder Farmers in Africa?
Did China's Tax-for-Fee Reform Improve Farmers' Welfare in Rural Areas?
How Does Organic Farming Affect the Environment?
What Factors Affect the Distribution of Direct Payments Among Farmers in the EU Member States?
Are Organic Farmers Really Better Off Than Conventional Farmers?
Can Organic Farmers Produce Enough Food to Feed the World?
Research paper name generator
Question generator

Cite this post
Chicago (N-B)
Chicago (A-D)
StudyCorgi. (2023, September 12). 121 Farming Essay Topics. Retrieved from https://studycorgi.com/ideas/farming-essay-topics/
StudyCorgi. (2023, September 12). 121 Farming Essay Topics. https://studycorgi.com/ideas/farming-essay-topics/
"121 Farming Essay Topics." StudyCorgi , 12 Sept. 2023, studycorgi.com/ideas/farming-essay-topics/.
1. StudyCorgi . "121 Farming Essay Topics." September 12, 2023. https://studycorgi.com/ideas/farming-essay-topics/.
Bibliography
StudyCorgi . "121 Farming Essay Topics." September 12, 2023. https://studycorgi.com/ideas/farming-essay-topics/.
StudyCorgi . 2023. "121 Farming Essay Topics." September 12, 2023. https://studycorgi.com/ideas/farming-essay-topics/.
StudyCorgi . (2023) '121 Farming Essay Topics'. 12 September.
Browse All Articles
Newsletter Sign-Up
Agribusiness →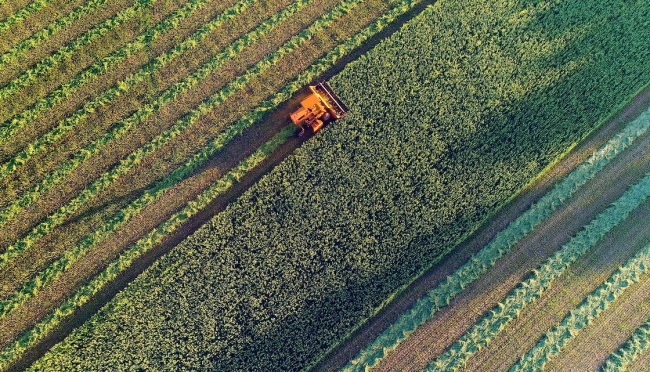 Can the Global Food Industry Overcome Public Distrust?
The public is losing trust in many institutions involved in putting food on our table, says Ray A. Goldberg, author of the new book Food Citizenship. Here's what needs to be done. Open for comment; 0 Comments.
Business Solutions That Help Cut Food Waste
Up to 40 percent of food grown in the United States for human consumption is wasted. But solutions are starting to come together from retailers, farmers, academics, policy makers, and social service organizations, according to José Alvarez. Open for comment; 0 Comments.
09 Apr 2012
Research & Ideas
Who Sways the USDA on GMO Approvals?
Government agencies can be "captured" by the very companies or industries they regulate. Looking at how genetically altered food products are approved, Assistant Professor Shon R. Hiatt finds unexpected influencers on the US Department of Agriculture. Key concepts include: "Regulatory capture" describes the phenomenon whereby regulatory agencies tasked with serving the public instead end up advancing the interests of the companies they regulate. Traditional theories of capture such as lobbying and campaign contributions had little effect on whether the US Department of Agriculture approved any particular genetically altered agriculture product. What did seem to affect the approval process was the influence of third-party groups such as associations and even related regulatory agencies. Open for comment; 0 Comments.
19 Jun 2009
Research Event
Business Summit: The Evolution of Agribusiness
Agribusiness has come to be seen not just as economically important, but as a critical part of society. The future for this massive industry will be both exciting and complex. Closed for comment; 0 Comments.
Economics of the Ethanol Business
What happens when a group of Missouri corn farmers gets into the energy business? What appears to be a very lucrative decision quickly turns out to be much more risky. Professor Forest Reinhardt leads a case discussion on what the protagonists should do next. From HBS Alumni Bulletin. Key concepts include: The case examines the complex political and economic underpinnings of the ethanol industry. By investing in corn-based ethanol, farmers reduce their exposure to corn prices, but at the expense of exposure to the oil market. The case promotes greater understanding of the way materials and energy flow in the modern U.S. agricultural system. Closed for comment; 0 Comments.
Ray A. Goldberg
Closed for comment; 0 Comments.
my custom essay
127 Exceptional Agriculture Essay Topics For Students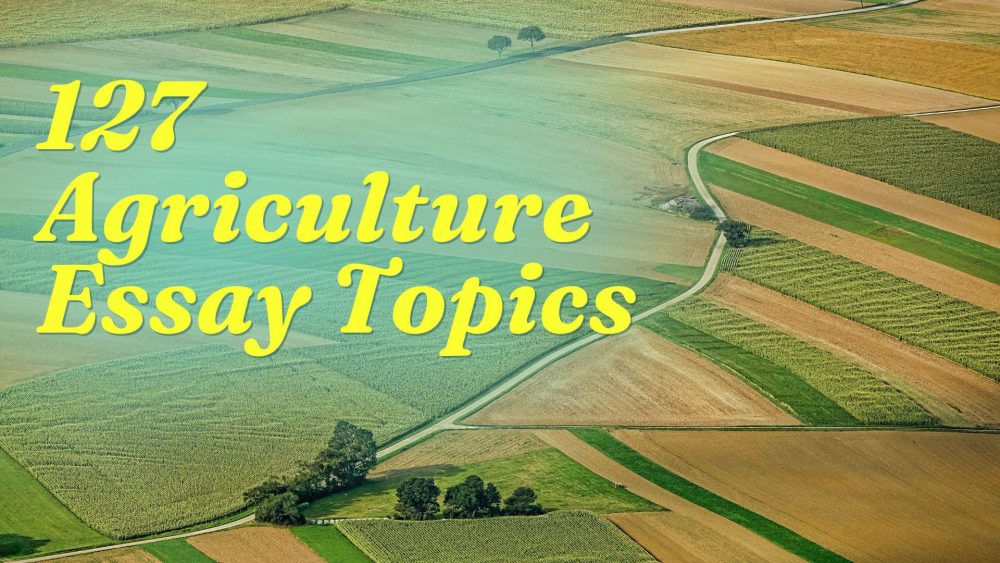 What is agriculture? Also known as farming, agriculture is the practice of cultivating and harvesting a wide variety of crops and raising livestock. Nowadays, agriculture is an essential part of our economy and our lives. Without it, there would be widespread famine. And this is just one of the reasons why you should search for the most interesting essay topics on agriculture.
You can write your academic paper on just about anything, as long as it pertains to agriculture. Remember, you can also write about livestock and farm animals. You can write the paper on agricultural technology or even the latest fertilizers and pesticides. You can even research agriculture in remote parts of the world and write an extraordinary paper about it. However, you need a good topic to get you started. To help you out, we've created a list of 127 original agriculture essay topics that you can use for free. Check it out below:
Sustainable Agriculture Essay Topics
Our experienced writers and editors have managed to put together a list of sustainable agriculture essay topics that will surely impress any professor. Pick one and start writing today:
What are cover crops and why are they important?
Talk about biofuels
An in-depth look at agritourism
Agroforestry in the 21st century
The importance of environmental health
Social equity in sustainable agriculture
Humane methods used for pest management
Water management in sustainable agriculture
The importance of crop rotation and diversity
Reducing erosion through sustainable agriculture
Easy Agriculture Topics To Write About
You probably don't want to spend too much time writing your paper. After all, you have other things to do. No problem, just take a look at this list of easy agriculture topics to write about:
How much does raising a pig cost?
Would you work on a farm? Why?
Agriculture in India
Talk about the world's population and agriculture
Discuss the use of water in agriculture
Discuss agriculture in China
The latest agricultural technology you've heard about
Organic agriculture: pros and cons
Talk about agriculture in Latin America
Talk about genetic engineering in agriculture
Agriculture in Eastern Europe
Interesting Agriculture Topics
In this list, we have collected all of the most interesting agriculture topics (in our opinion, of course). You can pick any one of these topics and use it for free. Yes, you can even reword them.
The relation between agriculture and culture
Challenges in livestock production in 2023
How has the Covid-19 pandemic affected agriculture?
Improving agricultural productivity using sustainable methods
An in-depth research of the global food system
Grain and corn from Ukrainian farms affected by the war
Renewable energy in agriculture
Fish hatcheries: pros and cons
Agricultural Research Paper Topics
Our seasoned agriculture experts have just finished putting together a list of unique agricultural research paper topics. Take a look at these ideas and choose the one you like the most:
An in-depth research of agriculture in Taiwan
Talk about seed pathology in agriculture
Discuss agricultural issues in North Korea
The use of banned GMOs in Europe
A closer look at Turkey's agriculture
Research the topic of water management in agriculture
Food chain risks posed by the war in Ukraine
Natural farming versus organic farming
Technology In Agriculture Topics
Technology plays a major role in today's agriculture, as you can imagine. So, why now write your paper about one of these interesting technology in agriculture topics:
Soil data sensing technology
The Internet of Things in agriculture
Talk about satellite imaging in agriculture
Discuss weather tracking and its benefits
Research pervasive automation in agriculture
The use of RFID tech in agriculture
What is vertical farming and how is it done?
Agriculture Persuasive Speech Topics
If you are struggling to write a persuasive speech about agriculture and don't know what to talk about, we can help you out. Here are some original agriculture persuasive speech topics for you:
Problems with soil degradation in the United States
Talk about employment in the agricultural sector
How is the genetic improvement of seeds done?
The importance of the potato for our world
Talk about sustainable grazing methods
The importance of home gardening in 2023
Managing plant weeds without using glyphosate
Food And Agriculture Essay Ideas
All of our food comes from agriculture, so it's a great idea to talk about this link. We have a long list of unique food and agriculture essay ideas for high school and college students right here:
Vegans and animal husbandry
Where does KFC get all its meat from?
The quality of meat coming from intensive farming
Animal husbandry in the Middle Ages
Dangerous nitrate concentrations in vegetables
Talk about minerals in vitamins in vegetables
Using chemicals in agriculture: a danger to our health
Importance Of Agriculture Essay Topics
There is much to talk about when it comes to the importance of agriculture. Here are some importance of agriculture essay topics that should get you started right away:
The importance of good sheepdogs
Talk about the importance of agriculture in India
Discuss the importance of subsidence farming
Agriculture in ancient times
Talk about the importance of agriculture for Mayans
The most interesting agricultural tools ever discovered
Supply chain problems for KFC
Complex Agriculture Topics
If you want to impress your professor, you can give a more difficult topic a try. You can get some bonus points for it. Check out our latest list of complex agriculture topics:
Discuss GMO corn in North America
Talk about the use of solar power in agriculture
Pumping water efficiently with minimal costs
The latest global economic issues affecting farmers
Greenhouse gas emissions caused by agriculture
Talk about the controversies surrounding chemical fertilizers
Challenges for modern agriculture in the United Kingdom
Livestock Topic Ideas
Yes, raising livestock is a significant part of agriculture today. So, why now write your essay or research paper on one of our interesting livestock topic ideas:
How important are bees for our world?
The dangers of raising yaks on your farm
Research cattle farming in North America
Discuss pig farming in European countries
Talk about intensive animal farming (chickens)
Talk about raising animals humanely
Negative effects of cattle farms
Best Topics For Discussion Agriculture
Did your professor ask you to prepare for a discussion or debate on a topic in agriculture? Don't worry, we've got your back! Here are the best topics for discussion:
What animal do you think is the best for a farm?
Do we really need farm subsidies?
Talk about food processing tech
Discuss the use of drones in agriculture
Automation in agriculture
Talk about the benefits of vertical farming
Agricultural Essay Topics For High School
Are you a high school student? Do you need to write a paper on agriculture? Perfect! Here are the absolute best agricultural essay topics for high school students:
Hunter gatherer versus agricultural societies
Talk about the negative effects of industrial agriculture
Talk about the agricultural policy in Europe
How has the rise of global temperature affected agriculture?
Talk about how drought can completely destroy the global food system in less than 10 years
The effects of pesticides on the population of bees in the US
Agriculture Paper Topics For College
College students should choose topics that are more complex in nature if they want to get a top grade. Check out this list of agriculture paper topics for college and choose one right now:
The economics behind a sheep farm in the UK
How important is the price of energy for local farms in Germany?
An in-depth look at agricultural subsidies in North America
Differences between the agricultural policies of North America and Europe
An effective business model for an organic farm in 2023
The impact of a 1 degree Celsius (33.8 Fahrenheit) increase in global temperature on grain crops in the UK
Controversial Agriculture Topics For Essays
Our experienced staff has worked hard to find the most controversial agriculture topics for essays. You won't need to buy cheap essays with these topics! All of these topics are original, so you are already on your way to getting bonus points from your professor:
The use of pesticides in North America
Talk about genetically modified organisms
Discuss the local food controversy
Talk about climate change and its effect on agriculture
The rise in demand for high quality food
Organic food in 2023
Discuss the wages of people working in agriculture
Destroying the soil through intensive agriculture
History Of Agriculture Topics
Talking about the history of agriculture can be both fun and educative. After all, agriculture has suffered many major transformations over time. Here are some great topics to write about:
Agriculture during the Roman Empire
Talk about agriculture in ancient Egypt
Agriculture in South Asia
Agricultural tools in Mesopotamia
Ancient Greek agriculture
Discuss the evolution of organic agriculture
Discuss the British agricultural revolution
What is the Green revolution?
Agriculture in Mesoamerica
Research agriculture in the 20th century
How has the war in Ukraine changed agriculture in Europe?
Early development of agricultural tools
Other Agriculture Research Paper Ideas
This list contains all the agricultural topics that didn't quite fit anywhere else. It's a collection of other agriculture research paper ideas that professors may find interesting:
Negative effects of modern pesticides
The dangers of over-using fertilizer
The most profitable livestock in 2023
Raising myotonic goats
The strange eating habits of geese
Research the farmers of Gambia
Raising Mangalitza pigs
Talk about intensive animal farming in China
The peculiarities of a yak farm
Dangerous farm animals you should never raise
Get Essay Writing Help
We know how difficult it can be for students in high school, college and university to write all their research papers on time. We receive pleas for help almost daily from students all around the world. They need our professional essay writing help – and you may need it too. If you are on a very tight deadline, why would you risk getting a B- or even a C on your assignment? Our experts are here to help you when you order custom term paper , and with much more than just topics for agriculture essay.
If you don't know how to write your paper, we will write it for you very fast (and very cheap too). Our academic writers all have a Master's or PhD in agriculture, which means you will be working with an experienced professional who know what he's talking about. You just tell us what you need and when you need it done and we'll handle the rest. Our customer support department is online 24/7/365 to take your order, so what are you waiting for?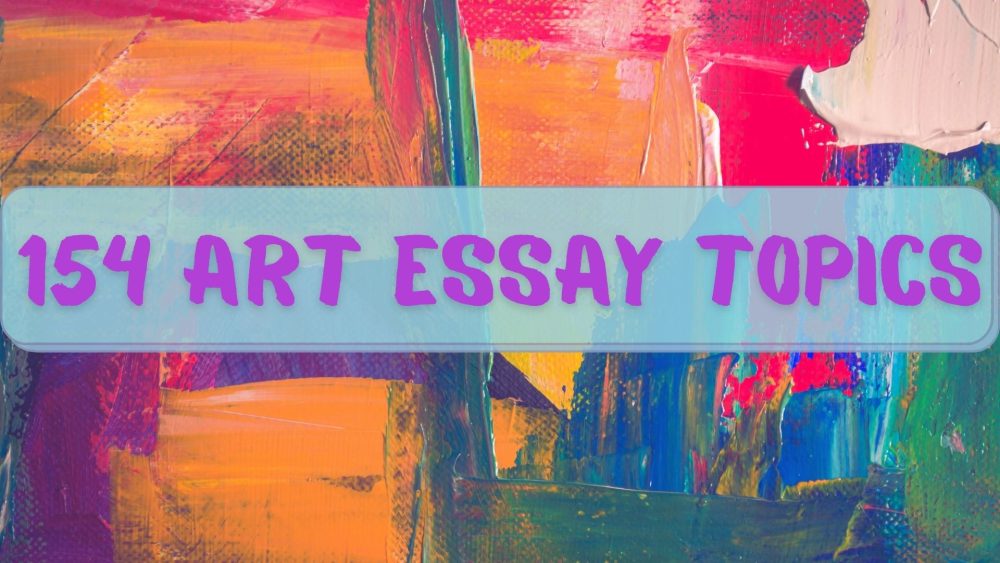 Leave a Reply Cancel reply
Your email address will not be published. Required fields are marked *
Save my name, email, and website in this browser for the next time I comment.
Advertising
Applications
Assessments
Certificates
Announcement
Invitations
Newsletters
Questionnaires
Food & Beverages
Recruitment
Marketing Examples
Transportation
10+ Agriculture Research Examples in PDF | DOC
Agriculture research, why we research, price for progress, 10+ agriculture research examples, 1. national agriculture research example, 2. global agriculture research system example, 3. agriculture research in development example, 4. agriculture investment research example, 5. computer application in agriculture research example, 6. standard agriculture research example, 7. printable agricultural research example, 8. long term agriculture research example, 9. agriculture assessment ethics research example, 10. sample agriculture research in development example, 11. public agriculture research example, getting started.
1. Define The Problem
2. write a proposal, 3. the common good, 4. be two steps ahead, more design, free 27+ invoice examples, 2+ documentary script outline examples, 10+ competitor analysis report examples, 24+ proposal templates & examples, 14+ concept notes examples, 11+ industry analysis examples, free 12+ production planner examples & templates, 10 data analysis report examples, free 7+ hr questionnaire examples & samples, free 18+ evaluation worksheet examples & templates, free 16+ marketing analysis examples & templates, 53+ report examples.

Related Articles
id; ?>)" rel="noopener" role="button" tabindex aria-label="postclick">FREE 10+ Best Market Research Report Examples & Templates
id; ?>)" rel="noopener" role="button" tabindex aria-label="postclick">10+ Engineering Project Proposal Examples
Search Menu
Advance articles
Author Guidelines
Submission Site
Open Access
About Research Evaluation
Editorial Board
Advertising and Corporate Services
Journals Career Network
Self-Archiving Policy
Dispatch Dates
Journals on Oxford Academic
Books on Oxford Academic
Article Contents
1. introduction, 2. analytical framework, 3. literature search, 5. discussion, 6. conclusion, acknowledgement.
Research impact assessment in agriculture—A review of approaches and impact areas
Article contents
Figures & tables
Supplementary Data
Peter Weißhuhn, Katharina Helming, Johanna Ferretti, Research impact assessment in agriculture—A review of approaches and impact areas, Research Evaluation , Volume 27, Issue 1, January 2018, Pages 36–42, https://doi.org/10.1093/reseval/rvx034
Permissions Icon Permissions
Research has a role to play in society's endeavour for sustainable development. This is particularly true for agricultural research, since agriculture is at the nexus between numerous sustainable development goals. Yet, generally accepted methods for linking research outcomes to sustainability impacts are missing. We conducted a review of scientific literature to analyse how impacts of agricultural research were assessed and what types of impacts were covered. A total of 171 papers published between 2008 and 2016 were reviewed. Our analytical framework covered three categories: (1) the assessment level of research (policy, programme, organization, project, technology, or other); (2) the type of assessment method (conceptual, qualitative, or quantitative); and (3) the impact areas (economic, social, environmental, or sustainability). The analysis revealed that most papers (56%) addressed economic impacts, such as cost-effectiveness of research funding or macroeconomic effects. In total, 42% analysed social impacts, like food security or aspects of equity. Very few papers (2%) examined environmental impacts, such as climate effects or ecosystem change. Only one paper considered all three sustainability dimensions. We found a majority of papers assessing research impacts at the level of technologies, particularly for economic impacts. There was a tendency of preferring quantitative methods for economic impacts, and qualitative methods for social impacts. The most striking finding was the 'blind eye' towards environmental and sustainability implications in research impact assessments. Efforts have to be made to close this gap and to develop integrated research assessment approaches, such as those available for policy impact assessments.
Research has multiple impacts on society. In the light of the international discourse on grand societal challenges and sustainable development, the debate is reinforced about the role of research on economic growth, societal well-being, and environmental integrity ( 1 ). Research impact assessment (RIA) is a key instrument to exploring this role ( 2 ).
A number of countries have begun using RIA to base decisions for allocation of funding on it, and to justify the value of investments in research to taxpayers ( 3 ). The so-called scientometric assessments with a focus on bibliometric and exploitable results such as patents are the main basis for current RIA practices ( 4–6 ). However, neither academic values of science, based on the assumption of 'knowledge as progress', nor market values frameworks ('profit as progress') seem adequate for achieving and assessing broader public values ( 7 ). Those approaches do not explicitly acknowledge the contribution of research to solving societal challenges, although they are sufficient to measure scientific excellence ( 8 ) or academic impact.
RIA may however represent a vital element for designing socially responsible research processes with orientation towards responsibility for a sustainable development ( 9 , 10 ). In the past, RIAs occurred to focus on output indicators and on links between science and productivity while hardly exploring the wider societal impacts of science ( 11 ). RIA should entail the consideration of intended and non-intended, positive and negative, and long- and short-term impacts of research ( 12 ). Indeed, there has been a broadening of impact assessments to include, for example, cultural and social returns to society ( 13 ). RIA is conceptually and methodologically not yet sufficiently equipped to capture wider societal implications, though ( 14 ). This is due to the specific challenges associated with RIA, including inter alia unknown time lags between research processes and their impacts ( 15–17 ). Independent from their orientation, RIAs are likely to influence research policies for years to come ( 18 ).
Research on RIA and its potential to cover wider societal impacts has examined assessment methods and approaches in specific fields of research, and in specific research organizations. The European Science Foundation ( 19 ) and Guthrie et al. ( 20 ) provided overviews of a range of methods usable in assessment exercises. They discuss generic methods (e.g. economic analyses, surveys, and case studies) with view to their selection for RIAs. Methods need to fit the objectives of the assessment and the characteristics of the disciplines examined. Econometric methods consider the rate of return over investment ( 21 ), indicators for 'productive interactions' between the stakeholders try to capture the social impact of research ( 22 ), and case study-based approaches map the 'public values' of research programmes ( 8 , 23 ). No approach is generally favourable over another, while challenges exist in understanding which impact areas are relevant in what contexts. Penfield et al. ( 6 ) looked at the different methods and frameworks employed in assessment approaches worldwide, with a focus on the UK Research Excellence Framework. They argue that there is a need for RIA approaches based on types of impact rather than research discipline. They point to the need for tools and systems to assist in RIAs and highlight different types of information needed along the output-outcome-impact-chain to provide for a comprehensive assessment. In the field of public health research, a minority of RIAs exhibit a wider scope on impacts, and these studies highlight the relevance of case studies ( 24 ). However, case studies often rely on principal investigator interviews and/or peer review, not taking into account the views of end users. Evaluation practices in environment-related research organizations tend to focus on research uptake and management processes, but partially show a broader scope and longer-term outcomes. Establishing attribution of environmental research to different types of impacts was identified to be a key challenge ( 25 ). Other authors tested impact frameworks or impact patterns in disciplinary public research organizations. For example, Gaunand et al. ( 26 ) analysed an internal database of the French Agricultural research organization INRA with 1,048 entries to identify seven impact areas, with five going beyond traditional types of impacts (e.g. conservation of natural resources or scientific advice). Besides, for the case of agricultural research, no systematic review of RIA methods exists in the academic literature that would allow for an overview of available approaches covering different impact areas of research.
Against this background, the objective of this study was to review in how far RIAs of agricultural research capture wider societal implications. We understand agricultural research as being a prime example for the consideration of wider research impacts. This is because agriculture is a sector which has direct and severe implications for a range of the UN Sustainable Development Goals. It has a strong practice orientation and is just beginning to develop a common understanding of innovation processes ( 27 ).
The analysis of the identified literature on agricultural RIA (for details, see next section 'Literature search') built on a framework from a preliminary study presented at the ImpAR Conference 2015 ( 28 ). It was based on three categories to explore the impact areas that were addressed and the design of RIA. In particular, the analytical framework consisted of: ( 1 ) the assessment level of research; ( 2 ) the type of assessment method; and ( 3 ) the impact areas covered. On the side, we additionally explored the time dimension of RIA, i.e. whether the assessment was done ex ante or ex post (see Fig. 1 ).
Analytical framework for the review of non-scientometric impact assessment literature of agricultural research.
Agricultural research and the ramifications following from that refer to different levels of assessment (or levels of evaluation, ( 29 )). We defined six assessment levels that can be the subject of a RIA: policy, programme, organization, project, technology, and other. The assessment level of the RIA is a relevant category, since it shapes the approach to the RIA (e.g. the impact chain of a research project differs to that at policy level). The assessment level was clearly stated in all of the analysed papers and in no case more than one assessment level was addressed. Articles were assigned to the policy level, if a certain public technology policy ( 30 ) or science policy, implemented by governments to directly or indirectly affect the conduct of science, was considered. Exemplary topics are research funding, transfer of research results to application, or contribution to economic development. Research programmes were understood as instruments that are adopted by government departments, or other organizational entities to implement research policies and fund research activities in a specific research field (e.g. programmes to promote research on a certain crop or cultivation technique). Articles dealing with the organizational level assess the impact of research activities of a specific research organization. The term research organization comprises public or private research institutes, associations, networks, or partnerships (e.g. the Consultative Group on International Agricultural Research (CGIAR) and its research centres). A research project is the level at which research is actually carried out, e.g. as part of a research programme. The assessment of a research project would consider the impacts of the whole project, from planning through implementation to evaluation instead of focusing on a specific project output, like a certain agricultural innovation. The technology level was considered to be complementary to the other assessment levels of research and comprises studies with a strong focus on specific agricultural machinery or other agricultural innovation such as new crops or crop rotations, fertilizer applications, pest control, or tillage practices, irrespective of the agricultural system (e.g. smallholder or high-technology farming, or organic, integrated, or conventional farming). The category 'other' included one article addressing RIA at the level of individual researchers (see ( 31 )).
We categorized the impact areas along the three dimensions of sustainable development by drawing upon the European Commission's impact assessment guidelines (cf. ( 32 )). The guidelines entail a list of 7 environmental impacts, such as natural resource use, climate change, or aspects of nature conservation; 12 social impacts, such as employment and working conditions, security, education, or aspects of equity; and 10 economic impacts, including business competitiveness, increased trade, and several macroeconomic aspects. The European Commission's impact assessment guidelines were used as a classification framework because it is one of the most advanced impact assessment frameworks established until to date ( 33 ). In addition, we opened a separate category for those articles exploring joint impacts on the three sustainability dimensions. Few articles addressed impacts in two sustainability dimensions which we assigned to the dominating impact area.
To categorize the type of RIA method, we distinguished between conceptual, qualitative, and quantitative. Conceptual analyses include the development of frameworks or concepts for measuring impacts of agricultural research (e.g. tracking of innovation pathways or the identification of barriers and supporting factors for impact generation). Qualitative and quantitative methods were identified by the use of qualitative data or quantitative data, respectively (cf. ( 34–36 )). Qualitative data can be scaled nominally or ordinally. It is generated by interviews, questionnaires, surveys or choice experiments to gauge stakeholder attitudes to new technologies, their willingness to pay, and their preference for adoption measures. The generation of quantitative data involves a numeric measurement in a standardized way. Such data are on a metric scale and are often used for modelling. The used categorization is rather simple. We assigned approaches which employed mixed-method approaches according to their dominant method. We preferred this over more sophisticated typologies to achieve a high level of abstraction and because the focus of our analysis was on impact areas rather than methods. However, to show consistencies with existing typologies of impact assessment methods ( 19 , 37 ), we provide an overview of the categorization chosen and give examples of the most relevant types of methods.
To additionally explore the approach of the assessment ( 38 ), the dimensions ex ante and ex post were identified. The two approaches are complementary: whereas ex ante impact assessments are usually conducted for strategic and planning purposes to set priorities, ex post impact assessments serve as accountability validation and control against a baseline. The studies in our sample that employed an ex ante approach to RIA usually made this explicit, while in the majority of ex post impact assessments, this was indicated rather implicitly.
This study was performed as a literature review based on Thomson Reuters Web of Science TM Core Collection, indexed in the Science Citation Index Expanded (SCI-Exp) and the Social Sciences Citation Index (SSCI). The motivation for restricting the analysis to articles from ISI-listed journals was to stay within the boundaries of internationally accepted scientific quality management and worldwide access. The advantages of a search based on Elsevier's Scopus ® (more journals and alternative publications, and more articles from social and health science covered) would not apply for this literature review, with regard to the drawbacks of an index system based on abstracts instead of citation indexes, which is not as transparent as the Core Collection regarding the database definable by the user. We selected the years of 2008 to mid-2016 for the analysis (numbers last updated on 2 June 2016) . First, because most performance-based funding systems have been introduced since 2000, allowing sufficient time for the RIA approaches to evolve and literature to be published. Secondly, in 2008 two key publications on RIA of agricultural research triggered the topic: Kelley, et al. ( 38 ) published the lessons learned from the Standing Panel on Impact Assessment of CGIAR; Watts, et al. ( 39 ) summarized several central pitfalls of impact assessment concerning agricultural research. We took these publications as a starting point for the literature search. We searched in TOPIC and therefore, the terms had to appear in the title, abstract, author keywords, or keywords plus ® . The search query 1 filtered for agricultural research in relation to research impact. To cover similar expressions, we used science, 'R&D', and innovation interchangeably with research, and we searched for assessment, evaluation, criteria, benefit, adoption, or adaptation of research.
We combined the TOPIC search with a less strict search query 2 in TITLE using the same groups of terms, as these searches contained approximately two-thirds non-overlapping papers. Together they consisted of 315 papers. Of these, we reviewed 282 after excluding all document types other than articles and reviews (19 papers were not peer-reviewed journal articles) and all papers not written in English language (14 papers). After going through them, 171 proved to be topic-relevant and were included in the analysis.
Analysis matrix showing the number of reviewed articles, each categorized to an assessment level and an impact area (social, economic, environmental, or all three (sustainability)). Additionally, the type of analytical method (conceptual, quantitative, and qualitative) is itemized
In the agricultural RIA, the core assessment level of the reviewed articles was technology (39%), while the other levels were almost equally represented (with the exception of 'other'). Generally, most papers (56%) addressed economic research impacts, closely followed by social research impacts (42%); however, only three papers (2%) addressed environmental research impacts and only 1 of 171 papers addressed all three dimensions of sustainable development. Assessments at the level of research policy slightly emphasized social impacts over economic impacts (18 papers, or 58%), whereas assessments at the level of technology clearly focused primarily on economic impacts (46 papers, or 68%).
The methods used for agricultural RIA showed no preference for one method type (see Table 1 ). Approximately 31% of the papers assessed research impacts quantitatively, whereas 37% used qualitative methods. Conceptual considerations on research impact were applied by 32% of the studies. A noticeable high number of qualitative studies were conducted to assess social impacts. At the evaluation level of research policy and research programmes, we found a focus on quantitative methods, if economic impacts were assessed.
Overview on type of methods used for agricultural RIA
a Mix of conceptual and qualitative methods.
b Mix of conceptual, qualitative, and quantitative methods.
Additionally, 37 ex ante studies, compared to 134 ex post studies, revealed that the latter clearly dominated, but no robust relation to any other investigated characteristic was found. Of the three environmental impact studies, none assessed ex ante , while the one study exploring sustainability impacts did. The share of ex ante assessments regarding social impacts was very similar to those regarding economic impacts. Within the assessment levels of research (excluding 'others' with only one paper), no notable difference between the shares of ex ante assessments occurred as they ranged between 13 and 28%.
The most relevant outcome of the review analysis was that only 3 of the 171 papers focus on the environmental impacts of agricultural research. This seems surprising because agriculture is dependent on an intact environment. However, this finding is supported by two recent reviews: one from Bennett, et al. ( 40 ) and one from Maredia and Raitzer ( 41 ). Both note that not only international agricultural research in general but also research on natural resource management shows a lack regarding large-scale assessments of environmental impacts. The CGIAR also recognized the necessity to deepen the understanding of the environmental impacts of its work because RIAs had largely ignored environmental benefits ( 42 ).
A few papers explicitly include environmental impacts of research in addition to their main focus. Raitzer and Maredia ( 43 ) address water depletion, greenhouse gas emissions, and landscape effects; however, their overall focus is on poverty reduction. Ajayi et al. ( 44 ) report the improvement of soil physical properties and soil biodiversity from introducing fertilizer trees but predominantly measure economic and social effects. Cavallo, et al. ( 45 ) investigate users' attitudes towards the environmental impact of agricultural tractors (considered as technological innovation) but do not measure the environmental impact. Briones, et al. ( 46 ) configure an environmental 'modification' of economic surplus analysis, but they do not prioritize environmental impacts.
Of course, the environmental impacts of agricultural practices were the topic of many studies in recent decades, such as Kyllmar, et al. ( 47 ), Skinner, et al. ( 48 ), Van der Werf and Petit ( 49 ), among many others. However, we found very little evidence for the impact of agricultural research on the environment. A study on environmental management systems that examined technology adoption rates though not the environmental impacts is exemplarily for this ( 50 ). One possible explanation is based on the observation made by Morris, et al. ( 51 ) and Watts, et al. ( 39 ). They see impact assessments tending to accentuate the success stories because studies are often commissioned strategically as to demonstrate a certain outcome. This would mean to avoid carving out negative environmental impacts that conflict with, when indicated, the positive economic or societal impacts of the assessed research activity. In analogy to policy impact assessments, this points to the need of incentives to equally explore intended and unintended, expected and non-expected impacts from scratch ( 52 ). From those tasked with an RIA, this again requires an open attitude in 'doing RIA' and towards the findings of their RIA.
Another possible explanation was given by Bennett, et al. ( 40 ): a lack of skills in ecology or environmental economics to cope with the technically complex and data-intensive integration of environmental impacts. Although such a lack of skills or data could also apply to social and economic impacts, continuous monitoring of environmental data related to agricultural practices is particularly scarce. A third possible explanation is a conceptual oversight, as environmental impacts may be thought to be covered by the plenty of environmental impact assessments of agricultural activities itself.
The impression of a 'blind eye' on the environment in agricultural RIA may change when publications beyond Web of Science TM Core Collection are considered ( 53 ) or sources other than peer-reviewed journal articles are analysed (e.g. reports; conference proceedings). See, for example, Kelley, et al. ( 38 ), Maredia and Pingali ( 54 ), or FAO ( 55 ). Additionally, scientific publications of the highest quality standard (indicated by reviews and articles being listed in the Web of Science TM Core Collection) seem to not yet reflect experiences and advancements from assessment applications on research and innovation policy that usually include the environmental impact ( 56 ).
Since their beginnings, RIAs have begun to move away from narrow exercises concerned with economic impacts ( 11 ) and expanded their scope to social impacts. However, we only found one sustainability approach in our review that would cover all three impact areas of agricultural research (see ( 57 )). In contrast, progressive approaches to policy impact assessment largely attempt to cover the full range of environmental, social, and economic impacts of policy ( 33 , 58 ). RIAs may learn from them.
Additionally, the focus of agricultural research on technological innovation seems evident. Although the word innovation is sometimes still used for new technology (as in 'diffusion of innovations'), it is increasingly used for the process of technical and institutional change at the farm level and higher levels of impact. Technology production increasingly is embedded in innovation systems ( 59 ).
The review revealed a diversity of methods (see Table 2 ) applied in impact assessments of agricultural research. In the early phases of RIA, the methods drawn from agricultural economics were considered as good standard for an impact assessment of international agricultural research ( 39 ). However, quantitative methods most often address economic impacts. In addition, the reliability of assessments based on econometric models is often disputed because of strong relationships between modelling assumptions and respective results.
Regarding environmental (or sustainability) impacts of agricultural research, the portfolio of assessment methods could be extended by learning from RIAs in other impact areas. In our literature sample, only review, framework development (e.g. key barrier typologies, environmental costing, or payments for ecosystem services), life-cycle assessment, and semi-structured interviews were used for environmental impacts of agricultural research.
In total, 42 of the 171 analysed papers assessed the impact of participatory research. A co-management of public research acknowledges the influence of the surrounding ecological, social, and political system and allows different types of stakeholder knowledge to shape innovation ( 60 ). Schut, et al. ( 36 ) conceptualize an agricultural innovation support system, which considers multi-stakeholder dynamics next to multilevel interactions within the agricultural system and multiple dimensions of the agricultural problem. Another type of participation in RIAs is the involvement of stakeholders to the evaluation process. A comparatively low number of six papers considered participatory evaluation of research impact, of them three in combination with impact assessment of participatory research.
Approximately 22% of the articles in our sample on agricultural research reported that they conducted their assessments ex ante , but most studies were ex post assessments. Watts, et al. ( 39 ) considered ex ante impact assessment to be more instructive than ex post assessment because it can directly guide the design of research towards maximizing beneficial impacts. This is particularly true when an ex ante assessment is conducted as a comparative assessment comprising a set of alternative options ( 61 ).
Many authors of the studies analysed were not explicit about the time frames considered in their ex post studies. The potential latency of impacts from research points to the need for ex post (and ex ante) studies to account for and analyse longer time periods, either considering 'decades' ( 62 , 63 ) or a lag distribution covering up to 50 years, with a peak approximately in the middle of the impact period ( 64 ). This finding is in line with the perspective of impact assessments as an ongoing process throughout a project's life cycle and not as a one-off process at the end ( 51 ). Nevertheless, ex post assessments are an important component of a comprehensive evaluation package, which includes ex ante impact assessment, impact pathway analysis, programme peer reviews, performance monitoring and evaluation, and process evaluations, among others ( 38 ).
RIA is conceptually and methodologically not yet sufficiently equipped to capture wider societal implications, though ( 14 ). This is due to the specific challenges associated with RIA, including inter alia unknown time lags between research processes and their impacts ( 15–17 ). Independent from their orientation, RIAs are likely to influence research policies for years to come ( 18 ).
However, in the cases in which a RIA is carried out, an increase in the positive impacts (or avoidance of negative impacts) of agricultural research does not follow automatically. Lilja and Dixon ( 65 ) state the following methodological reasons for the missing impact of impact studies: no accountability with internal learning, no developed scaling out, the overlap of monitoring and evaluation and impact assessment, the intrinsic nature of functional and empowering farmer participation, the persistent lack of widespread attention to gender, and the operational and political complexity of multi-stakeholder impact assessment. In contrast, a desired impact of research could be reached or boosted by specific measures without making an impact assessment at all. Kristjanson, et al. ( 66 ), for example, proposed seven framework conditions for agricultural research to bridge the gap between scientific knowledge and action towards sustainable development. RIA should develop into process-oriented evaluations, in contrast to outcome-oriented evaluation ( 67 ), for addressing the intended kind of impacts, the scope of assessment, and for choosing the appropriate assessment method ( 19 ).
This review aimed at providing an overview of impact assessment activities reported in academic agricultural literature with regard to their coverage of impact areas and type of assessment method used. We found a remarkable body of non-scientometric RIA at all evaluation levels of agricultural research but a major interest in economic impacts of new agricultural technologies. These are closely followed by an interest in social impacts at multiple assessments levels that usually focus on food security and poverty reduction and rely slightly more on qualitative assessment methods. In contrast, the assessment of the environmental impacts of agricultural research or comprehensive sustainability assessments was exceptionally limited. They may have been systematically overlooked in the past, for the reason of expected negative results, thought to be covered by other impact studies or methodological challenges. RIA could learn from user-oriented policy impact assessments that usually include environmental impacts. Frameworks for RIA should avoid narrowing the assessment focus and instead considering intended and unintended impacts in several impact areas equally. It seems fruitful to invest in assessment teams' environmental analytic skills and to expand several of the already developed methods for economic or social impact to the environmental impacts. Only then, the complex and comprehensive contribution of agricultural research to sustainable development can be revealed.
The authors would like to thank Jana Rumler and Claus Dalchow for their support in the Web of Science analysis and Melanie Gutschker for her support in the quantitative literature analysis.
This work was supported by the project LIAISE (Linking Impact Assessment to Sustainability Expertise, www.liaisenoe.eu ), which was funded by Framework Programme 7 of the European Commission and co-funded by the Leibniz-Centre for Agricultural Landscape Research. The research was further inspired and supported by funding from the 'Guidelines for Sustainability Management' project for non-university research institutes in Germany ('Leitfaden Nachhaltigkeitsmanagement', BMBF grant 311 number 13NKE003A).
Seidl R. et al.  ( 2013 ) ' Science with Society in the Anthropocene ', Ambio , 42 / 1 : 5 – 12 .
Google Scholar
OECD . ( 2010 ) 'Performance-Based Funding for Public Research in Tertiary Education Institutions', Workshop Proceedings ' 2010. Paris : Organisation for Economic Co-operation and Development .
Hicks D. ( 2012 ) ' Performance-based University Research Funding Systems ', Research Policy , 41 / 2 : 251 – 61 .
Martin B. R. ( 1996 ) ' The Use of Multiple Indicators in the Assessment of Basic Research ', Scientometrics , 36 / 3 : 343 – 62 .
Moed H. F. , Halevi G. ( 2015 ) ' Multidimensional Assessment of Scholarly Research Impact ', Journal of the Association for Information Science and Technology , 66 : 1988 – 2002 .
Penfield T. et al.  ( 2014 ) ' Assessment, Evaluations, and Definitions of Research Impact: A Review ', Research Evaluation , 23 / 1 : 21 – 32 .
Meyer R. ( 2011 ) ' The Public Values Failures of Climate Science in the US ', Minerva , 49 / 1 : 47 – 70 .
Bozeman B. , Sarewitz D. ( 2011 ) ' Public Value Mapping and Science Policy Evaluation ', Minerva , 49 / 1 : 1 – 23 .
Helming K. et al.  ( 2016 ) ' Forschen für nachhaltige Entwicklung. Kriterien für gesellschaftlich verantwortliche Forschungsprozesse (Research for Sustainable Development. Criteria for Socially Responsible Research Processes) ', GAIA , 25 / 3 : 161 – 5 .
Cagnin C. , Amanatidou E. , Keenan M. ( 2012 ) ' Orienting European Innovation Systems Towards Grand Challenges and the Roles that FTA Can Play ', Science and Public Policy , 39 / 2 : 140 – 52 .
Godin B. , Doré C. ( 2004 ) Measuring the Impacts of Science: Beyond the Economic Dimension . Montréal (Québec) : Centre Urbanisation Culture Société (INRS) .
Ferretti J. et al.  ( 2016 ) Reflexionsrahmen für Forschen in gesellschaftlicher Verantwortung. (Framework for Reflecting Research in Societal Responsibility) . Berlin : Federal Ministry of Education and Research (BMBF) .
Jacobsson S. , Vico E. P. , Hellsmark H. ( 2014 ) ' The Many Ways of Academic Researchers: How is Science Made Useful? ', Science and Public Policy , 41 : 641 – 57 .
Levitt R. et al.  ( 2010 ) Assessing the Impact of Arts and Humanities Research at the University of Cambridge . Cambridge : University of Cambridge .
Donovan C. ( 2011 ) ' State of the Art in Assessing Research Impact: Introduction to a Special Issue ', Research Evaluation , 20 / 3 : 175 – 9 .
Ekboir J. ( 2003 ) ' Why Impact Analysis Should not be Used for Research Evaluation and what the Alternatives Are ', Agricultural Systems , 78 / 2 : 166 – 84 .
Morton S. ( 2015 ) ' Progressing Research Impact Assessment: A 'Contributions' Approach ', Research Evaluation , 24 : 405 – 19 .
Reinhardt A. ( 2013 ) 'Different Pathways to Impact? "Impact" and Research Fund Allocation in Selected European Countries', in Dean A. , Wykes M. , Stevens H. (eds) 7 Essays on Impact. DESCRIBE Project Report for Jisc , pp. 88 – 101 . Exeter : University of Exeter .
Google Preview
European Science Foundation . ( 2012 ) The Challenges of Impact Assessment. Working Group 2: Impact Assessment . Strasbourg : European Science Foundation .
Guthrie S. et al.  ( 2013 ) Measuring Research. A Guide to Research Evaluation Frameworks and Tools . Cambridge : RAND Corporation .
Alston J. M. et al.  ( 2011 ) ' The Economic Returns to US Public Agricultural Research ', American Journal of Agricultural Economics , 93 / 5 : 1257 – 77 .
Spaapen J. , Drooge L. ( 2011 ) ' Introducing' Productive Interactions' in Social Impact Assessment ', Research Evaluation , 20 / 3 : 211 – 18 .
Bozeman B. ( 2003 ) Public Value Mapping of Science Outcomes: Theory and Method . Washington : Center for Science, Policy and Outcomes .
Milat A. J. , Bauman A. E. , Redman S. ( 2015 ) ' A Narrative Review of Research Impact Assessment Models and Methods ', Health Research Policy and Systems , 13 / 1 : 18.
Bell S. , Shaw B. , Boaz A. ( 2011 ) ' Real-world Approaches to Assessing the Impact of Environmental Research on Policy ', Research Evaluation , 20 / 3 : 227 – 37 .
Gaunand A. et al.  ( 2015 ) ' How Does Public Agricultural Research Impact Society? A Characterization of Various Patterns ', Research Policy , 44 / 4 : 849 – 61 .
Bokelmann W. et al.  ( 2012 ) Sector Study on the Analysis of the Innovation of German Agriculture (Sektorstudie zur Untersuchung des Innovationssystems der deutschen Landwirtschaft) . Berlin : Federal Office for Agriculture and Food (BLE) .
Weißhuhn P. , Helming K. ( 2015 ) 'Methods for Assessing the Non-Scientometric Impacts of Agricultural Research: A Review'. In ImpAR Conference 2015: Impacts of Agricultural Research-Towards an Approach of Societal V alues. Paris: INRA.
European Science Foundation . ( 2009 ) Evaluation in National Research Funding Agencies: Approaches, Experiences and Case Studies . Strasbourg : European Science Foundation .
Bozeman B. ( 2000 ) ' Technology Transfer and Public Policy: A Review of Research and Theory ', Research Policy , 29 / 4 : 627 – 55 .
Hummer K. E. , Hancock J. F. ( 2015 ) ' Vavilovian Centers of Plant Diversity: Implications and Impacts ', Hortscience , 50 / 6 : 780 – 3 .
EC . ( 2015 ) Better Regulation "Toolbox" . Brussels : European Commission .
Helming K. et al.  ( 2013 ) ' Mainstreaming Ecosystem Services in European Policy Impact Assessment ', Ecosystem Services in EIA and SEA , 40 : 82 – 7 .
Thapa D. B. et al.  ( 2009 ) ' Identifying Superior Wheat Cultivars in Participatory Research on Resource Poor Farms ', Field Crops Research , 112 / 2–3 : 124 – 30 .
Holdsworth M. et al.  ( 2015 ) ' African Stakeholders' Views of Research Options to Improve Nutritional Status in Sub-Saharan Africa ', Health Policy and Planning , 30 / 7 : 863 – 74 .
Schut M. et al.  ( 2015 ) ' RAAIS: Rapid Appraisal of Agricultural Innovation Systems (Part I). A Diagnostic Tool for Integrated Analysis of Complex Problems and Innovation Capacity ', Agricultural Systems , 132 : 1 – 11 .
Jones M. M. , Grant J. ( 2013 ) 'Making the Grade: Methodologies for assessing and evidencing research impact'. In Dean A. , Wykes M. , Stevens H. (eds) 7 Essays on Impact. DESCRIBE Project Report for Jisc , pp. 25 – 43 . Exeter : University of Exeter .
Kelley T. , Ryan J. , Gregersen H. ( 2008 ) ' Enhancing Ex Post Impact Assessment of Agricultural Research: The CGIAR Experience ', Research Evaluation , 17 / 3 : 201 – 12 .
Watts J. et al.  ( 2008 ) ' Transforming Impact Assessment: Beginning the Quiet Revolution of Institutional Learning and Change ', Experimental Agriculture , 44 / 1 : 21 – 35 .
Bennett J. W. , Kelley T. G. , Maredia M. K. ( 2012 ) ' Integration of Environmental Impacts Into Ex-post Assessments of International Agricultural Research: Conceptual Issues, Applications, and the Way Forward ', Research Evaluation , 21 / 3 : 216 – 28 .
Maredia M. K. , Raitzer D. A. ( 2012 ) ' Review and Analysis of Documented Patterns of Agricultural Research Impacts in Southeast Asia ', Agricultural Systems , 106 / 1 : 46 – 58 .
Renkow M. , Byerlee D. ( 2010 ) ' The Impacts of CGIAR Research: A Review of Recent Evidence ', Food Policy , 35 / 5 : 391 – 402 .
Raitzer D. A. , Maredia M. K. ( 2012 ) ' Analysis of Agricultural Research Investment Priorities for Sustainable Poverty Reduction in Southeast Asia ', Food Policy , 37 / 4 : 412 – 26 .
Ajayi O. C. et al.  ( 2011 ) ' Agricultural Success from Africa: The Case of Fertilizer Tree Systems in Southern Africa (Malawi, Tanzania, Mozambique, Zambia and Zimbabwe) ', International Journal of Agricultural Sustainability , 9 / 1 : 129 – 36 .
Cavallo E. et al.  ( 2014 ) ' Strategic Management Implications for the Adoption of Technological Innovations in Agricultural Tractor: The Role of Scale Factors and Environmental Attitude ', Technology Analysis and Strategic Management , 26 / 7 : 765 – 79 .
Briones R. M. et al.  ( 2008 ) ' Priority Setting for Research on Aquatic Resources: An Application of Modified Economic Surplus Analysis to Natural Resource Systems ', Agricultural Economics , 39 / 2 : 231 – 43 .
Kyllmar K. et al.  ( 2014 ) ' Small Agricultural Monitoring Catchments in Sweden Representing Environmental Impact ', Agriculture, Ecosystems and Environment , 198 : 25 – 35 .
Skinner J. et al.  ( 1997 ) ' An Overview of the Environmental Impact of Agriculture in the UK ', Journal of Environmental Management , 50 / 2 : 111 – 28 .
Van der Werf H. M. , Petit J. ( 2002 ) ' Evaluation of the Environmental Impact of Agriculture at the Farm Level: A Comparison and Analysis of 12 Indicator-based Methods ', Agriculture, Ecosystems and Environment , 93 / 1 : 131 – 45 .
Carruthers G. , Vanclay F. ( 2012 ) ' The Intrinsic Features of Environmental Management Systems that Facilitate Adoption and Encourage Innovation in Primary Industries ', Journal of Environmental Management , 110 : 125 – 34 .
Morris M. et al.  ( 2003 ) ' Assessing the Impact of Agricultural Research: An Overview ', Quarterly Journal of International Agriculture , 42 / 2 : 127 – 48 .
Podhora A. et al.  ( 2013 ) ' The Policy-Relevancy of Impact Assessment Tools: Evaluating Nine Years of European Research Funding ', Environmental Science and Policy , 31 : 85 – 95 .
Rodrigues G. S. , de Almeida Buschinelli C. C. , Dias Avila A. F. ( 2010 ) ' An Environmental Impact Assessment System for Agricultural Research and Development II: Institutional Learning Experience at Embrapa ', Journal of Technology Management and Innovation , 5 / 4 : 38 – 56 .
Maredia M. , Pingali P. ( 2001 ) Environmental Impacts of Productivity-Enhancing Crop Research: A Critical Review . Durban : CGIAR .
FAO . ( 2011 ) ' Environmental Impact Assessment', Guideline for FAO field projects . Rome : Food and Agriculture Organization of the United Nations .
Miedzinski M. et al.  ( 2013 ) Assessing Environmental Impacts of Research and Innovation Policy .
Ervin D. E. , Glenna L. L. , Jussaume R. A. ( 2011 ) ' The Theory and Practice of Genetically Engineered Crops and Agricultural Sustainability ', Sustainability , 3 / 6 : 847 – 74 .
Jacob K. et al.  ( 2012 ) 'Sustainability in Impact Assessments - A Review of Impact Assessment Systems in selected OECD countries and the European Commission' . Paris : Organisation for Economic Co-operation and Development .
Röling N. ( 2009 ) ' Pathways for Impact: Scientists' Different Perspectives on Agricultural Innovation ', International Journal of Agricultural Sustainability , 7 / 2 : 83 – 94 .
Dentoni D. , Klerkx L. ( 2015 ) ' Co-managing Public Research in Australian Fisheries Through Convergence-Divergence Processes ', Marine Policy , 60 : 259 – 71 .
Helming K. et al.  ( 2011 ) ' Ex Ante Impact Assessment of Policies Affecting Land Use, Part A: Analytical Framework ', Ecology and Society , 16 / 1 : 27 .
Stads G. J. , Beintema N. ( 2015 ) ' Agricultural R&D Expenditure in Africa: An Analysis of Growth and Volatility ', European Journal of Development Research , 27 / 3 : 391 – 406 .
Raitzer D. A. , Kelley T. G. ( 2008 ) ' Benefit-cost Meta-analysis of Investment in the International Agricultural Research Centers of the CGIAR ', Agricultural Systems , 96 / 1-3 : 108 – 23 .
Andersen M. A. ( 2015 ) ' Public Investment in US Agricultural R&D and the Economic Benefits ', Food Policy , 51 : 38 – 43 .
Lilja N. , Dixon J. ( 2008 ) ' Responding to the Challenges of Impact Assessment of Participatory Research and Gender Analysis ', Experimental Agriculture , 44 / 1 : 3 – 19 .
Kristjanson P. et al.  ( 2009 ) ' Linking International Agricultural Research Knowledge with Action for Sustainable Development ', Proceedings of the National Academy of Sciences United States of America , 106 / 13 : 5047 – 52 .
Upton S. , Vallance P. , Goddard J. ( 2014 ) ' From Outcomes to Process: Evidence for a New Approach to Research Impact Assessment ', Research Evaluation , 23 : 352 – 65 .
The exact TOPIC query was: agricult* NEAR/1 (research* OR *scien* OR "R&D" OR innovati*) AND (research* OR *scien* OR "R&D" OR innovati*) NEAR/2 (impact* OR assess* OR evaluat* OR criteria* OR benefit* OR adoption* OR adaptation*)
The exact TITLE query was: agricult* AND (research* OR *scien* OR "R&D" OR innovati*) AND (impact* OR assess* OR evaluat* OR criteria* OR benefit* OR adoption* OR adaptation*)
Email alerts
Citing articles via.
Recommend to your Library
Affiliations
Online ISSN 1471-5449
Print ISSN 0958-2029
Copyright © 2023 Oxford University Press
About Oxford Academic
Publish journals with us
University press partners
What we publish
New features
Open access
Institutional account management
Rights and permissions
Get help with access
Accessibility
Advertising
Media enquiries
Oxford University Press
Oxford Languages
University of Oxford
Oxford University Press is a department of the University of Oxford. It furthers the University's objective of excellence in research, scholarship, and education by publishing worldwide
Copyright © 2023 Oxford University Press
Cookie settings
Cookie policy
Privacy policy
Legal notice
This Feature Is Available To Subscribers Only
Sign In or Create an Account
This PDF is available to Subscribers Only
For full access to this pdf, sign in to an existing account, or purchase an annual subscription.

Top 100 Agriculture Research Paper Topics for Students
Nov 3, 2021 | 0 comments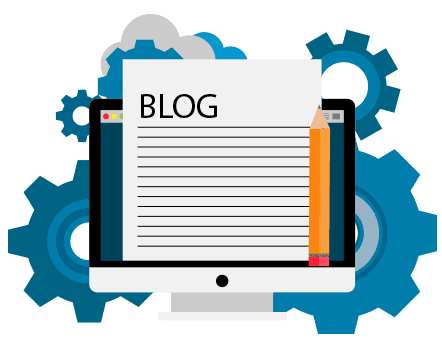 Nov 3, 2021 | Topics | 0 comments
Agriculture is the practice of raising animals and growing crops for food or other purposes. Agriculture is constantly evolving, and all farmers must keep up to date on modern agricultural practices regularly. Students enrolled in agriculture-related courses are also expected to keep up to date on modern agricultural practices. A research paper provides students with an excellent opportunity to learn about agricultural advancements. While students appreciate the opportunity to write agriculture research papers, they frequently struggle to find interesting topics to use. We have listed the best agriculture research paper topics below to save students from overthinking. All of the agriculture research paper topics ideas that we have provided will assist students in expanding their knowledge of agriculture. The Agriculture Research Paper Topics are simple enough for students to investigate. Students who use these topics will not have to conduct additional research before writing about their research. Students will get the most out of their research papers if they use these topics for research papers.
Benefits Of Aquaculture To Humans
The Influence of Agriculture Educator
The Impact Of Animal Agriculture On The Environment
The Beginnings of Agriculture
The Effects of Climate Change On Livestock
Pesticide Runoff from Agriculture
Agriculture in Malaysia
Agricultural Trade
Impacts Of Insecticides On Agriculture
The Importance of Agriculture
Impact of the Erosion on Agriculture
Postharvest Technology
California Agriculture
The Development of Agriculture
The Impacts Of Pesticides on Agriculture
Agriculture in the Global South
How Acidity Affects Tropical Agriculture
The Economic Viability of Agriculture
How Agricultural Practices Affect The Ecosystems
The Benefits Of Mechanized Farming
Sustainable Agriculture and Its Importance Worldwide
The Nature Of Agriculture
Agriculture in China
The Importance Of Forest Ecology
The Effect of Genetically Modified Organisms on Agriculture
Agriculture in Afghanistan
The Agricultural Transformation
The Use of Fertilisers in Agriculture
The Importance Of Sustainable Agriculture
Techniques of Agriculture
Impacts Of Botanical Pesticides On Agriculture
Why Agriculturists Need To Understand Plant Anatomy
Modern Methods Of Farming
Effects of Corn Monoculture on Environment
Agriculture in the Himalayas
How International Trade Barriers Affect Local Agriculture
How Agriculture Changes Civilizations
Conventional Agriculture
Food Production in The US
The Impact Of Environment On Cattle Farming
Agricultural Policy of the US
Cornerstone Of Modern Agriculture
Animal Diseases Control
How Climate Change Affects Agriculture
Agriculture in Mesoamerica
Why Farming Regulations Are Important
The Impacts Of Herbicide On Agriculture
The Impact Of Technology On Agriculture
Safe Methods Of Controlling Pest
Alternative Breeding
Agriculture in the US.
The Major Climatic Factors That Affect The Practices Of Agriculture
Agriculture Industry in Indonesia
Industrialized Agriculture
Why Prokaryotic Organisms Are Essential To Agriculture
Agriculture in The rural areas
Man's Transition to Agriculture
Agriculture in South Africa
Agriculture in Ancient Greece
Conservation Agriculture
Vertical Farming
The Invention of Chinampa Agriculture
Change in American Agriculture
Why The Concept Of Immunology Is Important To Agriculture
Characteristics Of Urban Agriculture
Why Soviet Agriculture Is Unique
Indoor cultivation of Chinese bamboo
The Impact Of Viruses On Agriculture
Agriculture and Urbanization
Methods For Stopping The Spread Of Diseases In Farm Animals
Agriculture During The Neolithic Revolution
Alternative to Conventional Agriculture
Drainage Systems In Agriculture
Urban Agriculture
Farming Systems In The United States
The Impact Of Biotechnology On Agriculture
Agriculture and Population Growth
American Agriculture Industry
Changes in America's Agriculture
Factors That Impact The Quality Of Agricultural Products
The Honeybee in Agriculture
The Impact Of Genetic Engineering on Agriculture
How Mechanized Farming Affects The Ecosystems
The Agriculture Of Vietnam
Advancements in Agriculture
Education in Agriculture
Agriculture in Panama
Saving American Agriculture
The Effects Of Agriculture On Health
Child Labor in Agriculture
Agriculture in the Incan Empire
Genetically Modified Food
The Agricultural Revolution
How Mechanized Farming Affects The Quality Of Farm Products
Cattle Trade History
Cotton Industry in the US
Benefits Of Organic Agriculture
The Agricultural Industry
Slash And Burn Agriculture
Imports in Agriculture
How Environmental Legislation Restricts Agricultural Activities
Sustainability of Agriculture
The Benefits Of Agrarian Reform To Farmers
Generation Gap in Agriculture
Evolution Of Agriculture
How Pests Affects Agriculture
The Future Of Agriculture
The Benefits Of Horticulture To Humans
Animal genetics
How Global Warming Affects Agriculture
Agriculture Organization Of The US
Get Help with your Agriculture Research Paper Topics Paper
You want to make sure your paper is completed on time and done well. We understand how difficult it can be, so we've provided a list of topics you may find interesting for an agriculture research paper . If none of these catch your eye or you need help brainstorming ideas, please get in touch with us at any time. Our team will work with you until all questions are answered, and a clear topic has been selected. Then they'll take care of the rest! Which one would like to write about?
With a passion for education and student empowerment, I create blog content that speaks directly to the needs and interests of students. From study hacks and productivity tips to career exploration and personal development
People Also Read
Top 100 Agriculture Essay Topics for Students
170+ Classification Essay Topics and Ideas for Students to Consider
Top 100 Psychology Term Paper Topics
Most Popular Articles
Racism thesis statement example, how to rephrase a thesis statement, capstone project topic suggestions, how to write an abortion essay, should students wear school uniforms essay, list causal essay topics write, respect essay, signal words, great synonyms, informative speech examples, essay writing guide, introduction paragraph for an essay, argumentative essay writing, essay outline templates, write an autobiographical essay, personal narrative essay ideas, descriptive essay writing, how to write a reflective-essay, how to write a lab report abstract, how to write a grant proposal, point of view in an essay, debate topics for youth at church, theatre research paper topics, privacy overview.
Need Support in Studies? 📚 – Enjoy 10% OFF on all papers! Use the code " 10FALLHELP "
researchpaperland.com
Research paper writing guides & how-to's
Top 9 Agriculture Research Paper Topics
Agriculture, for many people, is not the most interesting of topics. Turning a topic that revolves around farming, plants, growth, agricultural technology and other agricultural concerns may seem nearly impossible to some. However, there are actually dozens of intriguing and valid agriculture research paper topics crafted by professional term paper writers from usessaywriters.com that students can choose from. These topics are both relevant to the agricultural field, and highly intriguing – even to those that may not have any love for agriculture! If you're looking for a great agriculture research paper topic, check out the top nine topics listed below.
17% OFF on your first order Type the code 17TUDENT
Agricultural technology . Technology is popping up in every single academic and work field under the sun, but agriculture is benefiting very obviously. Much of today's agricultural technology is intriguing and effective. Exploring technological advancement in agriculture, as well as its economic and social effects, makes for a great paper.
Renewable energy . Astoundingly, many agricultural products are now being considered as possible energy sources – for example, a corn-based ethanol as a replacement for gasoline. Agriculture is fast becoming an important factor in the future of clean, renewable and alternative energy.
A dying art – the agricultural work force . In reality, there is an insanely small amount of people that work in agriculture. This tiny minority works to feed nations, and exploring this workforce – as well as the future of such a workforce – leads to startling discoveries.
Environmental issues . There has always been debate over the rules of agricultural expansion and environmental protection. When does agriculture rule, and when does the environment? How does agriculture affect ecosystems and the surrounding land? What are the environmental implications of commercial agriculture?
Supply lines or finances . Ever consider the lengthy supply lines of agriculture? Every consider how much money goes in to producing agricultural products? Look it up – you'll find some fascinating and unbelievable research that could contribute to your paper.
Animal rights . Much of agricultural is based on animal products, and animal rights are a serious and constant issue in this market. Address laws, regulations, standards and conditions regarding animals in the agricultural business – you'll find some interesting thesis starters.
Pesticides . The effect of pesticides, safe choices for pesticides and alternative methods to pesticides have all been hot topics for many years. Pick something in this real to research for an interesting paper.
Organic vs. Inorganic . There has been a rise in awareness on what is 'organic' vs. 'inorganic.' What are the health, financial, and business implications of this recent schism? How might it affect individual farmers or even larger productions?
Cultural and political effects . Believe it or not, agriculture shapes much of today's political and social movements. Find those connections for an interesting research paper read.
Looking for help with term paper? Visit My Paper Writer - paper writing service for college students.
Posted by November 4th, 2021
We write about:
Research paper writing
Freelance academic writers
Action research papers
Writing tips & tricks
5-stage term paper composing
Creating a paper about love
Science research paper format
Writing a US history paper
Getting help at a low cost
APA style title page
How to write a thesis statement
Chemistry paper introduction
Obtaining assistance online
Buying a paper for cheap
Persuasive writing techniques
How to find a cheap service
Getting help with a term project
Three motivating tips
Buying papers risk-free
Research paper proposal writing
Term papers about violence
Hiring a research paper writer
Anthropology paper writing
Architecture research essays writing
Biology GCSE coursework writing
Reflection paper writing
Purchasing a custom paper
A basic guide on buying research papers
Buying research papers
Trusting research paper writing agencies
Graduate research papers help
Are research paper writing firms legit?
Essay sample on child abuse
Deforestation Impacts essay sample
Finalizing your research paper
The main criteria for choosing a topic
Literature research paper writing
Finding research paper samples
Action Research Paper Format
Fake research companies
Research paper introduction tips
Writing an undergraduate thesis proposal
Summary and concluding tips
Choosing a good topic
Hiring an essay writer for free
Writing an annotated bibliography
Legalizing marijuana essay sample
Custom research papers
Sociology paper guidelines
Autobiographical research paper writing
APA style research paper from scratch
A British Literature research paper
Looking for a writing agency
American history paper writing tips
Biology research paper topics
Creating research paper topics
Business Law topics
How to improve your style
Analysis paper topics
Astronomy paper ideas
Persuasive research paper topics
Controversial topics to write on
Research ideas on stress
Thesis statement examples
Expert paper writing agencies
Proofreading your research paper
Purchasing customized research papers
Term project examples
Research example on Arabic morphology
Expert ideas for a topic
Research paper on autism
Do not use cheap agencies
Visiting the library
Buying Research Papers vs. Plagiarism
Research statement writing
Sample paper on Whitman and Dickinson
Private defense sample paper
Science research paper topics
Business law research papers editing
Choosing a writing agency
Finding a term paper helper
Never skip proofreading
Choose a topic carefully
Agriculture Research Paper Topics
Research paper guidelines
Dissertation supervisors
A typical research paper
Research paper tips: using present tense
Using research paper writing help
Online math research paper help
What to avoid in your term paper
Research paper on Ancient China
Writing an expository research paper
APA style project proposal samples
Research paper summary templates
A veterinarian research project
Writing the 2008 financial crisis paper
ResearchPaperLand.com is written by former college and university students for the sake of struggling students worldwide.
DissertationExpert
Order custom term paper
Buy homework assignments online.
Research paper guide site.
Cool writing website for students
Dissertation writing help for graduates
2023 © researchpaperland.com All rights reserved.

Everything begins with an idea!
Agriculture Research Paper Topics
Agriculture is the practice of rearing animals and growing crops to provide food or other products. Agriculture keeps advancing every day, and all farmers need to update themselves about modern agricultural practices from time to time. Students who study agriculture-related courses are equally expected to update themselves about modern agricultural practices. A research paper gives students the perfect opportunity to learn about some advancements in agriculture. While students like the opportunity to write agriculture research papers, they often find it hard to get interesting topics to use. To save students from overthinking, we have listed the best agriculture research paper topics below. All the agriculture research paper topics ideas that we listed will help students to increase their knowledge about agriculture. The topics are easy enough for students to research. Students who use these topics won't have to do excess research before they know what to write about their research. By using these topics for research papers, students will successfully make the most out of their research papers.
Slash And Burn Agriculture
Evolution Of Agriculture
Agriculture in Ancient Greece
Agriculture in South Africa
The Honeybee in Agriculture
Techniques of Agriculture
The Agricultural Transformation
Sustainability of Agriculture
The Development of Agriculture
The Impacts Of Pesticides on Agriculture
How Climate Change Affects Agriculture
The Importance Of Sustainable Agriculture
The Agricultural Revolution
Sustainable Agriculture and Its Importance Worldwide
The Agriculture Of Vietnam
The Effects of Climate Change On Livestock
The Impact Of Genetic Engineering on Agriculture
Benefits Of Organic Agriculture
The Impact Of Environment On Cattle Farming
Modern Methods Of Farming
The Influence of Agriculture Educator
The Use of Fertilisers in Agriculture
Agriculture in China
Urban Agriculture
American Agriculture Industry
Factors That Impact The Quality Of Agricultural Products
Vertical Farming
The Invention of Chinampa Agriculture
Agriculture in Afghanistan
Agriculture Organization Of The US
Agriculture in Mesoamerica
Agriculture in the Incan Empire
Education in Agriculture
The Impact Of Animal Agriculture On The Environment
The Importance of Agriculture
The Nature Of Agriculture
Agriculture in Malaysia
Agriculture in the US.
Cornerstone Of Modern Agriculture
Safe Methods Of Controlling Pest
Characteristics Of Urban Agriculture
The Effects Of Agriculture On Health
California Agriculture
Man's Transition to Agriculture
Alternative to Conventional Agriculture
The Economic Viability of Agriculture
Methods For Stopping The Spread Of Diseases In Farm Animals
The Effect of Genetically Modified Organisms on Agriculture
The Impact Of Technology On Agriculture
Agriculture During The Neolithic Revolution
Cotton Industry in the US
Saving American Agriculture
Child Labor in Agriculture
The Agricultural Industry
Agriculture and Population Growth
Agricultural Trade
Why Soviet Agriculture Is Unique
Effects of Corn Monoculture on Environment
How Global Warming Affects Agriculture
Industrialized Agriculture
Generation Gap in Agriculture
Agriculture in Panama
Agriculture in The rural areas
Why Farming Regulations Are Important
How Agriculture Changes Civilizations
Why The Concept Of Immunology Is Important To Agriculture
Indoor cultivation of Chinese bamboo
How Mechanized Farming Affects The Ecosystems
Animal genetics
Agricultural Policy of the US
Agriculture in the Himalayas
The Importance Of Forest Ecology
Impact of the Erosion on Agriculture
Agriculture in the Global South
Impacts Of Botanical Pesticides On Agriculture
How Pests Affects Agriculture
How Environmental Legislation Restricts Agricultural Activities
Impacts Of Insecticides On Agriculture
The Future Of Agriculture
The Benefits Of Mechanized Farming
Conservation Agriculture
Food Production in The US
How Mechanized Farming Affects The Quality Of Farm Products
Change in American Agriculture
Changes in America's Agriculture
Agriculture Industry in Indonesia
Why Agriculturists Need To Understand Plant Anatomy
How International Trade Barriers Affect Local Agriculture
Agriculture and Urbanization
The Beginnings of Agriculture
Imports in Agriculture
Conventional Agriculture
Animal Diseases Control
Pesticide Runoff from Agriculture
Farming Systems In The United States
How Acidity Affects Tropical Agriculture
Advancements in Agriculture
The Impact Of Biotechnology On Agriculture
Why Prokaryotic Organisms Are Essential To Agriculture
The Benefits Of Agrarian Reform To Farmers
Cattle Trade History
Genetically Modified Food
The Impact Of Viruses On Agriculture
Alternative Breeding
Benefits Of Aquaculture To Humans
Drainage Systems In Agriculture
The Major Climatic Factors That Affect The Practices Of Agriculture
The Benefits Of Horticulture To Humans
How Agricultural Practices Affect The Ecosystems
The Impacts Of Herbicide On Agriculture
Postharvest Technology
Have top experts do your papers.
Leave a Reply Cancel reply
Your email address will not be published. Required fields are marked *
Save my name, email, and website in this browser for the next time I comment.
Sustainable Agriculture Research and Education in the Field: A Proceedings (1991)
Chapter: introduction, introduction.
Charles M. Benbrook
These proceedings are based on a workshop that brought together scientists, farmer-innovators, policymakers, and interested members of the public for a progress report on sustainable agriculture research and education efforts across the United States. The workshop, which was held on April 3 and 4, 1990, in Washington, D.C., was sponsored by the Office of Science and Education of the U.S. Department of Agriculture and the Board on Agriculture of the National Research Council. The encouraging new science discussed there should convince nearly everyone of two facts.
First, the natural resource, economic, and food safety problems facing U.S. agriculture are diverse, dynamic, and often complex. Second, a common set of biological and ecological principles—when systematically embodied in cropping and livestock management systems—can bring improved economic and environmental performance within the reach of innovative farmers. Some people contend that this result is not a realistic expectation for U.S. agriculture. The evidence presented here does not support such a pessimistic assessment.
The report of the Board on Agriculture entitled Alternative Agriculture (National Research Council, 1989a) challenged everyone to rethink key components of conventional wisdom and contemporary scientific dogma. That report has provided encouragement and direction to those individuals and organizations striving toward more sustainable production systems, and it has provoked skeptics to articulate why they feel U.S. agriculture cannot—some even say should not—seriously contemplate the need for such change. The debate has been spirited and generally constructive.
Scholars, activists, professional critics, and analysts have participated in
this debate by writing papers and books, conducting research, and offering opinions about alternative and sustainable agriculture for over 10 years. Over the past decade, many terms and concepts have come and gone. Most people—and unfortunately, many farmers—have not gone very far beyond the confusion, frustration, and occasional demagoguery that swirls around the different definitions of alternative, low-input, organic, and sustainable agriculture.
Fortunately, though, beginning in late 1989, a broad cross-section of people has grown comfortable with the term sustainable agriculture. The May 21, 1990, issue of Time magazine, in an article on sustainable agriculture entitled "It's Ugly, But It Works" includes the following passage:
[A] growing corps of experts [are] urging farmers to adopt a new approach called sustainable agriculture. Once the term was synonymous with the dreaded O word—a farm-belt euphemism for trendy organic farming that uses no synthetic chemicals. But sustainable agriculture has blossomed into an effort to curb erosion by modifying plowing techniques and to protect water supplies by minimizing, if not eliminating, artificial fertilizers and pest controls.
Concern and ridicule in farm publications and during agribusiness meetings over the philosophical roots of low-input, sustainable, or organic farming have given way to more thoughtful appraisals of the ecological and biological foundations of practical, profitable, and sustainable farming systems. While consensus clearly does not yet exist on how to "fix" agriculture's contemporary problems, a constructive dialogue is now under way among a broad cross-section of individuals, both practitioners and technicians involved in a wide variety of specialties.
This new dialogue is powerful because of the people and ideas it is connecting. Change will come slowly, however. Critical comments in some farm magazines will persist, and research and on-farm experimentation will not always lead to the hoped for insights or breakthroughs. Some systems that now appear to be sustainable will encounter unexpected production problems. Nonetheless, progress will be made.
The Board on Agriculture believes that over the next several decades significant progress can and will be made toward more profitable, resource-conserving, and environmentally prudent farming systems. Rural areas of the United States could become safer, more diverse, and aesthetically pleasing places to live. Farming could, as a result, become a more rewarding profession, both economically and through stewardship of the nation's soil and water resources. Change will be made possible; and it will be driven by new scientific knowledge, novel on-farm management tools and approaches, and economic necessity. The policy reforms adopted in the 1990 farm bill, and ongoing efforts to incorporate environmental objectives
into farm policy, may also in time make a significant difference in reshaping the economic environment in which on-farm management decisions are made.
This volume presents an array of new knowledge and insight about the functioning of agricultural systems that will provide the managerial and technological foundations for improved farming practices and systems. Examples of the research projects under way around the country are described. Through exploration of the practical experiences, recent findings, and insights of these researchers, the papers and discussions presented in this volume should demonstrate the value of field- and farm-level systems-based research that is designed and conducted with ongoing input from farmer-innovators.
Some discussion of the basic concepts that guide sustainable agriculture research and education activities may be useful. Definitions of key terms, such as sustainable agriculture, alternative agriculture, and low-input sustainable agriculture, are drawn from Alternative Agriculture and a recent paper (Benbrook and Cook, 1990).
BASIC CONCEPTS AND OPERATIONAL DEFINITIONS
Basic concepts.
Sustainable agriculture, which is a goal rather than a distinct set of practices, is a system of food and fiber production that
improves the underlying productivity of natural resources and cropping systems so that farmers can meet increasing levels of demand in concert with population and economic growth;
produces food that is safe, wholesome, and nutritious and that promotes human well-being;
ensures an adequate net farm income to support an acceptable standard of living for farmers while also underwriting the annual investments needed to improve progressively the productivity of soil, water, and other resources; and
complies with community norms and meets social expectations.
Other similar definitions could be cited, but there is now a general consensus regarding the essential elements of sustainable agriculture. Various definitions place differing degrees of emphasis on certain aspects, but a common set of core features is now found in nearly all definitions.
While sustainable agriculture is an inherently dynamic concept, alternative agriculture is the process of on-farm innovation that strives toward the goal of sustainable agriculture. Alternative agriculture encompasses efforts by farmers to develop more efficient production systems, as well as
efforts by researchers to explore the biological and ecological foundations of agricultural productivity.
The challenges inherent in striving toward sustainability are clearly dynamic. The production of adequate food on a sustainable basis will become more difficult if demographers are correct in their estimates that the global population will not stabilize before it reaches 11 billion or 12 billion in the middle of the twenty-first century. The sustainability challenge and what must be done to meet it range in nature from a single farm field, to the scale of an individual farm as an enterprise, to the food and fiber needs of a region or country, and finally to the world as a whole.
A comprehensive definition of sustainability must include physical, biological, and socioeconomic components. The continued viability of a farming system can be threatened by problems that arise within any one of these components. Farmers are often confronted with choices and sacrifices because of seemingly unavoidable trade-offs—an investment in a conservation system may improve soil and water quality but may sacrifice near-term economic performance. Diversification may increase the efficiency of resource use and bring within reach certain biological benefits, yet it may require additional machinery and a more stable and versatile labor supply. Indeed, agricultural researchers and those who design and administer farm policy must seek ways to alleviate seemingly unwelcome trade-offs by developing new knowledge and technology and, when warranted, new policies.
Operational Definitions
Sustainable agriculture is the production of food and fiber using a system that increases the inherent productive capacity of natural and biological resources in step with demand. At the same time, it must allow farmers to earn adequate profits, provide consumers with wholesome, safe food, and minimize adverse impacts on the environment.
As defined in our report, alternative agriculture is any system of food or fiber production that systematically pursues the following goals (National Research Council, 1989a):
more thorough incorporation of natural processes such as nutrient cycling, nitrogen fixation, and beneficial pest-predator relationships into the agricultural production process;
reduction in the use of off-farm inputs with the greatest potential to harm the environment or the health of farmers and consumers;
productive use of the biological and genetic potential of plant and animal species;
improvement in the match between cropping patterns and the productive potential and physical limitations of agricultural lands; and
profitable and efficient production with emphasis on improved farm management, prevention of animal disease, optimal integration of livestock and cropping enterprises, and conservation of soil, water, energy, and biological resources.
Conventional agriculture is the predominant farming practices, methods, and systems used in a region. Conventional agriculture varies over time and according to soil, climatic, and other environmental factors. Moreover, many conventional practices and methods are fully sustainable when pursued or applied properly and will continue to play integral roles in future farming systems.
Low-input sustainable agriculture (LISA) systems strive to achieve sustainability by incorporating biologically based practices that indirectly result in lessened reliance on purchased agrichemical inputs. The goal of LISA systems is improved profitability and environmental performance through systems that reduce pest pressure, efficiently manage nutrients, and comprehensively conserve resources.
Successful LISA systems are founded on practices that enhance the efficiency of resource use and limit pest pressures in a sustainable way. The operational goal of LISA should not, as a matter of first principles, be viewed as a reduction in the use of pesticides and fertilizers. Higher yields, lower per unit production costs, and lessened reliance on agrichemicals in intensive agricultural systems are, however, often among the positive outcomes of the successful adoption of LISA systems. But in much of the Third World an increased level of certain agrichemical and fertilizer inputs will be very helpful if not essential to achieve sustainability. For example, the phosphorous-starved pastures in the humid tropics will continue to suffer severe erosion and degradation in soil physical properties until soil fertility levels are restored and more vigorous plant growth provides protection from rain and sun.
Farmers are continuously modifying farming systems whenever opportunities arise for increasing productivity or profits. Management decisions are not made just in the context of one goal or concern but in the context of the overall performance of the farm and take into account many variables: prices, policy, available resources, climatic conditions, and implications for risk and uncertainty.
A necessary step in carrying out comparative assessments of conventional and alternative farming systems is to understand the differences between farming practices, farming methods, and farming systems. It is somewhat easier, then, to determine what a conventional practice, method, or system is and how an alternative or sustainable practice, method, or system might or should differ from a conventional one. The following definitions are drawn from the Glossary of Alternative Agriculture (National Research Council, 1989a).
A farming practice is a way of carrying out a discrete farming task such as a tillage operation, particular pesticide application technology, or single conservation practice. Most important farming operations—preparing a seedbed, controlling weeds and erosion, or maintaining soil fertility, for example—require a combination of practices, or a method. Most farming operations can be carried out by different methods, each of which can be accomplished by several unique combinations of different practices. The manner in which a practice is carried out—the speed and depth of a tillage operation, for example—can markedly alter its consequences.
A farming method is a systematic way to accomplish a specific farming objective by integrating a number of practices. A discrete method is needed for each essential farming task, such as preparing a seedbed and planting a crop, sustaining soil fertility, managing irrigation, collecting and disposing of manure, controlling pests, and preventing animal diseases.
A farming system is the overall approach used in crop or livestock production, often derived from a farmer's goals, values, knowledge, available technologies, and economic opportunities. A farming system influences, and is in turn defined by, the choice of methods and practices used to produce a crop or care for animals.
In practice, farmers are constantly adjusting cropping systems in an effort to improve a farm's performance. Changes in management practices generally lead to a complex set of results—some positive, others negative—all of which occur over different time scales.
The transition to more sustainable agriculture systems may, for many farmers, require some short-term sacrifices in economic performance in order to prepare the physical resource and biological ecosystem base needed for long-term improvement in both economic and environmental performance. As a result, some say that practices essential to progress toward sustainable agriculture are not economically viable and are unlikely to take hold on the farm (Marten, 1989). Their contention may prove correct, given current farm policies and the contemporary inclination to accept contemporary, short-term economic challenges as inviolate. Nonetheless, one question lingers: What is the alternative to sustainable agriculture?
PUBLIC POLICY AND RESEARCH IN SUSTAINABLE AGRICULTURE
Farmers, conservationists, consumers, and political leaders share an intense interest in the sustainability of agricultural production systems. This interest is heightened by growing recognition of the successes achieved by innovative farmers across the country who are discovering alternative agriculture practices and methods that improve a farm's economic and environmental performance. Ongoing experimental efforts on the farm, by no
means universally successful, are being subjected to rigorous scientific investigation. New insights should help farmers become even more effective stewards of natural resources and produce food that is consistently free of man-made or natural contaminants that may pose health risks.
The major challenge for U.S. agriculture in the 1990s will be to strike a balance between near-term economic performance and long-term ecological and food safety imperatives. As recommended in Alternative Agriculture (National Research Council, 1989a), public policies in the 1990s should, at a minimum, no longer penalize farmers who are committed to resource protection or those who are trying to make progress toward sustainability. Sustainability will always remain a goal to strive toward, and alternative agriculture systems will continuously evolve as a means to this end. Policy can and must play an integral role in this process.
If sustainability emerges as a principal farm and environmental policy goal, the design and assessment of agricultural policies will become more complex. Trade-offs, and hence choices, will become more explicit between near-term economic performance and enhancement of the long-term biological and physical factors that can contribute to soil and water resource productivity.
Drawing on expertise in several disciplines, policy analysts will be compelled to assess more insightfully the complex interactions that link a farm's economic, ecological, and environmental performance. It is hoped that political leaders will, as a result, recognize the importance of unraveling conflicts among policy goals and more aggressively seizing opportunities to advance the productivity and sustainability of U.S. agriculture.
A few examples may help clarify how adopting the concept of sustainability as a policy goal complicates the identification of cause-and-effect relationships and, hence, the design of remedial policies.
When a farmer is pushed toward bankruptcy by falling crop prices, a farm operation can become financially unsustainable. When crop losses mount because of pest pressure or a lack of soil nutrients, however, the farming system still becomes unsustainable financially, but for a different reason. In the former example, economic forces beyond any individual farmer's control are the clear cause; in the latter case the underlying cause is rooted in the biological management and performance of the farming system.
The biological and economic performance of a farming system can, in turn, unravel for several different reasons. Consider an example involving a particular farm that is enrolled each year in the U.S. Department of Agriculture's commodity price support programs. To maintain eligibility for government subsidies on a continuing basis, the farmer understands the importance of growing a certain minimum (base) acreage of the same crop each year. Hence, the cropping pattern on this farm is likely to lead to a
buildup in soilborne pathogens that attack plant roots and reduce yields. As a result, the farmer might resort to the use of a fumigant to control the pathogens, but the pesticide might become ineffective because of steadily worsening microbial degradation of the fumigant, or a pesticide-resistant pathogen may emerge.
A solution to these new problems might be to speed up the registration of another pesticide that could be used, or relax regulatory standards so more new products can get registered, or both. Consider another possibility. A regulatory agency may cancel use of a fumigant a farmer has been relying upon because of food safety, water quality, or concerns about it effect on wildlife. The farmer might then seek a change in grading standards or an increase in commodity prices or program benefits if alternative pesticides are more costly.
Each of these problems is distinctive when viewed in isolation and could be attacked through a number of changes in policy. The most cost-effective solution, however, will prove elusive unless the biology of the whole system is perceptively evaluated. For this reason, in the policy arena, just as on the farm, it is critical to know what the problem is that warrants intervention and what the root causes of the problem really are.
Research Challenges
In thinking through agricultural research priorities, it should be acknowledged that the crossroads where the sciences of agriculture and ecology meet remain largely undefined, yet clearly promising. There is too little information to specify in detail the features of a truly sustainable agriculture system, yet there is enough information to recognize the merit in striving toward sustainability in a more systematic way.
The capacity of current research programs and institutions to carry out such work is suspect (see Investing in Research [National Research Council, 1989b]). It also remains uncertain whether current policies and programs that were designed in the 1930s or earlier to serve a different set of farmer needs can effectively bring about the types of changes needed to improve ecological management on the modern farm.
In the 1980s, the research community reached consensus on the diagnosis of many of agriculture's contemporary ills; it may take most of the 1990s to agree on cures, and it will take at least another decade to get them into place. Those who are eager for a quick fix or who are just impatient are bound to be chronically frustrated by the slow rate of change.
Another important caution deserves emphasis. The "silver bullet" approach to solving agricultural production problems offers little promise for providing an understanding of the ecological and biological bases of sustainable agriculture. The one-on-one syndrome seeks to discover a new
pesticide for each pest, a new plant variety when a new strain of rust evolves, or a new nitrogen management method when nitrate contamination of drinking water becomes a pressing social concern. This reductionist approach reflects the inclination in the past to focus scientific and technological attention on products and outcomes rather than processes and on overcoming symptoms rather than eliminating causes. This must be changed if research aimed at making agriculture more sustainable is to move ahead at the rate possible given the new tools available to agricultural scientists.
One area of research in particular—biotechnology—will benefit from a shift in focus toward understanding the biology and ecology underlying agricultural systems. Biotechnology research tools make possible powerful new approaches in unraveling biological interactions and other natural processes at the molecular and cellular levels, thus shedding vital new light on ecological interactions with a degree of precision previously unimagined in the biological sciences. However, rather than using these new tools to advance knowledge about the functioning of systems as a first order of priority, emphasis is increasingly placed on discovering products to solve specific production problems or elucidating the mode of action of specific products.
This is regrettable for several reasons. A chance to decipher the physiological basis of sustainable agriculture systems is being put off. The payoff from focusing on products is also likely to be disappointing. The current widespread pattern of failure and consolidation within the agricultural biotechnology industry suggests that biotechnology is not yet mature enough as a science to reliably discover, refine, and commercialize product-based technologies. Products from biotechnology are inevitable, but a necessary first step must be to generate more in-depth understanding of biological processes, cycles, and interactions.
Perhaps the greatest potential of biotechnology lies in the design and on-farm application of more efficient, stable, and profitable cropping and livestock management systems. For farmers to use such systems successfully, they will need access to a range of new information and diagnostic and analytical techniques that can be used on a real-time basis to make agronomic and animal husbandry judgments about how to optimize the efficiencies of the processes and interactions that underlie plant and animal growth.
Knowledge, in combination with both conventional and novel inputs, will be deployed much more systematically to avoid soil nutrient or animal nutrition-related limits on growth; to ensure that diseases and pests do not become serious enough to warrant the excessive use of costly or hazardous pesticides; to increase the realistically attainable annual level of energy flows independent of purchased inputs within agroecosystems; and to maximize a range of functional symbiotic relationships between soil micro-
and macrofauna, plants, and animals. Discrete goals will include pathogen-suppressive soils, enhanced rotation effects, pest suppression by populations of plant-associated microorganisms, nutrient cycling and renewal, the optimization of general resistance mechanisms in plants by cultural practices, and much more effective soil and water conservation systems that benefit from changes in the stability of soil aggregates and the capacity of soils to absorb and hold moisture.
Because of the profound changes needed to create and instill this new knowledge and skills on the farm, the recommendations in Alternative Agriculture (National Research Council, 1989a) emphasize the need to expand systems-based applied research, on-farm experimentation utilizing farmers as research collaborators, and novel extension education strategies—the very goals of the U.S. Department of Agriculture's LISA program.
Future research efforts—and not just those funded through LISA—should place a premium on the application of ecological principles in the multidisciplinary study of farming system performance. A diversity of approaches in researching and designing innovative farming systems will ensure broad-based progress, particularly if farmers are actively engaged in the research enterprise.
Benbrook, C., and J. Cook. 1990. Striving toward sustainability: A framework to guide on-farm innovation, research, and policy analysis. Speech presented at the 1990 Pacific Northwest Symposium on Sustainable Agriculture, March 2.
Marten, J. 1989. Commentary: Will low-input rotations sustain your income? Farm Journal, Dec. 6.
National Research Council. 1989a. Alternative Agriculture. Washington, D.C.: National Academy Press.
National Research Council. 1989b. Investing in Research: A Proposal to Strengthen the Agricultural, Food, and Environmental System. Washington, D.C.: National Academy Press.
Interest is growing in sustainable agriculture, which involves the use of productive and profitable farming practices that take advantage of natural biological processes to conserve resources, reduce inputs, protect the environment, and enhance public health. Continuing research is helping to demonstrate the ways that many factors—economics, biology, policy, and tradition—interact in sustainable agriculture systems.
This book contains the proceedings of a workshop on the findings of a broad range of research projects funded by the U.S. Department of Agriculture. The areas of study, such as integrated pest management, alternative cropping and tillage systems, and comparisons with more conventional approaches, are essential to developing and adopting profitable and sustainable farming systems.
Welcome to OpenBook!
You're looking at OpenBook, NAP.edu's online reading room since 1999. Based on feedback from you, our users, we've made some improvements that make it easier than ever to read thousands of publications on our website.
Do you want to take a quick tour of the OpenBook's features?
Show this book's table of contents , where you can jump to any chapter by name.
...or use these buttons to go back to the previous chapter or skip to the next one.
Jump up to the previous page or down to the next one. Also, you can type in a page number and press Enter to go directly to that page in the book.
Switch between the Original Pages , where you can read the report as it appeared in print, and Text Pages for the web version, where you can highlight and search the text.
To search the entire text of this book, type in your search term here and press Enter .
Share a link to this book page on your preferred social network or via email.
View our suggested citation for this chapter.
Ready to take your reading offline? Click here to buy this book in print or download it as a free PDF, if available.
Get Email Updates
Do you enjoy reading reports from the Academies online for free ? Sign up for email notifications and we'll let you know about new publications in your areas of interest when they're released.
Research topics
​​​​Our research comprehensively covers the agriculture, forestry and fisheries portfolio – reports, information and data is grouped within the following research areas and the 'About my region' sub-site.
ABARES Insights
Agricultural outlook
Agricultural forecasting
Climate and drought
Farm surveys and analysis
Productivity
Agricultural workforce
Social sciences
Biosecurity
Invasive species
Food demand
About my region
Working papers
Rice vesting
We aren't able to respond to your individual comments or questions. To contact us directly phone us or submit an online inquiry
Please verify that you are not a robot.
Agricultural Extension And Rural Development
Research papers/topics in agricultural extension and rural development, economic and financial analysis of fmr project (efa).
This EFA were used to determine if the FMR Project is feasible considering all the factors like Vehicle Operating Cost, Expansion Areas, and other.
Knowledge and Adoption of Mentha Growers Regarding Recommended Cultivation Practices of Mentha Crop in Siddhaur Block of Barabanki District Uttar Pradesh
This study was conducted in Siddhaur block of Barabanki district of Uttar Pradesh in 2020-2021. With the help of random sampling method, 120 Mentha growers were selected and data were collected by personal interview method by using pre-tested interview schedule and later appropriate statistical analysis was done to find out the meaningful result. The finding of the study revealed that the overall level of knowledge of mentha growers regarding the recommended practices indicated they have medi...
Assessment of Plant Growth Regulators and Chemicals for Potato (Solanum tuberosum L.) Dormancy Breaking and Subsequent Yield in Central Highlands of Ethiopia
The production of potato in two or more cycles within a year is increasing in the country and it is a common practice in most potato producing regions of Ethiopia. However, the characteristic long tuber dormancy of improved potato varieties in Ethiopia constrains double or triple cropping using irrigation during the long dry season of the year. Thus, it is important to break the long dormancy of tubers for early sprouting and timely planting. Therefore, several types of researches were conduc...
In Agricultural Extension and Rural Development Adoption of Draught Animals by Farmers in (West and South Kordofan State
ABSTRACT This study was conducted in two localities in Kordofan State one of them En-nuhoud locality, West Kordofan State and Aldebibat locality South Kordofan state during 2015 - 2018 to Adoption of Draught Animals by Farmers. The study based on a cross-sectional survey with a sample of 200 farmers that was selected from ten different villages around En-nuhoud and Aldebibat areas. Villages were selected using the simple random sampling technique, while individuals from each village were sele...
World Fertilizer Price Elasticities
Fertilizer Outlook in Africa Presentation with the surge in climate and supply crises with wars in Ukraine and Russia
The Determinants of Rural Households Food Security and Coping Strategies: The Case of Meta District, East Hararghe Zone of Oromia National Regional State of Ethiopia
The Determinants of Rural Households Food Security and Coping Strategies: The Case of Meta District, East Hararghe Zone of Oromia National Regional State of Ethiopia ABSTRACT An understanding of the major determinants of food security is important for interventions aiming at minimizing food insecurity. Therefore, this study was carried out in Meta district of East Hararghe Zone, the objectives of this study were to assess status of household food security, to analyze the determinants of foo...
Modern Electronics For Agriculture
ABSTRACT The field of electronics continues to change and evolve rapidly. Electronics are increasingly being used to collect and process all types of data, transfer information, make decisions, and provide automation and control functions. Modern microcontrollers and semiconductor components offer many advantages and ease of use in designing custom measurement and control systems. An array of microcontrollers, sensors, and accessory components are presented and their features, capabilities, a...
Soil Moisture Conservation, Cropping Systems And Soil Fertility Effects On Soil And Maize Performance In Machakos County, Kenya
The main causes of food insecurity in semi–arid parts of Kenya are low soil fertility, low and unreliable rainfall. These two causes are the main challenges facing small-scale farmers in food production especially in semi-arid areas of the country. To overcome these challenges, soil and water management technologies especially those in soil and water conservation need to be embraced. The aim of the study was to determine the effect of tied ridges, fertilizers and cropping systems on soil pr...
Contribution Of Ngusishi Water Resource User Association Towards Farm Forestry Adoption In Ewaso Ng'iro North Catchment Area, Kenya
ABSTRACT Traditional perspective approach has always considered environmental resources such as water as free goods without physical boundaries and the complexity of water uses and users makes it difficult to manage water resources in an efficient and equitable way. In addition, the current low tree planting trends and over harvesting imbalances are suspect and feared to threaten the continuity of the very tree-crop growing practice that has supported farming households over the years. The Ng...
Distribution, Utilization and Management of Prunus africana (Hook. f) in Gichugu Division, Kirinyaga District, Central Kenya
ABSTRACT Prunus africana (Hook. f) Kalkman happens to be among the very important tree species. Its bark is used to treat prostate gland hypertrophy (PGH) and benign prostatic hyperplasia (BPH). The increased demand for its medicinal value, together with other uses, has led to the over exploitation of this species in its natural habitat. Its cultivation by small-scale farmers appears to be the only long-term solution for meeting future products needs and its conservation. There is however li...
Effects Of Gibberellic Acid And Cytokinin Application On Morphological Development, Growth, Quality And Yield Of French Beans Grown Under Different Irrigation Schedules
ABSTRACT French bean (Phaseolus vulgaris L.) is an increasingly important vegetable crop in Kenya accounting for a significant proportion of foreign exchange earned from horticulture. Farmers in Kenya experience insufficient and unreliable rainfall that affects yields and subsequent family incomes. Attempts to address this situation have been further hampered by poor rainfall distribution. Integration of plant growth regulators in French bean production are among the options that have been su...
Effects Of Fertilizer-N And Organic Resource Management On Soil Aggregates Formation And Carbon Cycling In The Central Highlands Of Kenya
ABSTRACT The maintenance of proper levels of soil organic matter (SOM) has been advocated as one of the main ways of combating soil fertility decline in sub Saharan Africa (SSA). SOM levels can be increased through increased aggregate formation as soil aggregates physically protect SOM, from its loss through decomposition. The objective of this study was to investigate how the amendment of soils of varying texture and fertility levels with fertilizer-N and organic resources affects aggregate ...
Assessment Of Efficiency Of Agrofood Marketing Systems: A Case Of Macadamia Nuts Value Chain In The Central Kenya Highlands
ABSTRACT The macadamia industry in Kenya has been faced with numerous operational and marketing challenges forcing the government to impose export ban of raw nuts since 2008 to date. The then Ministry of Agriculture appointed a task force in 2011 to specifically look into challenges that have been facing the macadamia industry including import ban of Kenya's kernel by USA. Export of macadamia nuts from Kenya has also dropped from 2 nd to 5 th position in sales volume in the world from 1990...
Effect Of Conservation Agriculture On Water Retention, Soil Properties And Maize Yields In Semi-Arid Kajiado County, Kenya
ABSTRACT Food insecurity and hunger are global challenges attributed to poor crop harvests, land degradation, low soil moisture and declining soil fertility. Low maize yields and household food insecurity in Kajiado, Kenya could be alleviated by use of sustainable agricultural practices such as conservation agriculture (CA), integrated soil fertility management (ISFM) and increased water use efficiency. This study was carried out in Kajiado during the long rainy season of March-July, 2016 to...
Effects Of Rainfall Variability And Integrated Soil Fertility Management On Maize Productivity In Embu County, Kenya
ABSTRACT Drier parts of Embu County endure high atmospheric heat, prolonged dry spells, declining soil fertility and erratic rainfall. Local soil and climatic variability contributes to large variations among replications of experimental treatments and inconsistence in research results leading to poor comparability of results within and without different agro-ecological zones (AEZs) hence need for site specific scenario analyses through modelling. Thus, this study sought to; i) evaluate seaso...
Agricultural Extension and Rural Development as a course is the study of application of scientific research and new knowledge to agricultural practices through farmer education with the purpose of improving the quality of life and economic well-being of people living in rural areas. Afribary provides list of academic papers and project topics in Agricultural Extension and Rural Development. You can browse Agricultural Extension and Rural Development project topics and materials, Agricultural Extension and Rural Development thesis topics, Agricultural Extension and Rural Development dissertation topics, Agricultural Extension and Rural Development seminar topics, Agricultural Extension and Rural Development essays, Agricultural Extension and Rural Development text books, lesson notes in Agricultural Extension and Rural Development and all academic papers in Agricultural Extension and Rural Development field.
Popular Papers/Topics
Importance of agricultural journalism, mathematics application for agricultural development in nigeria, accessibility and relevance of information and communication technologies (icts) among cassava farmers in nigeria, economic analysis of layer productions in jalingo local government area of taraba state nigeria, utilization of improved cocoyam production technologies among the women farmers in ikwuano lga of abia state, food security: a means to sustainable economic growth, agricultural youth sensitive policies: the way forward in enhancing youths inclination towards agriculture, analysis of determinants of effectiveness of extension agents in the ebonyi state agricultural extension service, the perception of landmark university students on taking farming as a means of future livelihood, women participation in transformation of agricultural development programme of bauchi local government area of bauchi state, nigeria, the impact of adoption of improved maize varieties on farmers livelihood in sumaila local government area of kano state, identification of constraints and effective educational strategies influencing the professional competencies of agricultural extension officers in oyo and ogun states nigeria, sustainable food and nutrition security: building bridges between durable agricultural practices and the markets.
Chat on WhatsApp
Knowledge Base
Privacy Policy | Refund Policy | Terms | Copyright | © 2023, Afribary Limited. All rights reserved.
Going the Extra Mile: Farm Subsidies and Spatial Convergence in Agricultural Input Adoption
Many countries subsidize agricultural inputs but require farmers to travel to retailers to access inputs, just as for normal purchases. What effect do travel costs have on subsidy take-up and input usage, particularly for remote farmers? We analyze Malawi's Farm Input Subsidy Program (FISP), and show that travel-cost-adjusted prices are substantially higher in remote areas. However, subsidy redemption is nearly universal. We make use of a policy change in 2017-19 which took centralized control of beneficiary selection and find that FISP eliminates the sizeable remoteness gradient that exists for non-beneficiaries. Our results demonstrate that subsidy programs may narrow spatial inequities.
We are grateful to Jenny Aker for her collaboration and to Patrick Baxter, Emanuele Clemente, Calvin Mhango, Monica Shandal, Patrick Simbewe, and Asman Suleiman at IPA Malawi. USAID funded the data collection. We thank Sanjana Gupta for research assistance. We thank Justin Marion and seminar participants at UCSC for helpful comments. The data collection protocol was approved by the IRBs of the University of California, Santa Cruz and the Malawi National Committee on Research in the Social Sciences and Humanities. The findings, interpretations, and conclusions expressed in this paper are entirely those of the authors, and do not necessarily represent the views of the World Bank or its affiliated organizations, its Executive Directors or the governments they represent. The views expressed herein are those of the authors and do not necessarily reflect the views of the National Bureau of Economic Research.
MARC RIS BibTeΧ
Download Citation Data
More from NBER
In addition to working papers , the NBER disseminates affiliates' latest findings through a range of free periodicals — the NBER Reporter , the NBER Digest , the Bulletin on Retirement and Disability , the Bulletin on Health , and the Bulletin on Entrepreneurship  — as well as online conference reports , video lectures , and interviews .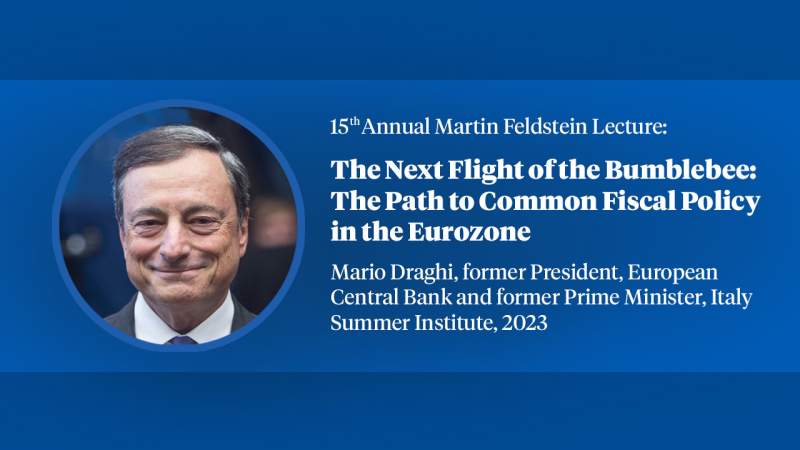 EDITORIAL article
This article is part of the research topic.
Green Psychology: Nature and Scope for Sustainability
Editorial: Green Psychology: Nature and Scope for Sustainability
1 Amrita School of Business, Amrita Vishwa Vidyapeetham University, India
2 Amrita School of Business, Amrita Vishwa Vidyapeetham University, India
The final, formatted version of the article will be published soon.
The interplay between human psychology and the natural environment has gained significant global attention in recent years. Green psychology, like ecopsychology, is part of environmental psychology, investigates the psychological, emotional, and cognitive effects of nature on individuals and society. It explores the intricate relationship between human beings and nature, emphasizing the psychological benefits and behaviors associated with nature engagement and sustainability outcomes. Extant research has consistently shown that a stronger 'human nature connection' is associated with pro-environmental attitudes, conservation and ecological awareness, adoption of sustainable lifestyle choices, and development of an environmental identity (Gansser and Reich,2023;Martin et al.,2020;Klaniecki et al.,2018). By recognizing and nurturing this connection, individuals can contribute and foster sustainable future.This special issue of articles on the research topic (RT) "Green psychology: Nature and scope for sustainability" includes a good collection of research papers with an overarching objective to explore how green psychology meets the challenge of developing a sustainable society and how it can be applied to design effective interventions that promote sustainable consumption patterns. The RT sought explorations on establishing how to bridge the gap between theory and practice in green psychology related paradigms to inform insights about emerging consumption trends to policy makers for crafting practical solutions to environmental problems. An assessment of how green psychology can contribute to the achievement of UN Sustainable Development Goals 2030 and help create new models for sustainable behavior for individuals, organizations, and societies, was expected to be a central component of such discussions in the articles. Additionally, we expected that by unveiling the emerging thought processes, emotions, beliefs, and attitudes of individuals to adopt green practices, the RT may contribute to creations of products, services, or practices that mitigate global environmental challenges. The papers included in this RT cover a wide variety of fields outside the specific application of theoretical concepts in many areas related to sustainability outcomes. These papers have contributed to the overall understanding of the subject matter and have advanced our knowledge in the fields of human psychology and its interface with environment and sustainability. The call for papers has resulted in receipt of a wide range of submissions with a final selection of eleven original research articles prompting discussions on defining the concept of green psychology, developing models, theories, and frameworks on its influence on human behavior towards sustainability. This RT is a result of the collaboration between researchers from different parts of the world and focuses on sustainability through farmer behaviour in agriculture (8 papers), citizen behaviour in climate control (1 paper), patient behaviour in healthcare (1 paper), and consumer behaviour in green retail (1 paper). The articles are outcomes of research focused on many countries, such as China, Korea, Malaysia,Germany, and Iran.As emerge from the papers, understanding the multiple stakeholder perspectives are crucial as they determine the green adoption behaviour. Stakeholders of a specific sustainable practice need to be motivated and educated to understand the importance of green practices and how they can contribute to sustainability. It can be related to sustainable product design or green prevention and control techniques. Sustainable design includes responsibly using materials that are recyclable or biodegradable and minimize the waste. Mostly, ambiguity about stakeholder or end-user emotions and tastes significantly pose challenges to sustainable design practices. The original research included in this RT by Kam and Yoo (2022) value-belief-norm (Savari,2023). A few observations documented in this RT have policy implications. First, they suggest a cognitive process in sustainability adoptions referred as a "prospective benefit and drawback evaluation" which involves perceived value, level of social capital, and the level of subjective cognition (Gao et al.,2022). Second, increasing the social capital of farmers could encourage them to embrace innovative practices (Ren et al.,2022). Effective communication and responsible leadership are beneficial in developing higher level of participation by small holder farmers in sustainable practices (Rizal and Nordin,2022). Third, cognitive deficiencies of farmers are an important barrier to adoption of sustainable practices, and government assistance is essential to overcome such challenges (Ren and Zhong, 2022)The research by Song et al. ( 2022) examined the psychophysiological restorative potential of cancer patients by virtual reality (VR)-based perception of natural environment, and observed that blue and green hospital environment are more beneficial to psychological health compared to grey. The study established that the human well-being is positively affected by natural environments, even among cancer patients. Similarly, Blobaum et al. (2023) observed substantial similarities between nature conservation beliefs grounded in a biospheric value orientation (protecting biodiversity) and climate protection values and norms, there did not seem to be value-based conflicts between nature conservation and climate protection. As regards the emerging research direction, more recent policy papers and scientific studies indicate a trend towards new topics and technologies, such as: Carbon Capture and Storage (CCS); Carbon Capture and Use (CCU); Bioenergy with Carbon Capture and Storage (BECCS); Direct Air Carbon Capture and Storage (DACCS), use of hydrogen, and Negative Emission Technologies (NET) (Borchers et al., 2022;Antonini et al., 2020). It is important to understand the possible psychological conflicts in terms of drivers and barriers associated with these upcoming technologies and their impacts on nature and landscapes and eventual sustainability transformation. Further adoption and scaling up of green psychology interventions, including nature-based therapies, environmental education programs, creation of green spaces in urban environments, and ecotherapy/eco-counseling, could offer valuable approaches for promoting well-being, sustainable behaviors, and a deeper connection with nature. These interventions have shown promising results in enhancing mental health, fostering pro-environmental attitudes, and facilitating sustainable behaviors.From policy perspectives, integrating green psychology into policies and practices is essential across various sectors for promoting sustainability and enhancing individuals' connection with nature. By incorporating principles of green psychology in healthcare, education, urban planning, and organizational management, it may be possible to leverage psychological insights to support pro-environmental behavior change and foster a deeper appreciation for the natural world. Such policy integrations can contribute to a more sustainable future, where policies and practices prioritize the well-being of both individuals and the environment.
Keywords: Green Psychology, Human-nature interactions, Agriculture, sustainability, Stakeholder perceptions
Received: 18 Jul 2023; Accepted: 22 Sep 2023.
Copyright: © 2023 Venugopalan, Karthiayani and G. This is an open-access article distributed under the terms of the Creative Commons Attribution License (CC BY) . The use, distribution or reproduction in other forums is permitted, provided the original author(s) or licensor are credited and that the original publication in this journal is cited, in accordance with accepted academic practice. No use, distribution or reproduction is permitted which does not comply with these terms.
* Correspondence: Dr. Rejikumar G, Amrita School of Business, Amrita Vishwa Vidyapeetham University, Kochi, India
People also looked at