Unsupported Browser Detected. It seems the web browser you're using doesn't support some of the features of this site. For the best experience, we recommend using a modern browser that supports the features of this website. We recommend Google Chrome , Mozilla Firefox , or Microsoft Edge
Upcoming Events
Past Events
Program Streams
Complex Asia
Trade Smarter
Living with China
Generation Asia
Briefing MONTHLY
China Executive Briefing
Disruptive Asia
Southeast Asia and COVID-19 Project
Asia Society Australia YouTube
Asia Trade and Innovation Hub
Supply Chains in Southeast Asia
Generation Asia Research Reports
CEO Roundtables
Viet Nam Initiative
Australia and Korea: Middle Power Parallels
Australia-Japan: Stepping up a Special Strategic Relationship in Asia
Asia Society Policy Institute in Australia
Distinguished Fellowships
Scholar-In-Residence
Centre for China Analysis
Asia Society Policy Institute
Become a Member
Our Members
Our Partners
Support Asia Society Australia
About Asia Society Australia
Our Strategic Plan
Our Programs
Our Board and Advisory Council
Careers and Internships
Asia Society Australia at 25 Years
Strategic Plan 2021-2026
Navigating shared futures.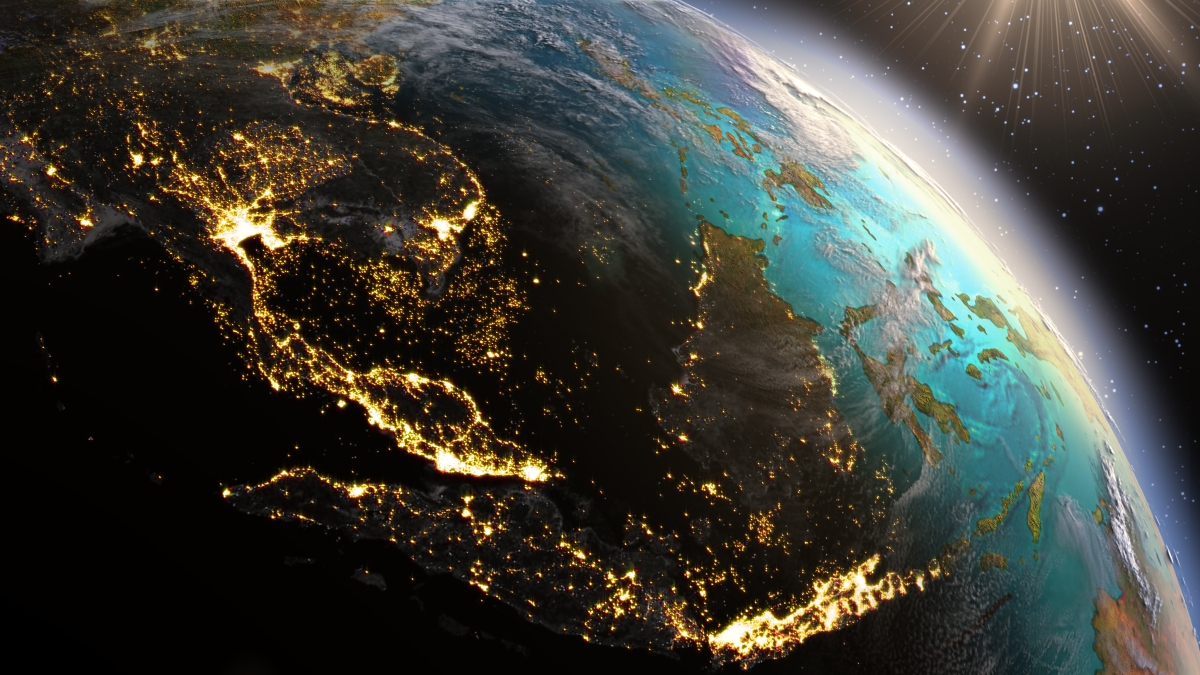 Global Asia Society Statement of Purpose
The Asia Society's purpose is to navigate shared futures for Asia and the world across policy, business, arts and culture, education, sustainability, and technology.
We strive to be Australia's leading global think-tank dedicated to Asia, focussing on the interplay between business and policy.
We connect business, policy and society, helping Australians to understand and engage with Asia and to navigate our shared futures.
Our Mission
Our mission is to prepare Australians for deeper and sustainable engagement with a more complex Asia.
Excellence: we provide world-class expertise, a region-wide perspective and a global outlook.
Independence: we are an independent, non-partisan, non-political, non-profit organisation with a national mission.
Diversity and inclusion: We are a champion of diversity - of regional outlook, of culture, of opinion and of our Asian-Australian communities. 
Respect and integrity: We value every member of our network for the contribution they make to our success.  We act with the highest standards to encourage freedom of expression, creativity, collegiality, and robust and respectful debate.
Our Value Proposition
Inform and inspire: We provide a global perspective – with an Australian focus -  to geopolitical, economic, business and social trends and developments across Asia to help and inspire Australian leaders and organisations make informed decisions, achieve business outcomes and engage effectively and sustainably with Asia.
Connect and contribute: We connect Australian leaders, organisations and communities with each other, with their peers in Asia and across the Asia Society's global network, to build relationships, share insights, develop understanding and contribute to solutions for our shared future.
Empower: We develop Australia's capability to engage with Asia, to strengthen our prosperity and security, and to enable greater contribution of our communities to Australia's shared future in Asia.
Our goals for Asia Society Australia are:
to be the leading voice in Australia about Asia's business, politics and society, and to be a leading voice about Australia in Asia; 
to be a truly national institution and a digital-first organisation, with the national centre in Melbourne, an office in Sydney and accessible across Australia and globally through face-to-face and digital platforms;
to be a leading contributor to solving the national policy challenges of building deeper economic, political and people relationships, and a better understanding of the cultures across Asia, pursuing shared aspirations, and managing strategic challenges with our partners in Asia; and
to expand our in-house expertise, strengthen our reputation as a champion and a convenor of informed debate and dialogue, and to be a major contributor to Asia Society's global programs and publications.
Our Priorities
Our strategic priorities are linked to the major challenges and opportunities that are facing Australia and Asia.
Broaden and deepen our understanding of a complex Asia
Challenge: Australia is living in an increasingly contested region. Geopolitics and economics, business and policy, digital and climate change issues in Asia are increasingly complex and intertwined, and are affecting Australia's relations across Asia.
Our focus: Build a deeper understanding of geopolitical and economic trends in Asia, and their influence on Australia, and the broad range of relationships which Australia must develop and manage across Asia and as being a part of Asia.
Trade and invest smarter to grow faster
Challenge: Australia is diversifying its trade and investment partnerships and facing an intensifying competition for capital, markets and talent. Our limited business presence across Asia, relatively narrow economic base and under-developed Asia capabilities and understanding have been accentuated by the impact of COVID-19 pandemic, climate change, the digital revolution and the changing geopolitical environment.  These factors combine to create a powerful impetus for Australia to develop new economic partners across Asia and to lead innovation in trade.
Our focus: Help inform Australia's trade and investment expansion and innovation, including in digital trade. Work with business and government to inform the design, implementation and advocacy of solutions and pathways to developing sustainable trade and investment partnerships in Asia. 
Learning to live with China
Challenge: Australia's relationship with China has deteriorated as a result of political and strategic differences, distrust and the US-China competition. Yet China will continue to be one of Australia's largest trading partners, and be a major global and regional economic power.
Our focus: Help inform the development of a more sustainable relationship with China. Contribute to shaping the next chapter of Australia's economic engagement with China by building a better understanding of the Chinese economy, political system and policy-making, and how they impact Australia.
Create opportunities for the new Generation Asia
Challenge: Australia's cultural, linguistic, business and professional literacy about Asia is being eroded by declining funding, the COVID-19 pandemic, policy apathy, and geopolitical and trade tensions. The next generation of Australians will be the most adversely affected by these challenges. Yet, digital transformation, demographic changes and accelerating global interconnectivity offer new solutions to improve our Asia capabilities.
Our focus: Reimagine Asia literacy and empower the next generation of Asia-engaged leaders by embedding cultural intelligence in everything we do; by showcasing Australian-Asian leadership and expertise; by promoting innovation in Asia literacy; by increasing accessibility of our content and programming to the broader community and to the younger generations; and by leveraging our platform, including Asia 21, to empower Asia-focused youth initiatives.
Asia Society Australia 2021-2026 Strategic Plan Infographic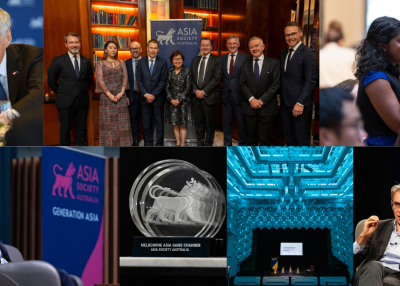 BECOME A MEMBER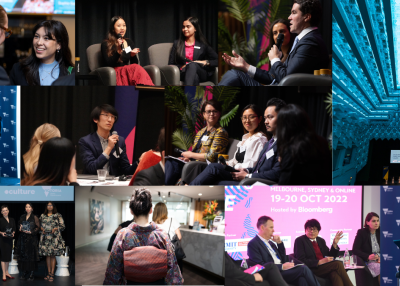 Join Asia Society Australia
Subscribe to briefing monthly.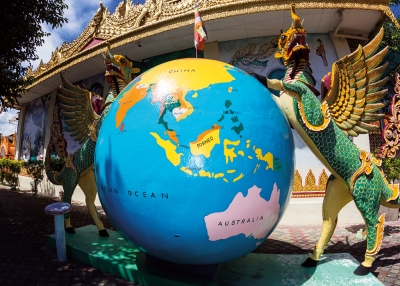 You have Javascript disabled and your user experience may not be as intended without enabling it. Please consider enabling Javascript or email us at digital [at] industry.gov.au for further assistance.
Australia 2030: Prosperity through Innovation
Download or share.
The benefits of innovation are all around us, it's in the quality of life that Australians enjoy and the meaningful work we undertake. This is why innovation continues to be critical for Australia's future.
Australia 2030: Prosperity through Innovation plans for the sort of society and economy that all Australians can aspire to by 2030.
The plan makes 30 recommendations that underpin five strategic policy imperatives:
Education: respond to the changing nature of work by equipping all Australians with skills relevant to 2030
Industry: ensure Australia's ongoing prosperity by stimulating high-growth firms and raising productivity
Government: become a catalyst for innovation and be recognised as a global leader in innovative service delivery
Research and development (R&D): improve R&D effectiveness by increasing translation and commercialisation of research
Culture and ambition: enhance the national culture of innovation by launching ambitious National Missions.
Government response
Read the  government's response to the 2030 plan .
Stakeholder consultation
Innovation and Science Australia (ISA) consulted with stakeholders across the Australian innovation, science and research system throughout 2017 and received  130 public submissions . The consultation and submissions helped inform and shape the plan.
Importance of the 2030 Plan
The Chair of Industry Innovation and Science Australia explained the importance of the 2030 Plan for Australia's innovation future and the vision underpinning the plan. 
[Text: Mr Bill Ferris AC, Chair, Innovation and Science Australia Board] [Bill Ferris talks to an interviewer who is not visible in an office setting]
We were tasked by the Australian Government to come up with a plan for accelerating innovation and prosperity of this country by the year 2030. That's the horizon. So the board of Innovation and Science Australia approached that task by saying, well, what is it - what do we want 2030 to look like. What will the Australian economy and society need to be?
I think we settled on the fact that we would hope and want to be respected for the excellence of our science and our research and our innovation, and be seen and respected for that internationally, and we'd like to continue to deliver a high level of prosperity and living standards for all Australians in what we would regard, and hope others would see, as a fair and inclusive society.
More information
Countries, economies and regions
Select a country, economy or region to find embassies, country briefs, economic fact sheets, trade agreements, aid programs, information on sanctions and more.
International relations
Global security.
Australia and sanctions
Australian Safeguards and Non-proliferation Office (ASNO)
Counter-terrorism
Non-proliferation, disarmament and arms control
Peacekeeping and peacebuilding
Regional architecture
Asia Pacific Economic Cooperation (APEC)
Association of Southeast Asian Nations (ASEAN)
East Asia Summit (EAS)
Australia and the Indian Ocean region
Pacific Islands regional organisations
Global themes
Child protection
Climate change
Cyber affairs and critical technology
Gender equality
Human rights
People Smuggling, Human Trafficking and Modern Slavery
Preventing Sexual Exploitation, Abuse and Harassment
Australia's treaty-making process
International organisations
The Commonwealth of Nations
United Nations (UN)
World Trade Organization
Foreign Arrangements Scheme  
Trade and investment, about free trade agreements (ftas).
The benefits of FTAs
How to get free trade agreement tariff cuts
Look up FTA tariffs and services market access - DFAT FTA Portal
Discussion paper on potential modernisation – DFAT FTA Portal
About foreign investment
The benefits of foreign investment
Investor-state dispute settlement (ISDS)
Australia's bilateral investment treaties
Australia's foreign investment policy
For Australian business
Addressing non-tariff trade barriers
Expo 2025 Osaka, Kansai
Australia's free trade agreements (ftas).
ASEAN-Australia-New Zealand (AANZFTA)
Chile (ACLFTA)
China (ChAFTA)
Hong Kong ( A-HKFTA & IA)
India (AI-ECTA)
Indonesia (IA-CEPA)
Japan (JAEPA)
Korea (KAFTA)
Malaysia (MAFTA)
New Zealand (ANZCERTA)
Peru (PAFTA)
Singapore (SAFTA)
Thailand (TAFTA)
United Kingdom (A-UKFTA)
USA (AUSFTA)
Trans-Pacific Partnership (TPP)
European Union (A-EUFTA)
India (AI-CECA)
Australia-Gulf Cooperation Council (GCC)
Australia-UAE Comprehensive Economic Partnership Agreement
Trade and investment data, information and publications
Fact sheets for countries and regions
Australia's trade balance
Trade statistics
Foreign investment statistics
Trade and investment publications
Australia's Trade through Time
WTO, G20, OECD, APEC and IPEF
Services and digital trade.
International tourism engagement
The importance of services trade to Australia
Australia-Singapore Digital Economy Agreement
Digital trade & the digital economy
Development
Australia's development program, performance assessment.
Development evaluation
Budget and statistical information
Who we work with
Multilateral organisations
Non-government organisations (NGOs)
List of Australian accredited non-government organisations (NGOs)
Development topics
Development issues
Development sectors
2030 Agenda for Sustainable Development
Sustainable Development Goals
Where we deliver our Development Program
Humanitarian action.
Where and how Australia provides emergency assistance.
People-to-people
Australia awards.
Australia Awards Scholarships
Australia Awards Fellowships
New Colombo Plan
Scholarship program
Mobility program
Public diplomacy
Australian Cultural Diplomacy Grants Program
Australia now
UK/Australia Season 2021-22
Foundations, councils and institutes
Australia-ASEAN Council
Australia-India Council
Australia-Indonesia Institute
Australia-Japan Foundation
Australia-Korea Foundation
Council for Australian-Arab Relations (CAAR)
Council on Australia Latin America Relations (COALAR)
International Labour Mobility
Pacific Labour Mobility Scheme
Agriculture Visa
Australian Volunteers Program
Supporting organisations in developing countries by matching them with skilled Australians. 
Sports diplomacy
Australia is a successful global leader and innovator in sport.
A global platform for achievement, innovation, collaboration, and cooperation
About Australia
Australia is a stable, democratic and culturally diverse nation with a highly skilled workforce and one of the strongest performing economies in the world.
Australia in Brief publication
This is the 52nd edition of Australia in Brief, revised and updated in February 2021
Travel advice
To help Australians avoid difficulties overseas, we maintain travel advisories for more than 170 destinations.
Smartraveller – travel advice
International COVID-19 Vaccination Certificate
Prove your COVID-19 vaccinations when you travel overseas.
The Australian Passport Office and its agents are committed to providing a secure, efficient and responsive passport service for Australia.
Australian Passport Office
24-hour consular emergency helpline
Within Australia: 1300 555 135
Outside Australia: +61 2 6261 3305
Getting help overseas
Visas for Australians travelling overseas
Visas to visit Australia
2023-24 DFAT Corporate Plan
The corporate plan is the department's primary planning document. It sets out our vision, purpose, capabilities and risks, and describes the complex international environment in which we operate. The corporate plan is a roadmap for how we will deliver the Government's agenda over the next four years and how we will measure our performance. Results against this corporate plan will be reported in our 2023–24 annual performance statements.
Download DFAT Corporate Plan
2023–24 DFAT Corporate Plan [Word 7 MB]
2023–24 DFAT Corporate Plan [PDF3 MB]
Strategic Plan 2022–2025
Our 2022–2025 Strategic Plan sets an agenda to inspire more and better philanthropy across Australia.
The 2022–2025 Philanthropy Australia Strategic Plan sets an ambitious growth agenda to inspire more and better philanthropy across Australia for the benefit of humanity. Our vision is for a generous and inclusive Australia.
We launched our new strategic plan into a radically changed world to the one of just a few years ago.
Following the impact of the fires in 2019–2020 and the global COVID-19 pandemic, we now find ourselves in a social, economic and environmental landscape experiencing tectonic shifts. Life is increasingly uncertain, and our planet is under greater threat. In these challenging times, the role of enlightened philanthropy is more important than ever before.
Through extensive consultation with our members, partners and the sector, we have landed on 5 key strategic pillars to guide our work over the next 4 years. We will:
Engage with a larger and more diverse audience as we build out the wider Philanthropy Australia network and extend our member base.
Inspire and cultivate a new wave of philanthropy through inspirational stories and campaigns that illuminate the importance and joy of giving.
Foster more and better giving through accessible guidance, tools and information.
Advocate for policy, regulatory and other reform to unlock the enormous potential for giving in Australia.
Invest in our organisation – in our people, our processes and our systems – to ensure an efficient and effective business framework that exceeds our members' expectations and sustains the organisation for the long term.
Importantly, the priorities identified in our Strategic Plan support the implementation of our Blueprint to Grow Structured Giving – a national framework to double structured giving from $2.5 billion to $5 billion annually by 2030.
The Strategic Plan seeks to ensure that a good portion of the anticipated $1.1 trillion transfer in intergenerational wealth in Australia by 2030 is directed to philanthropic endeavours that change systems and lives. Working with government to open up more giving is a key focus of the Strategic Plan.
As the peak body for philanthropy in Australia, we know that there has never been a more critical time to grow and nurture giving.
We are so looking forward to embarking on this new chapter of our journey with you to inspire more and better philanthropy.
Philanthropy Australia
Publication date
Wed, 1 Dec 2021
Strategic priority
Advocate, Engage, Foster, Inspire
Site notifications
Coronavirus (COVID-19) health alert
Australian Government Department of Health and Aged Care
Australia's Long Term National Health Plan
Australia's Long Term National Health Plan charts the way forward over the next 3 and 10 years in the key areas of mental health, primary care, hospitals, preventive health and medical research.
Scroll down to access downloads and media.
Download Australia's Long Term National Health Plan as PDF - 2.52 MB - 24 pages
We aim to provide documents in an accessible format. If you're having problems using a document with your accessibility tools, please contact us for help .
The Long Term National Health Plan includes:
The 2030 mental health vision, including a new strategy specifically for children under 12 years
The 10-year Primary Health Care Plan
Continued improvement of private health insurance
The 10-year National Preventive Health Strategy
The 10-year Medical Research Future Fund investment plan.
Health data and medical research
Hospital care
Mental health and suicide prevention
Private health insurance
Preventive health
Is there anything wrong with this page?
Help us improve health.gov.au
If you would like a response please use the enquiries form instead.
Please be advised you are about to leave the Standards Australia website to proceed to the AustLII website. Click OK to proceed.
POPULAR CONTENT
Popular standards, strategic plan.
Our five-year strategic plan revolves around the key pillars of Reputation, Reach, Relevance and Revenue. In our Annual Review each year, we also set out the current activities aligned to these objectives and the measures of success to track their achievements.
Strategic Plan 2020–25
For the five financial years commencing 1 July 2020 to 30 June 2025. ‍
A global leader in trusted solutions that improve life – today and tomorrow
Our mission
Empowering communities
To fulfil our mission and vision, the plan focuses our resources on four strategic objectives:
1. Reputation
Standards Australia is recognised for the value we add to industry, government, and the community. We are a trusted adviser to policymakers and industry leaders and have a strong community brand. We're investing in technology and changing how we work with our customers and contributors to make their experience better every day. Our people and their collective capability are our greatest asset and strongest brand ambassadors.
More Australians use our trusted solutions to help keep people safe, build economic value and sustain communities and development. Our solutions are trusted, compelling and easy to use. Our international influence is strong, connecting Australia to the world.
3. Relevance
Innovation and change are at the core of what we do. We help build new technologies, systems, and industries every day. Our solutions help solve problems and deliver products and services. We empower communities. We support traditional and new industries. Our members, contributors and staff reflect a contemporary, diverse and inclusive Australia. We contribute to community discussion and debate and are known for our insights.
Our role as Australia's national standards body is supported by solid financial management and revenue generating business activities that support our role in the economy. Our customers and partners understand the value of our work which they use to generate greater public and private value across the economy.
Please be aware there are certain websites purporting to offer Australian Standard® brand standards for sale that are not authorised or controlled by Standards Australia Limited. People wishing to purchase Australian Standard® brand standards or any of our other publications can do so at Standards Store or from our distributors.
Current students
Academic Colleges
University Executive
Strategic planning
Global engagement
Nobel Laureates
Translational Fellowship Scheme
Previous years' recipients
Distinguished educators
Education Fellowship Scheme
Roll of honour
Frameworks & disclosures
Dates & deadlines
Legislation
ANU Council Statements
ATAR information
Flexible degree options at ANU
Professional development courses at ANU
External scholarships
Direct application scholarships
Prestigious scholarships
Applying to ANU - Application details
Domestic undergraduate admission
All programs and courses
Domestic Applications - ANU Postgraduate Coursework
Domestic landing page
Future students vn
Find an educational agent
International students
Subscribe for updates
Accept your offer
Fees & payments
Student experience
Student residences
Compare residences
Financial support
Application advice
Other accommodation options
Support & resources
Past events
Undergraduate students
Postgraduate students
Postgrad research students
Exchange and Study Abroad
Prospective international students
Parents & guardians
Career advisors
Agents representatives
Our research
Our Health in Our Hands
Tech Policy Design Centre
Partner with us
Publications
Current researchers
Current research students
Future research students
Engaged ANU
Search fundraising projects
Impact stories
Report to donors
Philanthropy at ANU
Support students
Kambri scholars
Benefits & services
Prominent alumni
ANU75 features
Events & stories
Indigenous student support
Leadership & volunteering
Student communities
Student experience research
Accommodation
Scholarships
Program management
Assessments & exams
Timetabling
Academic integrity
Appointments
Research writing
Study skills
Writing & assessment
Peer mentoring
Access & inclusion
Getting help at ANU
Sexual Harassment & Sexual Assault
Living well
Feeling well
Respectful relationships
Spending well
Living spiritually
Living legally & safe
Applications & interviews
Career resources
Finding a job
Planning your career
Understanding overseas study
Short course options
Other semester-length options
Funding information
Volunteering
New students
Current International students
Students with a disability
Higher Degree Research candidates
Indigenous students
For journalists
Publications & social media
News from the VC
All podcasts
University calendar
Website directory
Social channels
ANU is a world-leading university in Australia's capital. Excellence is embedded in our approach to research and education.
Campuses & facilities
Awards & achievements
Our history
Study with us
Choosing the right university is a defining decision. Discover why ANU is the right choice for you.
Study options
Apply to ANU
Information for
Postgraduate research students
Education agents
Research & innovation
ANU research priorities address the challenges facing Australia and the world.
Resources for
Your donation will make a real difference to our community of researchers and students.
How to give
First Nations Portfolio
Leading in our region
Transforming our world
ANU graduates become lifelong members of our community. See what's on offer.
ANU has a huge variety of support services, programs and activities to enhance your student experience.
Student life
Program admin
Academic skills
Health, safety & wellbeing
Careers & opportunities
Learning platforms
Programs & courses
You are here

The Australian National University is endowed by the nation to bring credit to Australia through the quality of its research, education and contribution to societal transformation. Our strategic planning reflects our priorities and responsibilities to the nation, the region and the world.
ANU 2025 Strategic Plan »
Environmental Management Plan 2022-2025 »
ANU Strategic Plan 2021-2025 »
ANU Corporate Plan 2023-2026 »
Strategic plan initiatives, gender equity & inclusion.
Indigenous Voice to Parliament
Mental health strategy.
Reconciliation Action Plan
Sexual violence prevention and response
Sustainable Farms
Annual reports
Annual Report 1999 »
Annual Report 2000 »
Annual Report 2001 »
Annual Report 2002 »
Annual Report 2003 »
Annual Report 2004 »
Annual Report 2005 »
Annual Report 2006 »
Annual Report 2007 »
Annual Report 2008 »
Annual Report 2009 »
Annual Report 2010 »
Annual Report 2011 »
Annual Report 2012 »
Annual Report 2013 »
Annual Report 2014 »
Annual Report 2015 »
Annual Report 2016 »
Annual Report 2017 »
Annual Report 2018 »
Annual Report 2019 »
Annual Report 2020 »
Annual Report 2021 »
Annual Report 2022 »
Plans & reviews
Review of the ANU Press
Contact ANU
Freedom of Information
+61 2 6125 5111 The Australian National University, Canberra TEQSA Provider ID: PRV12002 (Australian University) CRICOS Provider : 00120C ABN : 52 234 063 906
The Academy
The Shine Dome
Philanthropy
Library and Archive
Climate change hub
COVID-19 news and resources hub
Awards and opportunities
National Committees for Science
Science policy and analysis
International representation
Diversity and inclusion
Future Earth Australia
Early- and mid-career researchers
Other initiatives
Academy school education programs
Science videos and articles
Immunisation, climate change and genetic modification
History of Australian science
News and media releases
Social media
Newsletters
Videos and articles
Publications
You are here
Strategic plan.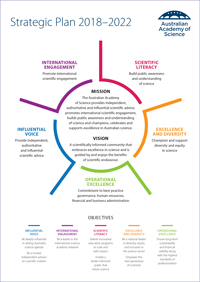 Strategic Plan 2018–2022 : Download a summarised version of the Academy's strategic plan, or read more about the plan below.
Download the Strategic Plan 2018–2022 (PDF, 40 KB)
The vision of the Australian Academy of Science is for a scientifically informed community that embraces excellence in science and is guided by and enjoys the benefits of scientific endeavour.
The Academy provides independent, authoritative and influential scientific advice, promotes international scientific engagement, builds public awareness and understanding of science, and champions, celebrates and supports excellence in Australian science.
Influential voice
The Academy aims to be deeply influential in setting Australia's science agenda, and to be a trusted, independent advisor on scientific matters.
We will achieve this by:
publishing and continuously promoting a vision for Australian science
actively engaging with key government stakeholders on science and policy matters
developing and promoting a suite of policy position papers, discussion papers and reports drawn from the National Committees and Fellowship
hosting a President's Circle to grow industry reach and engagement
seeking opportunities to develop a Science Policy Centre within the Academy.
We expect to achieve a stronger voice for science, a greater understanding of the Academy's role in policy, and increased influence with government, industry and other sector stakeholders.
International engagement
The Academy aims to be a leader in the international science academy network.
assisting the Australian Government to deliver its international science activities
advocating for a strategic and comprehensive international science engagement program
developing our international exchange programs
providing science leadership in South-East Asia
supporting Future Earth Australia to become an independent entity
nominating Australian scientists to international bodies.
We expect to achieve better opportunities for Australian scientists to work with and benefit from international collaborations, and a stronger focus on science in our region.
Scientific literacy
The Academy aims to deliver innovative education programs at scale and with impact, and to enable a better-informed public that values science.
producing high-quality, engaging and informative science content for our growing and far-reaching global online audience
developing and delivering our integrated school science and maths program, with ongoing funding secured
running science events throughout Australia
holding an annual scientific symposium on a topic of national importance.
We expect to achieve enhanced school science and maths education, with more engaged, numerate and scientifically literate students, and a greater public understanding and appreciation of science and of the Academy.
Excellence and diversity
The Academy aims to be a national leader in diversity, equity and inclusion in the science sector, and to empower the next generation of scientists.
becoming an exemplar of diversity and inclusion in all of our programs and activities
establishing the Science in Australia Gender Equity (SAGE) Initiative as an independent and sustainable entity
delivering and implementing the Women in STEM Decadal Plan
providing awards and grants to the best and brightest scientists
working with Indigenous communities to develop an Indigenous Science Agenda
supporting the Early- and Mid-Career Researcher (EMCR) Forum to continue representing and advocating for EMCRs.
We expect to achieve a steady shift in diversity and inclusion in STEM, and a growing voice for EMCRs.
Operational excellence
Underpinning our activities is our commitment to best practice governance, human resources, financial and business administration. Our objectives are to ensure long-term sustainability and financial viability along with the highest standards of professionalism.
© 2023 Australian Academy of Science
Information
COTA Australia Board
National Policy Council
Strategic Plan 2021-25
Our Vision, Mission & Values
Health For Older Australians Campaign
Our Process
Our Principles
Our Achievements
Representing You
Position Vacant: Communications Officer
COTA Australia Staff
Federal Elections
National Policy Forums
Submissions
First Nations Voice
State of the (Older) Nation
Mature Age Employment
State of the (Older) Nation 2021
Digital Inclusion
Aged Care Reform
Climate Change
Ageism and Discrimination
Housing and Homelessness
Consumer Rights
Federal Election 2022
NPF 2023: Releasing the Value of Growing Older
Sector Code for Visiting in Aged Care Homes
FAQ for Sector Code on Visiting Residential Aged Care Homes during COVID
Aged Care for Providers
Consumer Engagement in Aged Care Project
Aged Care Navigators
Aged Care for Consumers
Self-management in Home Care
Home Care Today
MQU Retirement Village Fees & Cost Tool
What older Australian need to do to protect themselves from COVID in 2022
Resources for Care Finders
Star Ratings in Aged Care
Download COTA Australia Strategic Plan 2021-25
COTA Australia is the leading national policy development, advocacy and representation organisation seeking to achieve an equitable, just and inclusive society for Australia's over 8 million older Australians over 50 years.
Throughout its 60+ year history a key part of COTA Australia's success has been its strong working relationship with its national, state and individual members (especially State and Territory COTAs), and industry stakeholders. As we turn the next page in COTA's history to once again expand our membership beyond the COTAs, it's important to remember the successful achievements of COTA Australia and of the COTAs collectively across the country.
Strategic Priorities
Our Strategic Priorities and Objectives provide a long-term focus over the life of the Plan. They are consolidated around four key themes.
Equity and Respect
Building up respect for being an older Australian is the first step in tackling systemic and institutional inequity. We want a society where older Australians are valued for the contribution they make to the community and our country; and have equitable outcomes. We also want to challenge the broader issue of ageism and its negative impacts by reframing the images of ageing and promoting a better understanding and experience of ageing in Australia.
Older Australians are diverse and have very diverse views. We want to engage and partner with the broadest range of older Australians to amplify their voices. We have a key role to play in building the capacity, knowledge and skills of older Australians in how to engage in and influence national debates on issues that impact them.
COTA Australia is a leader in the sector and plays an influential role in policy and advocacy to Government, business, civil society and the media. We want to build on our reputation to cement COTA Australia as the 'go to' agency for government policy input and use COTA Australia's growing supporter base to encourage best practice behaviour towards older Australians by corporate Australia.
Our research and policy development strength has benefited all older Australians. However, we have always focused especially on the impacts for and engagement of older Australians who may be more vulnerable and disadvantaged for one or more reasons that causes societal barriers, including to advocating for themselves. We will continue this focus.
Sustainability
Our organisation has a long history of making a difference for and advocating on behalf of older Australians. We need to make sure that we can continue to undertake this important work by building systems, processes and structures to expand our financial capacity and base so we can ensure sustainability and maximise our impact.
Our Vision, Mission & Values
Read our Vision, Mission and Values here .
Priority Arenas
COTA Australia's Strategic Priorities intersect with Priority Arenas in the development of our Annual Plan. The Priority Arenas highlight the specific policy areas where older Australians believe we can make a difference. We engage with older Australians and through mechanisms such as our National Policy Council and other policy networks in a way that is responsive to the issues of the day.
We will particularly prioritise our work in the following arenas (in no indication of priority order):
Housing (affordable, safe and appropriate, security of tenure, cost of living)
Aged Care reform (consumer choice and control, transforming aged care, increased home care, dementia friendly communities)
Digital divide (removing financial and operational barriers, enabling digital literacy, promoting inclusive strategies)
Elder Abuse (proactive safety measures, legal framework)
Retirement Incomes (optimising retirement incomes, ensuring strong and inclusive social security safety nets)
Participation (mature age employment, volunteerism)
Health (primary, mental, dental, allied and other health sectors, removing barriers to access)
Social isolation (supporting and enabling social connection, age friendly communities).
Related news
Employment whitepaper takes positive steps towards addressing barriers preventing older people from engaging in the workforce 26 September 2023
COTA / OPAN Aged Care Consultations – Thank You 20 September 2023
Seniors Dental Benefit Scheme needed to guarantee access to oral health treatment for all older Australians 20 September 2023
Sign up for our Newsletter
Title Mrs Miss Ms Mr Sir Dr
First Name *
Last Name *
Show more options
I agree to the Terms & Conditions *
Name This field is for validation purposes and should be left unchanged.
Like us on Facebook
Skip to content
Text version
Contrast Controls
Use the controls below to select your preferred website colour scheme.
Text Only Version
Switch to text only version
For more assistance with accessibility, including access keys & browser controls, please visit the Accessibility Help page.
We'd love to hear your feedback on our site. For feedback and suggestions, please visit our Feedback page.
National body working in partnership to prevent avoidable blindness and improve vision care
Vision 2020 Australia
National peak body for eye health and vision care
Vision 2020 Australia Strategic Plan 2017-2020
This Strategic Plan builds on Vision 2020 Australia's successes over the last few years, advanced by our members and policy committees. The four foundations of Advocacy, Collaboration , Awareness and Evidence are the basis of our approach to achieving our vision to eliminate preventable blindness and vision loss and enable the full participation of people who are blind or vision impaired in the community. We will work with our members over the next three years to achieve this.
Related Downloads
v2020-strategic-plan-a4-jan18-update-fa-digital-FINAL (1.52 MB)
Strat-Plan-2017-20-rtf (24.63 KB)
High contrast
Press Centre
Search UNICEF
Unicef strategic plan 2022-2025, renewed ambition towards 2030.
UNICEF's Strategic Plan, 2022–2025, reflects UNICEF's unreserved commitment to promoting the rights of all children, everywhere, as stated in the Convention on the Rights of the Child and guided by the  Core Commitments for Children in Humanitarian Action . It comes at a crucial time when the human rights of children are under threat to a degree that has not been seen in more than a generation.
It is the first of two sequential plans towards 2030 and it represents UNICEF's contribution to child-focused Sustainable Development Goals (SDGs) in all settings. As such, it provides a global framework for country programmes and National Committees.
The Strategic Plan will guide synchronized action towards an inclusive recovery from COVID-19, acceleration towards the achievement of the SDGs and the attainment of a society in which every child is included, without discrimination, and has agency, opportunity and their rights fulfilled. The Plan was informed by voices of children, communities, governments, UN sister agencies, private sector, civil society and other partners. It outlines key programmatic goals and a related set of result areas, change strategies and enablers, including new or accelerated approaches on topics like climate action, mental health and social protection.
To meet the ambitious goals of the Strategic Plan, UNICEF will draw on its presence in over 190 countries and territories and deep expertise and thought leadership based on field evidence, research and data. UNICEF will also use its voice and partnerships to leverage financing and other resources and expertise from national governments, the private sector and the international development community, including key United Nations partners.
Files available for download
Other publications and documents.
Strategic Plan 2022-2025 publication - English , French , Spanish
Integrated Results and Resources Framework of the UNICEF Strategic Plan, 2022–2025
Investment case for UNICEF's Strategic Plan 2022-2025
Theory of Change, UNICEF Strategic Plan, 2022–2025
Strategic Plan 2022-2025 high-level visual representation
Engaging children and young people on UNICEF's Strategic Plan
For adolescents:  UNICEF and You: Strategic Plan 2022-2025
UNICEF will work with a broad range of stakeholders towards accelerating achievement of child-related SDGs in  five interconnected Goal Areas  [outcomes] comprising 18 Result Areas  [outputs] to ensure that, in all contexts, including humanitarian crises and fragile settings, every child, including adolescents: 
1. Survives and thrives with access to nutritious diets, quality primary health care, nurturing practices and essential supplies
Accelerators:.
Strengthen primary health care and systems 
Focus on deep inequalities in access to essential health and nutrition services 
Scale up public health emergencies capacity  
Promote child-centered food systems 
Support a multifaceted response that supports optimal nutrition 
Change discriminatory laws, policies and social practices 
2. Learns and acquires skills for the future
Strengthen the emphasis on early learning 
Improve education for marginalized adolescents 
Focus on safe and supportive school environments  
Strengthen links between education and other sectoral systems 
Innovate with holistic skills acquisition and multiple learning pathways 
Support digital learning 
3. Is protected from violence, exploitation, abuse, neglect and harmful practices
Put greater focus on preventing violence and harmful practices 
Support stronger and more inclusive systems 
Address the behavioural, social, cultural and economic determinants 
Target interventions to children at greatest risk 
Strengthen access to response services 
Empower families, parents and caregivers 
4. Has access to safe and equitable WASH services and supplies, and lives in a safe and sustainable climate and environment
Strengthen WASH service delivery and WASH systems 
Invest in safe water for children and communities in water-insecure contexts 
Scale up WASH in schools and health facilities 
Increase partnerships with private sector 
Expand child-sensitive programming to address climate change and disaster risks 
5. Has access to inclusive social protection and lives free from poverty 
Increase emphasis on inclusive programming that supports shock-responsive social protection systems 
Strengthen links among social protection systems and other sectoral systems 
Scale up critical elements of social protection systems 
Support inclusive financing strategies 
Advocate for explicit commitments to child poverty 
Continue use of cash transfers, including in humanitarian contexts 
UNICEF, working together with a broad range of partners at the country, regional and global levels, aims to achieve impact for children by changing long-term outcomes in the five Goal Areas [outcomes] and in the five cross-cutting programme areas that are to be mainstreamed across all Goal Areas and are critical to achieving results towards the realization of children's rights.  
A set of guiding principles underlies all UNICEF activities: human rights, humanitarian principles, gender equality, anti-racism and non-discrimination, equity and inclusion, accountability and access. Stemming from UNICEF's mandate and human rights-based approach, they indicate the critical commitments behind how the organization works – in both its internal systems and processes and in all areas of its work for children, including programmes, advocacy, partnerships, supply and procurement, across all contexts.
The new Strategic Plan has identified  nine "Change Strategies"  that are 'game-changing' operational strategies that will accelerate the achievement of UNICEF's planned results through the period of this SP. 
Advocacy and communications
Community engagement, social and behaviour change
Data, research, evaluation and knowledge management
Digital transformation
Gender transformative programming
Partnerships and engagement: public and private
Risk-informed humanitarian and development nexus programming
Systems strengthening to leave no one behind
The new Strategic Plan will also improve the internal effectiveness and efficiency of UNICEF in supporting the delivery of results and change strategies through  five "Enablers" .   
Accelerated resource mobilization
Agile, responsive business model
Decentralized and empowered internal governance and oversight
Dynamic and inclusive people and culture
Strategic internal communication and staff engagement
Design : A more outcome-oriented plan with a 2030 vision that catalyses transformative and systemic change at the outcome level, and focuses on an intersectional approach to inequality and discrimination to address underlying drivers of discrimination and transform structures and norms. 
Scope : Stronger emphasis on upholding and safeguarding the rights of all children everywhere, being bold about recovery from COVID-19 and building back better and greener, and new areas of work including peacebuilding and integrated climate action and mental health work across goal areas. 
Acceleration : Innovative programmes and technologies at scale, stronger integration of development-humanitarian-peacebuilding nexus, renewed focus on strengthening systems, including building resilience of communities. 
Means of Implementation:  Reinvigorated partnerships and amplified resource mobilization, with UNICEF fulfilling a catalytic global role coupled with a renewed focus on local actors: from global solidarity and a well-functioning, joined-up UN system, to leveraging the private sector and working with local actors. 
Internal Enablers:  Internal shifts for better organizational impact, efficiency and effectiveness, empowered workforce and agile operating model in a rapidly changing world.
Related topics
More to explore.
Two-thirds of global goals for children's rights and well-being off-pace to meet 2030 target - UNICEF
How flexible funding is saving lives
With generous support from partners, Global Humanitarian Thematic Funding is helping UNICEF save lives
Children bearing brunt of stalled progress on extreme poverty reduction worldwide
UNICEF Executive Director Catherine Russell's opening remarks at the second regular session of the UNICEF Executive Board
local_phone
Child Protection
Climate Action
Early Childhood Development
Economic Empowerment
Emergencies
Ending child marriage
Ending Female Genital Mutilation (FGM)
Gender Compass
Girls' Education
Gender-Based Violence
Online safety
Safe Cities
Sexual Reproductive Health and Rights
Water, Sanitation and Hygiene
News and stories
Help end child marriage
Join Change for Girls
Sponsor a child, other ways to support us.
Buy a Gift Of Hope
Leave a gift in your will
Fundraise for us
Philanthropy
Girls Education & Empowerment Fund
Partner With Us
Workplace giving
Join the Movement
Beat the Clock
Education cannot wait
Help fight famine
Support action on climate justice
Youth voices climate survey
Stand Up against street harassment
Free to Be in Cities
Youth Activist Series
News and Stories
Reports and publications, work with us.
Join our consultants register
Accountability
Our Executive Team and Board
Safeguarding
Support from Australian Government
Annual Reports and Financial Statements
How Giving To Us Works
Where We Work
Media centre
Privacy Policy
Media Centre
local_phone Call: 13 75 26
Towards a better tomorrow
Hunger, economic instability, climate change and conflict are devastating the lives of millions, pushing them further into disadvantage and inequality. Girls are bearing the greatest burden of this injustice. Working alongside communities globally, we deliver emergency response and long-term development programs to see girls valued and empowered, so that future generations inherit a brighter, more equitable future. Together, we have the power to move humanity towards a better tomorrow for girls and communities globally. Will you join us?
Giving Day: 11 October
131 years to achieve gender equality we say that's too long..
The World Economic Forum estimates it will take 131 years to achieve gender equality.
We say NO WAY. It's time to do MORE and demand BETTER.
Together we can #BeatTheClock. Let's start now!
How you can help and Get involved
Give a Gift of Hope
Keep up to date
Subscribe close.
First name *
Last name *
Phone This field is for validation purposes and should be left unchanged.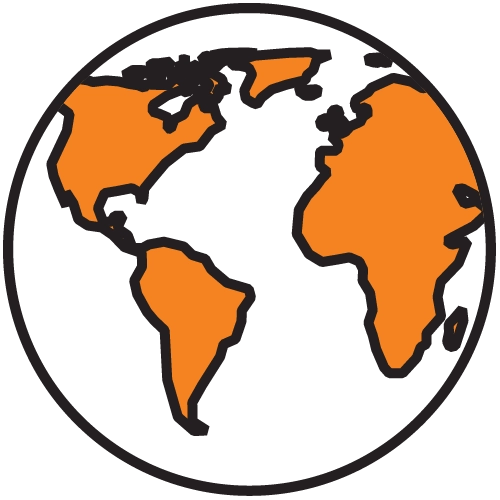 And there is plenty more where that came from.
Moving humanity forward.
The latest news & stories
NATSUMI'S PLAN
ZULEYMA'S PLAN
Useaking's Plan
EPING'S PLAN
Comments This field is for validation purposes and should be left unchanged.
How we create the greatest impact