Thank you for visiting nature.com. You are using a browser version with limited support for CSS. To obtain the best experience, we recommend you use a more up to date browser (or turn off compatibility mode in Internet Explorer). In the meantime, to ensure continued support, we are displaying the site without styles and JavaScript.
View all journals
Explore content
About the journal
Publish with us
Sign up for alerts
Research articles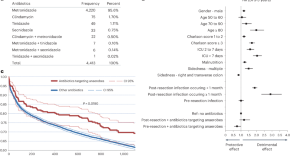 Killing tumor-associated bacteria with a liposomal antibiotic generates neoantigens that induce anti-tumor immune responses
Killing bacteria in tumors boosts survival in a mouse model of colon cancer.
Menglin Wang
Benoit Rousseau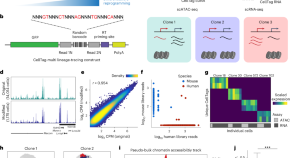 Single-cell lineage capture across genomic modalities with CellTag-multi reveals fate-specific gene regulatory changes
Lineage tracing using both transcriptomics and chromatin accessibility provides mechanistic insights into cell fate.
Kunal Jindal
Mohd Tayyab Adil
Samantha A. Morris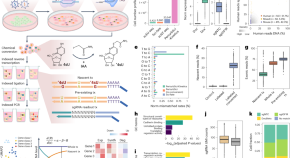 Dissecting key regulators of transcriptome kinetics through scalable single-cell RNA profiling of pooled CRISPR screens
mRNA kinetics are described by combining single-cell combinatorial indexing with metabolic labeling and pooled CRISPR screens.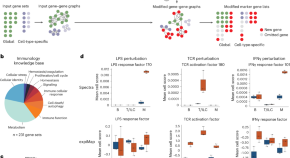 Supervised discovery of interpretable gene programs from single-cell data
Spectra decomposes gene expression data into interpretable programs using prior knowledge.
Russell Z. Kunes
Thomas Walle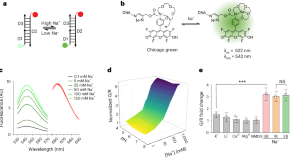 A DNA nanodevice for mapping sodium at single-organelle resolution
A probe reports absolute sodium levels in acidic organelles with single-organelle resolution.
Koushambi Mitra
Yamuna Krishnan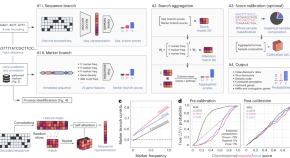 Identification of mobile genetic elements with geNomad
geNomad identifies mobile genetic elements in sequencing data.
Antonio Pedro Camargo
Nikos C. Kyrpides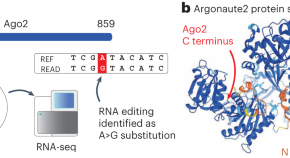 Detection of transcriptome-wide microRNA–target interactions in single cells with agoTRIBE
Functional miRNA targets are identified transcriptome-wide in single cells.
Vaishnovi Sekar
Emilio Mármol-Sánchez
Marc R. Friedländer
Detecting organelle-specific activity of potassium channels with a DNA nanodevice
A potassium activity reporter detects organelle-specific channel function.
Palapuravan Anees
Anand Saminathan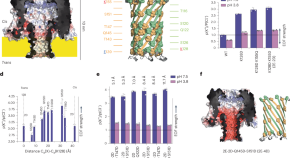 Translocation of linearized full-length proteins through an engineered nanopore under opposing electrophoretic force
An engineered nanopore translocates untagged full-length proteins by electroosmotic force.
Adina Sauciuc
Blasco Morozzo della Rocca
Giovanni Maglia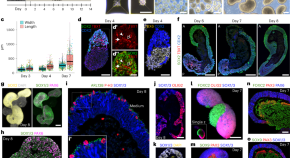 Self-organizing models of human trunk organogenesis recapitulate spinal cord and spine co-morphogenesis
A patterned neural tube and somites in an embryonic context are generated in vitro.
Simona Gribaudo
Rémi Robert
Stéphane Nedelec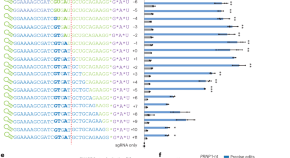 Targeted genome editing with a DNA-dependent DNA polymerase and exogenous DNA-containing templates
A DNA polymerase editing system offers advantages over prime editing.
Xiaolong Dong
Erik J. Sontheimer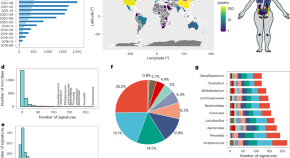 BugSigDB captures patterns of differential abundance across a broad range of host-associated microbial signatures
A database of microbial signatures is used for systematic comparison of differential abundance patterns.
Ludwig Geistlinger
Chloe Mirzayi
Levi Waldron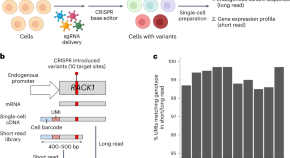 Direct measurement of engineered cancer mutations and their transcriptional phenotypes in single cells
Engineered cancer mutations are linked with phenotypes in a multiplexed single-cell technology.
Heon Seok Kim
Susan M. Grimes
Hanlee P. Ji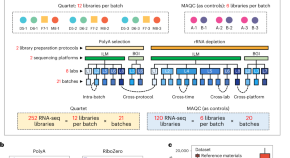 Quartet RNA reference materials improve the quality of transcriptomic data through ratio-based profiling
A new RNA reference set improves detection of differential expression in clinical settings.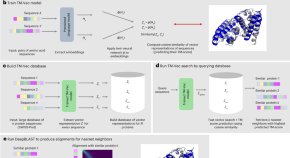 Protein remote homology detection and structural alignment using deep learning
Protein sequence and structural similarities in large databases are rapidly identified using machine learning.
Tymor Hamamsy
James T. Morton
Richard Bonneau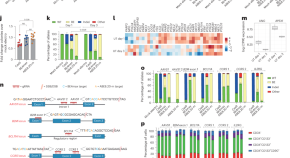 Genotoxic effects of base and prime editing in human hematopoietic stem cells
Base and prime editors induce double-strand breaks, deletions and translocations in hematopoietic cells.
Martina Fiumara
Samuele Ferrari
Luigi Naldini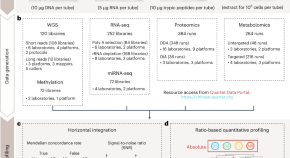 Multi-omics data integration using ratio-based quantitative profiling with Quartet reference materials
Multi-omics data are readily integrated using quartet reference materials.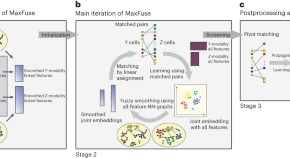 Integration of spatial and single-cell data across modalities with weakly linked features
MaxFuse enables data integration between modalities even when features are weakly correlated.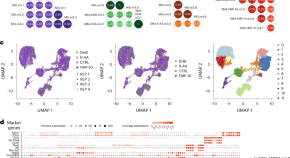 Spatial multimodal analysis of transcriptomes and metabolomes in tissues
Metabolites and RNA in a tissue section are profiled simultaneously.
Marco Vicari
Reza Mirzazadeh
Joakim Lundeberg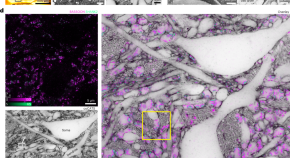 Imaging brain tissue architecture across millimeter to nanometer scales
Mapping fixed brain samples with extracellular labeling and optical microscopy reveals synaptic connections.
Julia M. Michalska
Julia Lyudchik
Johann G. Danzl
Quick links
Explore articles by subject
Guide to authors
Editorial policies

An official website of the United States government
The .gov means it's official. Federal government websites often end in .gov or .mil. Before sharing sensitive information, make sure you're on a federal government site.
The site is secure. The https:// ensures that you are connecting to the official website and that any information you provide is encrypted and transmitted securely.
Publications
Account settings
National Center for Biotechnology Information
Welcome to ncbi.
The National Center for Biotechnology Information advances science and health by providing access to biomedical and genomic information.
About the NCBI |
Organization |
NCBI News & Blog
Deposit data or manuscripts into NCBI databases
Transfer NCBI data to your computer
Find help documents, attend a class or watch a tutorial
Use NCBI APIs and code libraries to build applications
Identify an NCBI tool for your data analysis task
Explore NCBI research and collaborative projects
Resource List (A-Z)
All Resources
Chemicals & Bioassays
Data & Software
DNA & RNA
Domains & Structures
Genes & Expression
Genetics & Medicine
Genomes & Maps
Sequence Analysis
Training & Tutorials
Popular Resources
Connect with NLM
National Library of Medicine 8600 Rockville Pike Bethesda, MD 20894
Web Policies FOIA HHS Vulnerability Disclosure
Help Accessibility Careers