How to hold a strategic planning meeting: A simple, step-by-step guide for facilitators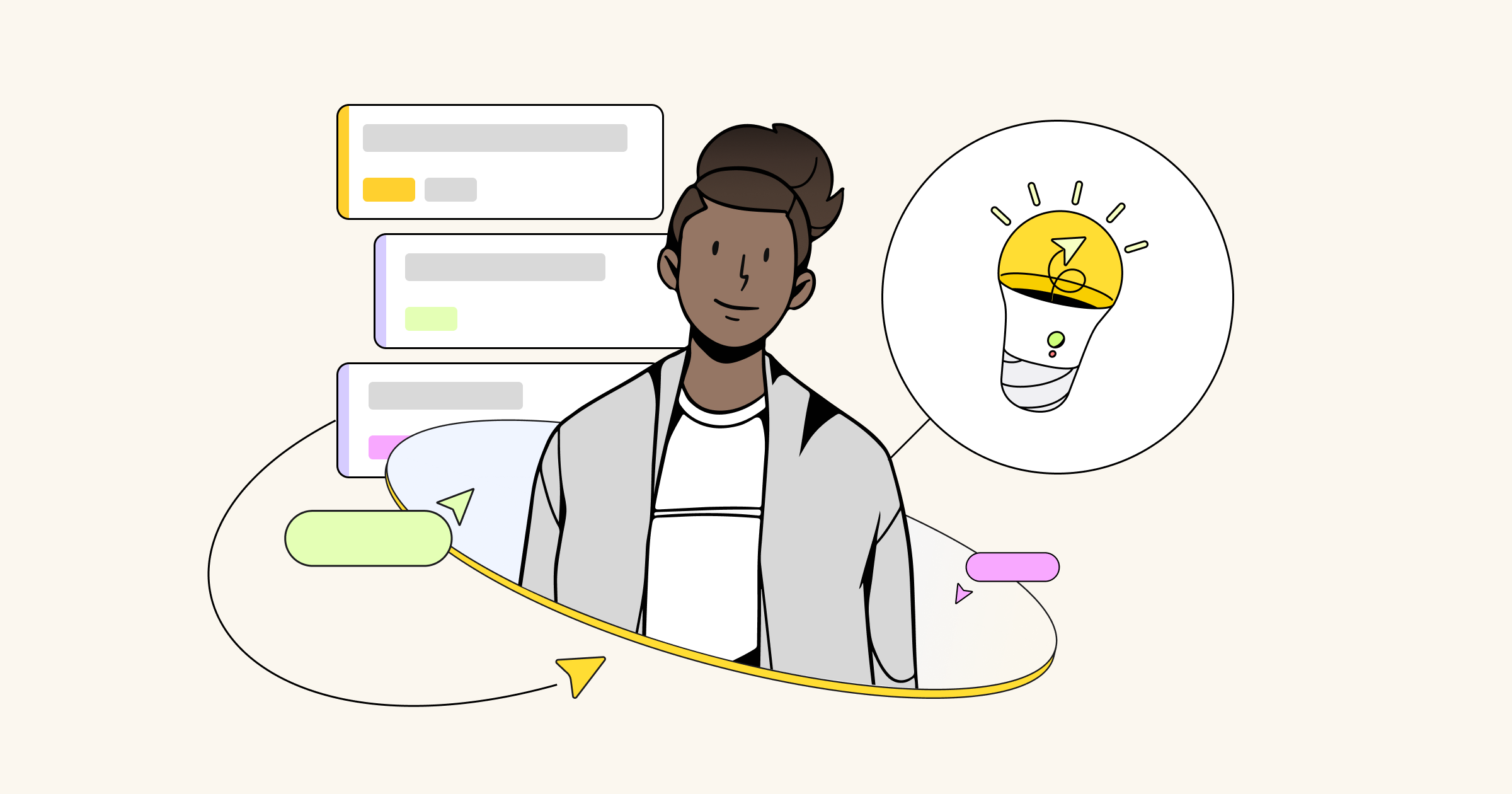 If you're running or facilitating a strategic planning meeting, there are many factors to consider.
It's much more than just bringing everyone together to have an open discussion — and it doesn't just happen on its own, either.
There are several steps you can take to ensure that your strategic planning meeting runs smoothly, but it all starts with preparation.
Today, we'll explore a few ideas to help you hold a successful session, starting with the basics.
Try Miro's Strategic Planning Template
What is strategic planning?
Strategic planning is the process of analyzing a current situation within your organization and making sure it's aligned with your specific objectives. If it isn't, you and your team must develop a plan to "correct the path."
So, why is strategic planning important?
In short, strategic planning helps you get from where you are today to the future you want. It's a way of breaking down big, daunting goals into manageable steps that address your current situation and guide your work.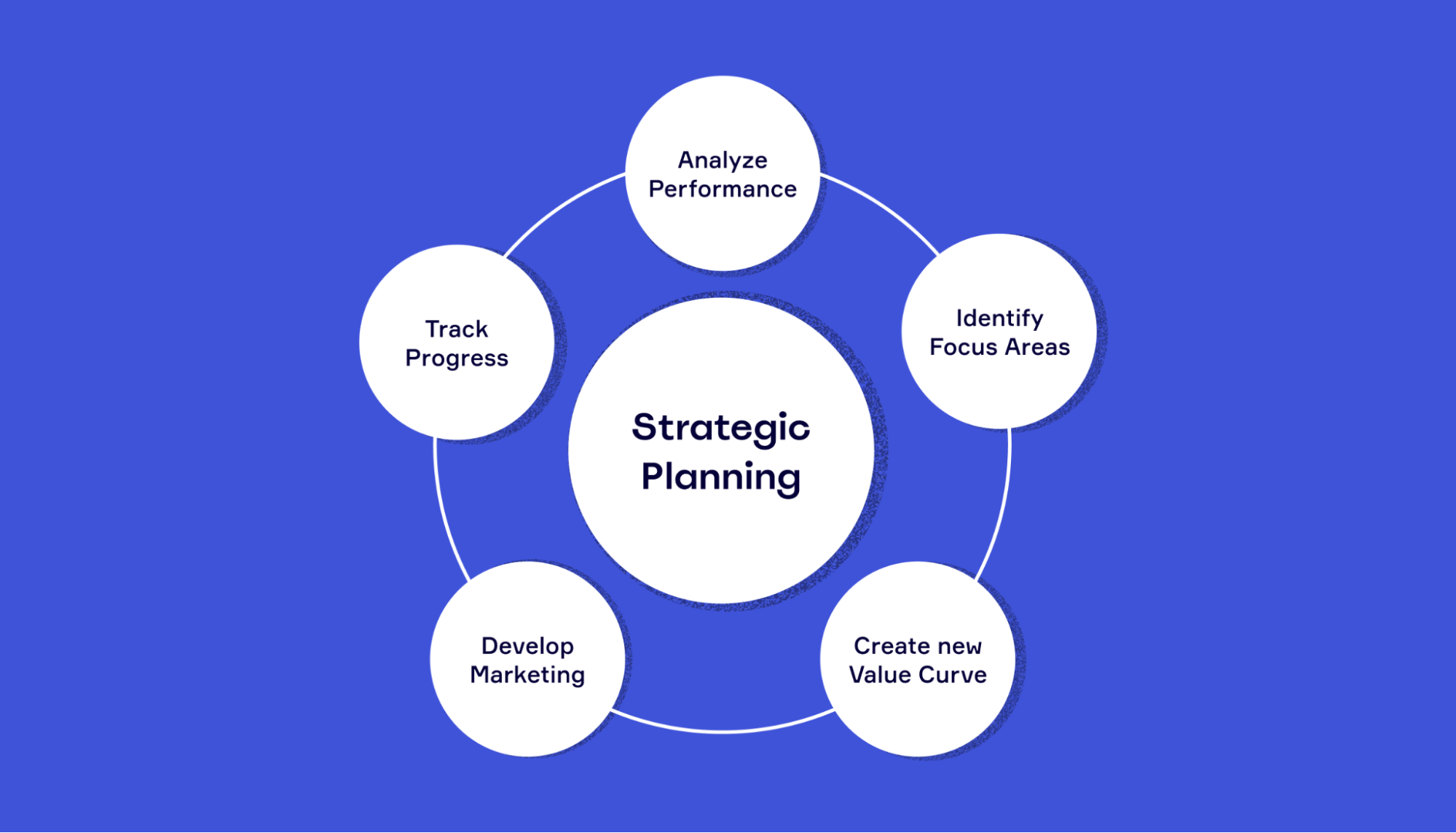 Here's where strategic planning meetings come into play.
Meetings are the cornerstone of the strategic planning process.
These meetings are typically held by facilitators , but anyone can lead a strategic planning meeting.
We'll provide you with specific instructions to hold a successful meeting a bit later, but first, let's answer a crucial question.
What is the purpose of a strategic plan meeting?
Broadly speaking, a facilitator will use meetings to either:
Gather specific information and feedback from team members, executives, and stakeholders.
Help team members work together to solve problems, think strategically, and create new ideas to improve the organization.
These meetings aim to provide clarity in decision-making.
This is not a typical meeting where participants spend time reporting out. Strategy planning is all about brainstorming and collaboration .
This way, you can develop solutions to tangible problems in your organization and set the tone and strategic direction for your team.
Who needs to be included?
The best way to ensure that you get all of the most relevant voices in the room is to create an invite list.
Include people from each relevant department, if possible.
This way, you can cover a more complete spectrum of your company's operations and activities.
You'll want to include upper management, but don't stop there.
Bring in members of the sales department, investor relations, human resources, and any other relevant departments or stakeholders.
You might also consider inviting people from outside of the organization who can provide a fresh perspective.
This is particularly useful for organizations that are doing business in a new market or have started offering new products.
Best practices for running a successful strategic planning session
Now that you understand the importance of effective strategic planning meetings, the question becomes, how do you actually hold one?
Let's cover a few of the best practices: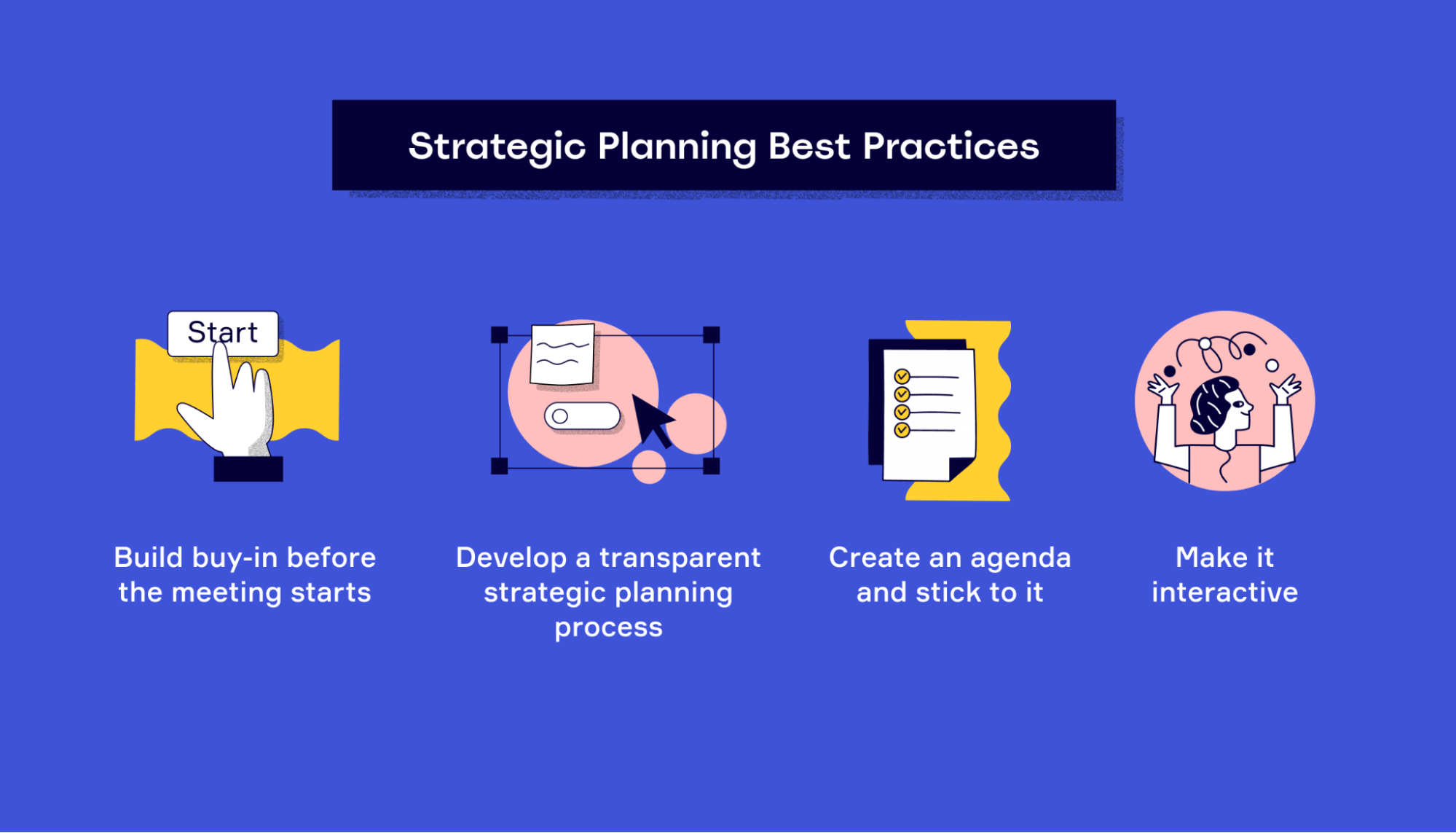 Build buy-in before the meeting starts
First, you'll want to build buy-in with everyone involved.
Keep what you're doing top-of-mind, whether that's through casual conversations or company-wide memos.
In addition, make sure to have a clear agenda prepared, so everyone knows what they can expect out of the meeting. Start by defining the goal, then detail how you'll get there.
Also, get all the materials you need together in advance.
That may look like coordinating with IT to make sure everyone has access to company software, sending out pertinent documents in advance, or mapping out who will be speaking at the meeting.
Make sure to communicate your expectations clearly so that everyone knows what is expected of them and why.
You'll want to spend time in your planning stages to keep the tone positive, while at the same time being realistic about what's possible.
Ultimately, your goal should be to align the team around a shared vision and mission so that you can move forward with a shared perspective.
Now, how can you communicate this agenda?
We suggest you use a centralized space where everyone can see your agenda.
For example, you can use Miro's Agenda template to create and share your agenda with participants.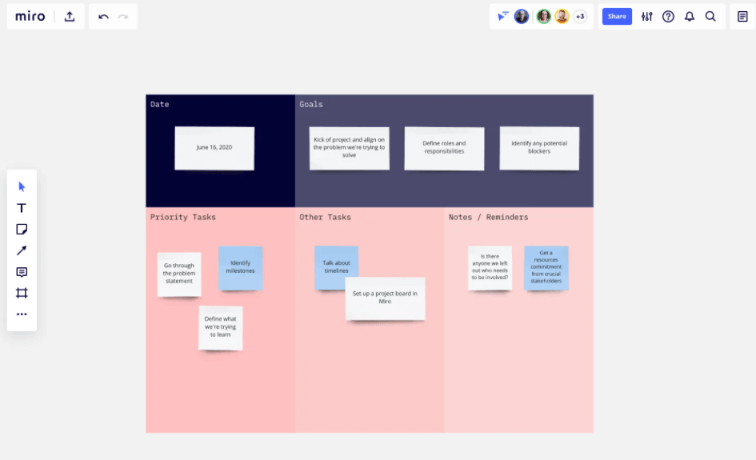 You can also use the template to keep notes during the meeting and add refinements later.
This way, everyone can see what's been discussed and the next steps for moving forward.
Remember; this should be a collaborative effort, so consider asking for ideas from everyone about what they'd like to see covered.
Just don't forget to actually take those ideas into consideration.
Develop a transparent strategic planning process
During the strategic process, you're inviting employees to have meaningful discussions around the company's vision statement, strategic goals, and strategic objectives.
It's important to have a roadmap in place for how you will facilitate the process so that employees know what to expect.
Your meeting should be an open, engaging discussion with transparent dialog. During the meeting, everyone should get a turn to talk.
Make sure you have a clear process that allows everyone to participate and feel heard, no matter what their role is.
In the planning stage of a meeting, it's important to have as much input as possible.
You can involve everyone by holding a virtual brainstorming session with this brainstorming template . Once you create a board, you can invite people to collaborate in real time.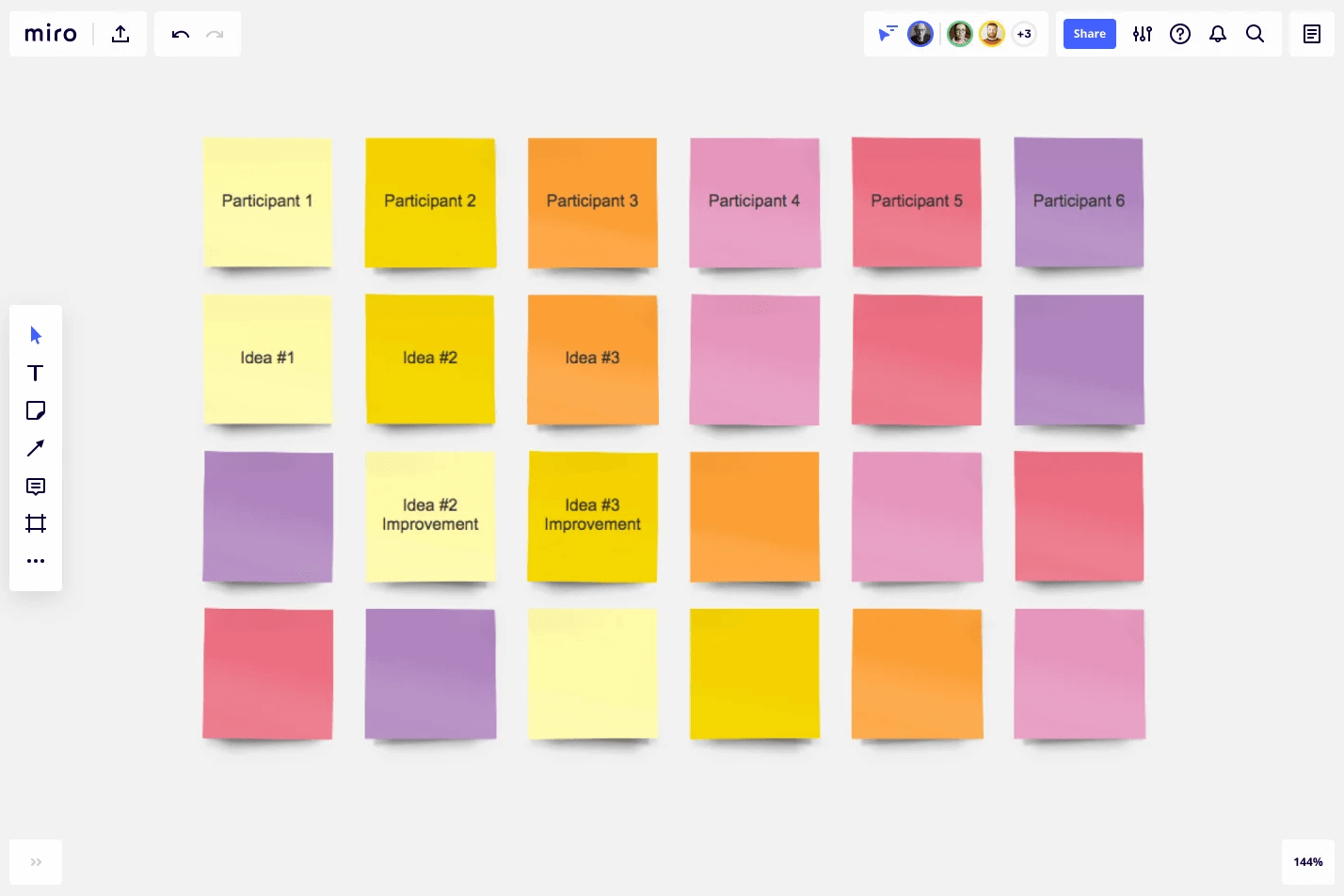 This template helps you create a more engaging and collaborative session while allowing every person on the team to contribute their thoughts.
Create an agenda and stick to it
We all know what happens when an agenda is not set or adhered to.
Creating an agenda for your meeting helps you and your participants stay on track. This agenda should include topics, questions, milestones, and people.
Milestones are the larger topics that will be broken down into smaller questions, and these questions should flow to the ultimate goal of narrowing down your strategic priorities.
You can create milestones by putting together a list of discussion questions that will help your participants get on topic and help you check in with the group.
Your agenda might include an opening discussion, a brainstorming session on ideas, and a closing review of the next steps.
When developing your agenda:
Keep it short: The last thing you want is your meeting to drag on for no good reason, so try to limit each agenda item to ten minutes or less. The whole meeting should only take an hour or two, at most.
Be selective: Don't include too many topics or ideas that will bog down your meeting.
Create a contingency plan: You never know what might happen during your meeting, so always have a backup plan in case your agenda falls through.
Plan for breaks: For longer meetings or workshops, set aside at least half an hour to take a break, such as during lunchtime.
Make it interactive
As much as possible, you'll want to make this a collaborative effort, so it's important to get everyone involved.
For example, you might want to break the group down into smaller sub-teams to brainstorm opportunities for new product features.
You could also task each group with creating a list of opportunities for particular departments within your company.
The point is that you'll want to encourage open and honest dialog about challenges your company is facing and, where possible, break down any barriers that might stand in the way of progress.
Make sure to collaboratively create strategy documents, provide regular updates on progress, and discuss strategic issues in real time.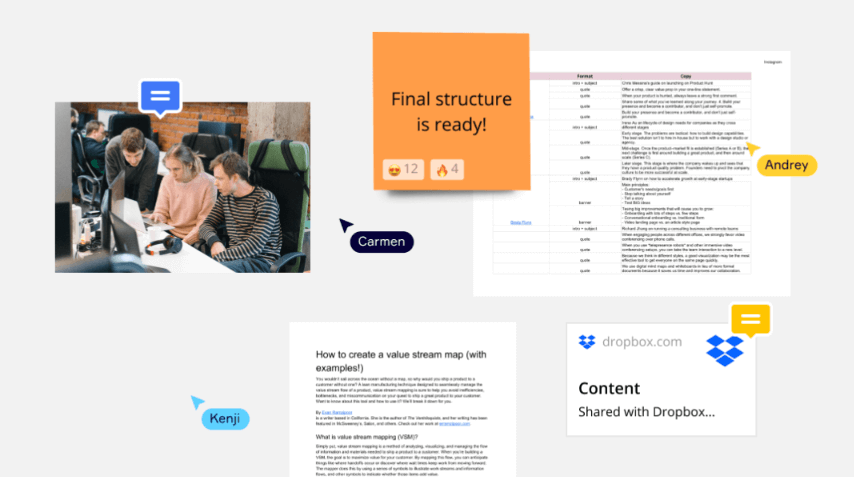 This way, you can work side-by-side to improve your performance, no matter where in the world your team members happen to be.
How to run a strategic planning meeting in 7 steps
To get the most out of each session, you should prepare thoroughly — from the agenda to who you'll involve and how.
Whether you're holding a remote, hybrid, or in-person meeting, this process will help you out.
1. Define a clear outcome for the meeting
A strategic planning meeting can go totally off-the-rails if it's held without a defined objective. That's why the very first step is to define a clear, tangible goal for the meeting.
For example, your objective might be to better align social media with your marketing strategies .
In this case, your meeting might include a discussion on the purpose of social media, its role in the planning process, and how to better align your social media campaign with your organizational goals.
If your goal is to develop a new product , your meeting might look different.
Consider discussing who the target audience would be and how you can get in front of them. You could also discuss how the product should be positioned in the marketplace and what strategies you'll use to get it there.
You can also set specific strategic planning meeting themes as part of your objectives, such as business growth or innovation.
The point is to be as specific as possible with your goal. That way, it's easier for everyone to stay on task and make the right decisions.
2. Break the ice
A strategic planning meeting can be a big undertaking, so it's important to break the ice by engaging participants in some friendly conversation.
You may want to ask participants what they think of the company's latest direction or engage them in a fun icebreaker activity. You can also ask them what they think of the new business strategy and how they would implement it.
Or you could ask participants to complete an activity that allows them to interact with one another and develop a better understanding of each other's unique skills.
For instance, you could assign participants to form teams, and then ask them to create a project plan to solve an issue the company might be experiencing.
You can also break the ice by having participants introduce themselves.
If you're holding a remote or hybrid meeting, you could have participants discuss what they think in a private online chat room, or you could use an instant messaging program for the same purpose.
Make sure they feel comfortable sharing their thoughts and ideas with each other before starting the main agenda.
The bottom line? The more connected the group is prior to the meeting, the more effective the meeting will be.
3. Set clear expectations
Once you know what you want out of the meeting, the next step is to communicate any expectations of participants, such as things they should prepare in advance of the meeting.
Here are some useful guidelines to keep in mind when you're setting expectations:
Provide details: The more detail you provide, the clearer it will be as to what's required.
Assign roles: Make sure everyone knows their role and responsibilities within the meeting audience.
Use timelines: Use timelines to remind everyone of what needs to be completed before the meeting and send reminders if necessary.
Communicate effectively : Encourage participants to talk with their teams about the fact strategy planning is happening. They may want to set up smaller meetings to gather input for the strategy planning workshop or to share the outputs after the meeting to give employees a chance to ask questions.
4. Set ground rules for behavior
Before the meeting starts, make sure everyone knows the rules.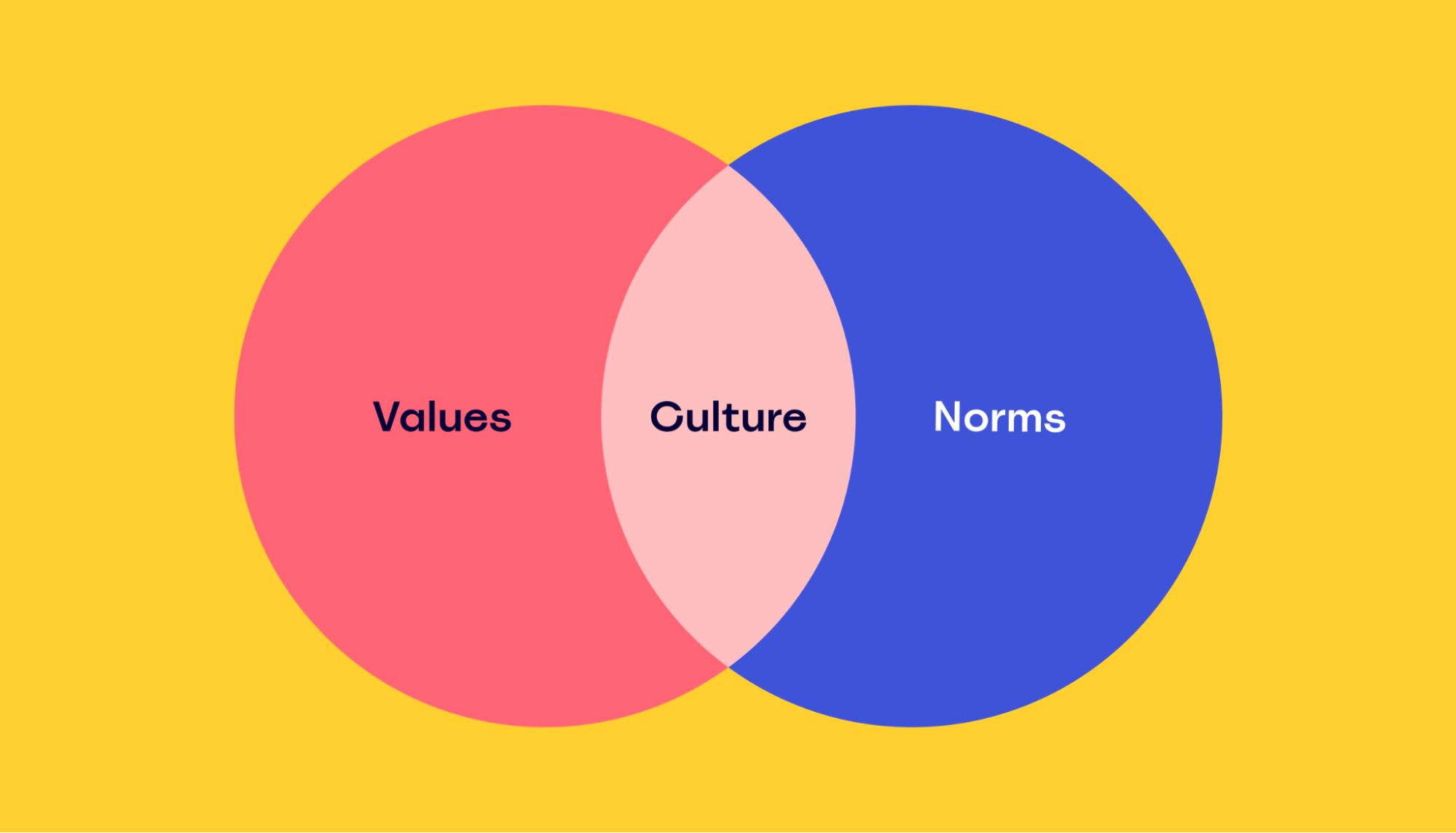 This is especially important when working with external stakeholders.
For example, you might say something like:
"The goal of this meeting is to develop the strategic plan for the next quarter. We want to minimize distractions, so please don't check your phone during the meeting."
Another good idea is to let participants know how they'll be evaluated. For example, if you're trying to make progress on a project, you might say something like:
"Let's try and reach a consensus on the first three points. If we can do that, we'll consider the meeting a success."
If you're dealing with a remote or hybrid team, you should take the time to define online behavior standards. For instance, you could say something like:
"If you have a question, please type it in the chat window. Using outside chat programs is not permitted during the meeting."
This way, you'll have everyone invested in the outcome.
5. Identify potential challenges
Before the meeting starts, it's always good to identify potential areas of conflict that might derail the process.
For example, what would happen if someone had to leave halfway through? Will the meeting continue without them, or will you reconvene once they're back?
You should also consider how to handle difficult participants. Can you remove a difficult participant from the meeting before they hijack all of your time?
What happens if a disagreement comes up and it's not resolved?
You should prepare for all these things in advance and have a plan ready if they do happen. For example, consider using a countdown timer for specific agenda items or presentations, so that time is allocated fairly.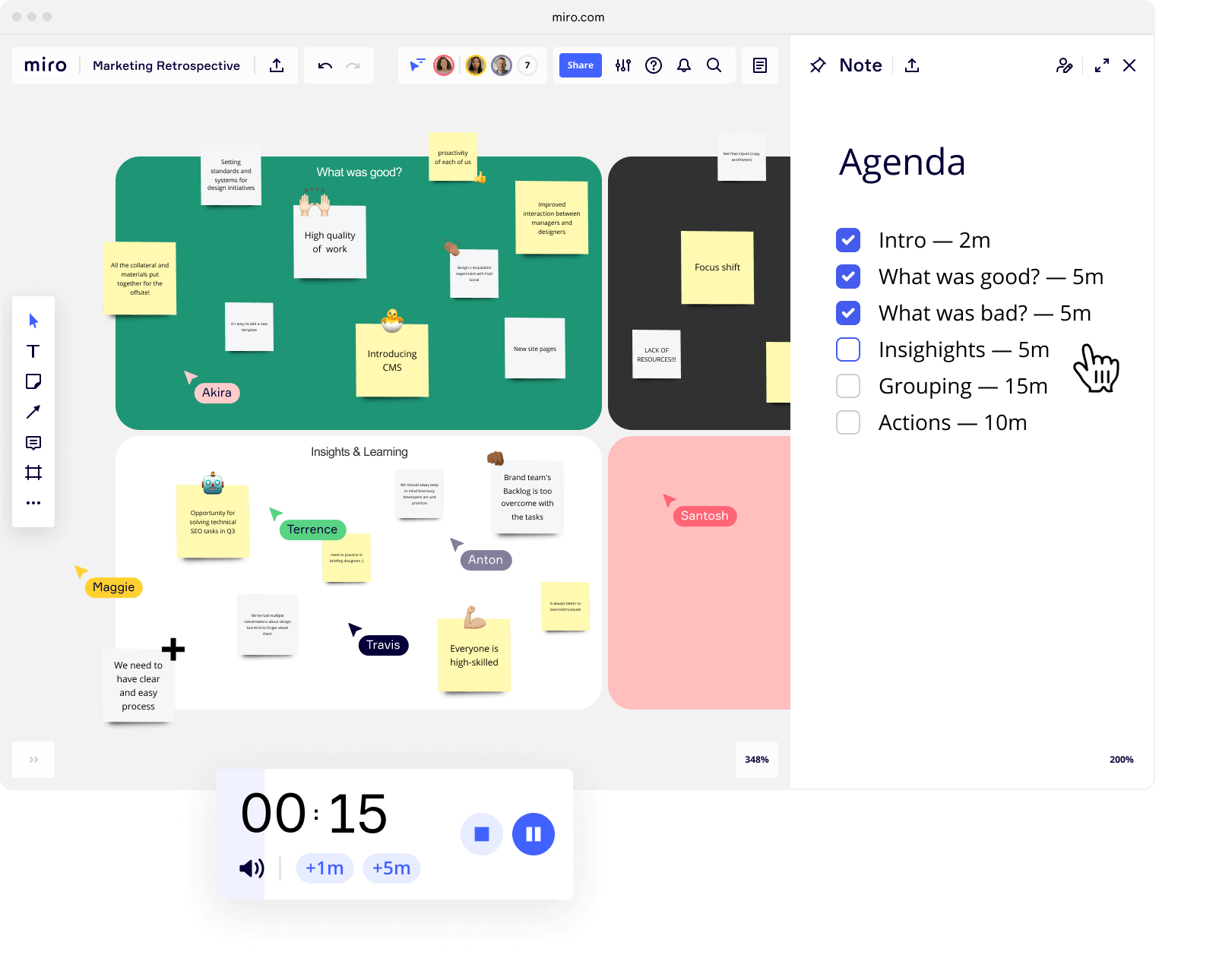 If you identify potential challenges early on, you can keep an eye out for them as the meeting proceeds.
6. Encourage full participation
Remember that you're asking people to spend time — and sometimes travel — to participate in your meeting.
It's essential that everyone feels like they have the opportunity to participate. The best way to do this is by mentioning at the beginning of the meeting that you'd like everyone's input throughout.
Make sure to keep an eye out for people who aren't speaking up. If it seems like they may have something to contribute, ask them for their thoughts on the topic.
Also, make sure everyone knows that participation is critical. If you need to take a vote on something, remind people what the vote is about and why it matters.
Finally, make sure you're speaking in terms that everyone in the room can understand. If there are people who are new to the organization, spend a moment explaining any acronyms you use.
This will allow everyone to feel like they can give their input with ease, leading to a more successful meeting.
7. Use visuals and brainstorming tools to communicate ideas
Having everyone on the same page is critical, even if they can't be in the same room.
Here's where visuals and collaboration platforms come in handy.
Using collaborative tools, like our brainstorming templates helps you organize work and removes some of the stress of coming up with ideas on the spot.
It also encourages people to provide input and makes them feel like they have a stake in the outcome.
For instance, you can use Miro's Reverse Brainstorming template to come up with innovative ideas and display them in real time. You can save the meeting content on the board too, so you can send it to participants after the meeting.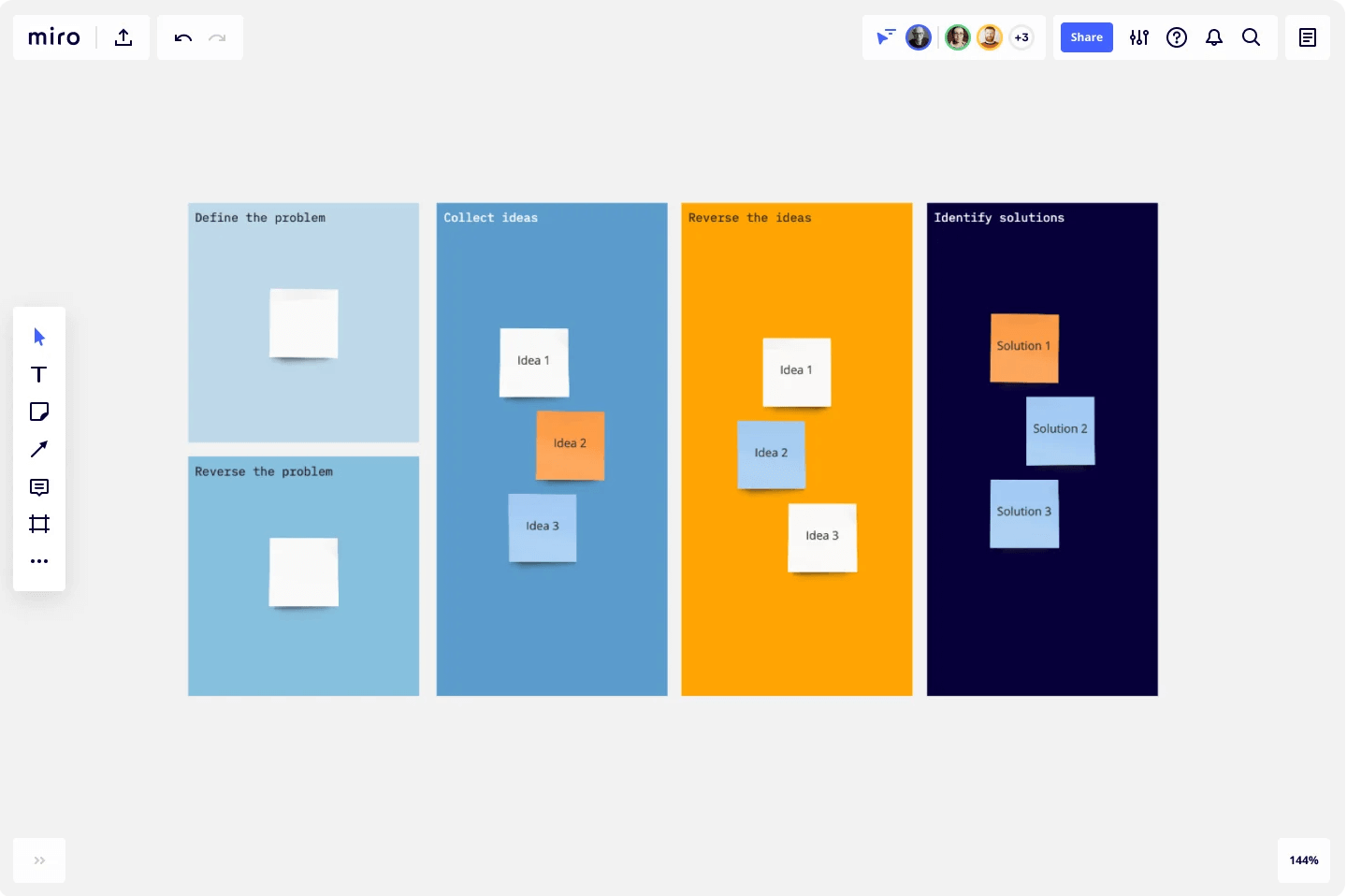 This can be especially useful if you have multiple participants in different locations involved at the same time. They may not be able to physically attend the meeting, but they can still provide valuable input.
Also, we provide you with a fully customizable strategic plan template .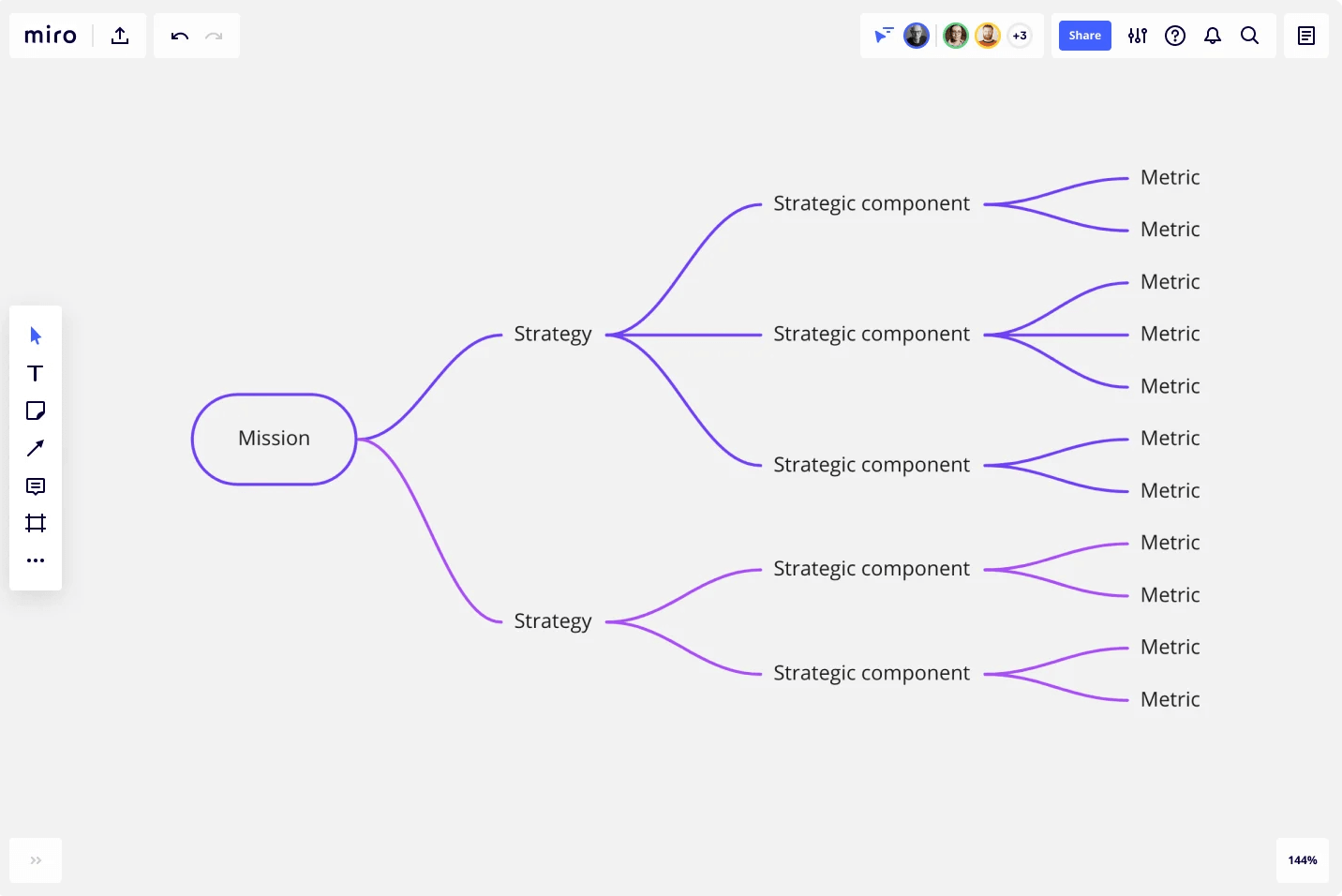 You can adapt this template to fit your exact business needs and standardize your meetings with ease.
Sample agenda for a strategic planning meeting
You need to make sure your strategic planning meeting agenda is detailed and thorough enough to keep you on task.
Start with an overview of what you'll be discussing, then move into individual department updates. This is where you highlight progress against targets.
Finally, spend some time outlining your organizational goals moving forward and, of course, always leave time for questions.
To help you better understand what a strategy planning session might look like in the real world, here's a sample agenda:
10am–11am: Welcome and meeting goals
11am–12pm: Leadership team updates
12pm–1pm: Department updates
1pm–2pm: Lunch break
2pm–3pm: Analyze challenges and problems
3pm–4pm: Ideate solutions
4pm–5pm: Discuss and gain consensus on solutions and goals
5pm–6pm: Assign tasks and responsibilities for strategy execution
6pm–7pm: Q&A
It all comes down to solid preparation and visuals
The best way to ensure your meeting runs smoothly and effectively is to prepare it with anticipation. By creating a clear agenda, you're able to get the most out of your session.
Also, the use of visuals and brainstorming tools helps you collaborate with your team and communicate your critical points more effectively.
You can hold your planning meetings in a more visual way by creating a board and sharing with your team.
Also, you can use the strategic planning meeting template to get started with fewer headaches.
Want an action-oriented framework to help your team continuously improve?
Try the strategic planning template, miro is your team's visual platform to connect, collaborate, and create — together..
Join Millions of users that collaborate from all over the planet using Miro.
Keep reading
How to facilitate an okr planning workshop.
The hybrid collaboration field guide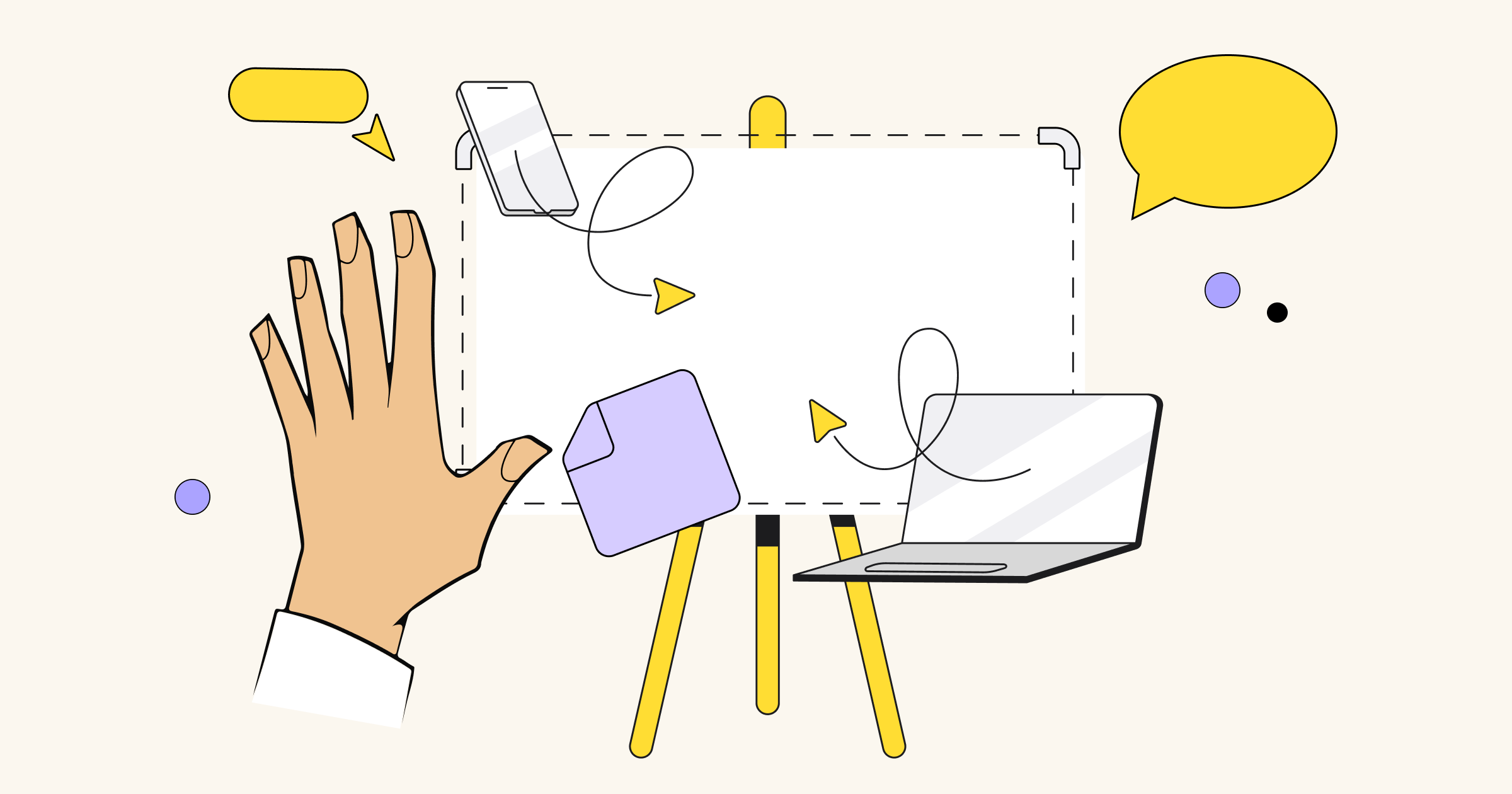 How team leaders are reimagining workflows

Your Strategy Planning Meeting Agenda (with Template)
Have you been asked to pull together a strategy planning meeting agenda? And you're wondering what other people do in their strategic planning sessions… I've been there!
In this article, I'll explain what a strategic planning meeting can cover and share a sample agenda you can customize for your strategy sessions.
Strategy planning doesn't just happen. You can't put people in a room and expect there to be a 3-year plan at the end of it. The conversations need a structure to help keep the pace and ensure the meeting runs smoothly. And that's where the agenda comes in, as part of your pre-meeting prep.
What should a strategic planning meeting include?
A strategic planning meeting should include:
A review of organizational objectives
An assessment of how you are doing against those objectives
Decisions around what needs to be sped up, slowed down, started or stopped in order to better align activity with the objectives.
If you think about the point of having a strategy discussion, it's really to either define the strategy or to decide if you are on track with delivering the strategy . What you need to include in the meeting has to tie back to those points.
In other words, what do you want to get out of your strategic planning process? Is it a new strategic plan? An update to the last one because something drastic has changed? A review with some 'light editing' to ensure decisions are being taken that keep you on track to meet your goals?
What goes into your meeting (and therefore, your agenda) will very much depend on where you are in the strategy planning cycle.
When do strategic meetings happen?
There's no fixed cadence for strategy conversations. Some businesses use quarterly meetings. Some might do a lot of planning during the existing structure of board meetings. As long as sufficient time is put aside for strategic thinking, you can set whatever frequency of meeting you like.
I would recommend quarterly review sessions, with a longer goal-setting session once a year, but do whatever works for you. If you are putting together your first strategy or doing a complete overhaul, you'll need to spend a lot more time on it to get the strategic process set up and the relevant data collected.
Sample strategy planning meeting agenda template
Strategy meetings tend to be quite long. You might put a full day or even two aside for your planning. For that reason, it's often better to do them in-person instead of remote, but these days do what works best for you and the team.
If you have to hold the workshop remotely, with people dialling in, make sure you schedule enough screen breaks.
Every effective meeting needs an agenda, and the great thing about strategic sessions is that you can tailor the agenda to cover the topics that would be the most valuable to wherever you are in the planning cycle. The strategic planning agenda below assumes you are meeting in-person, and is suitable for a strategic review session.
9.30am: Welcome
Use this time for introductions. Do an ice breaker exercise if your attendees won't think it is cheesy (mine would). Share the meeting objectives and make it clear this is a strategic meeting so people don't get carried away with the detail. Discuss ways of working e.g. no using mobile phones.
In my experience, the people attending strategy meetings are switched-on leaders who will carry themselves in a professional manner, so I wouldn't worry too much about setting ground rules, but if you think they would value having some guardrails for acceptable behavior during the conversations, then by all means add that in.
10am: Big picture strategy
Present the overall roadmap, for example, a timeline for the 5 year plan. Make sure everyone is clear on where the organization is going and what big chunks make that up. For example, perhaps you have a couple of different portfolios that support the strategy.
You can use this time to talk about the current situation, the company's strategy and how your department fits into that. This section should answer the question: where are we now?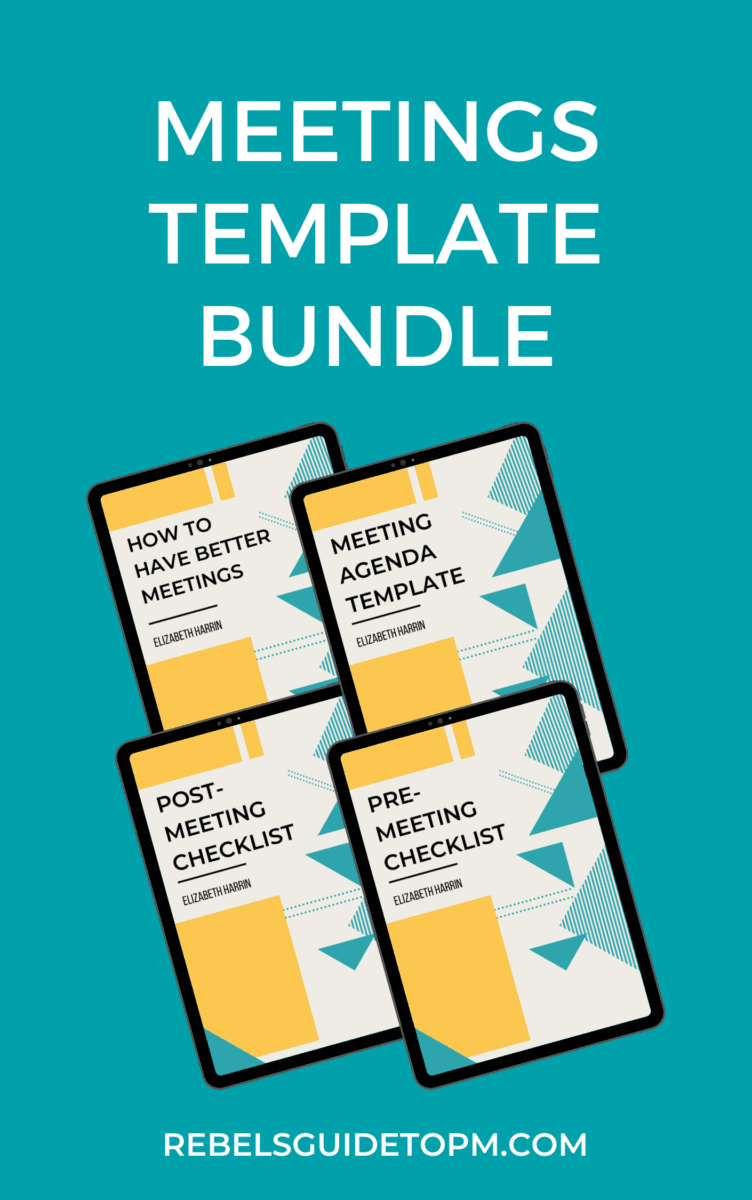 10.30am: Coffee break
Give people time for a bathroom break and to get something to drink.
10.45am: Progress review
Have each executive or leader in the room share their area's progress against their area of the strategic plan. They can bring in team members to present specific topics if that would help, and if their expertise is needed as part of the debate.
These presentations don't necessarily need to be formal, but they should cover what objectives the department is working to, how they link to the big picture strategy and whether they are on track. Talk about whether milestones are on track to be hit. Present the budget figures related to the area and the confidence levels around meeting those.
This section of the agenda might be long, depending on how many leaders you have to get round, so adjust the rest of the agenda to fit your timings. I'd suggest everyone gets 30 minutes but it depends on what you think they have to share and how much discussion there will be about each area. If possible, timebox the updates so you keep the meeting moving.
Alternative session: Where do we want to be?
If you haven't got strategic progress to report, use this time to:
Brainstorm where you want to be
Agree where you are going
Create a vision for the next 3 years
Document the vision and mission.
12.45pm: Lunch break
Schedule in some time to eat and return calls.
1.30pm: Key issues
It's worth parking the discussion of any major issues that affect multiple areas until after everyone has had a chance to present their updates, because then it's easier to see the bigger picture and what might be affected.
Use this time to review anything that dropped out of the morning's conversations. There might be new opportunities, challenges, resource constraints, market changes and more.
This section of your day should answer the question: what might stop us from getting where we want to go? Think about the values, skills, culture and risks that might block your progress.
2.30pm: Revise plans
After you've discussed the challenges or opportunities that present themselves, go back to the plans and see how that information affects what you are committing to do for the next period.
Agree changes as required. This part of your agenda answers the question: what do we need to do? If you do need to do anything differently in order to get back on track or head off in the right direction, this is where you should be discussing and agreeing.
3.30pm: Action planning
I like action planning! Strategy meetings should be all about decision-making, so you should ring-fence some time to talk about how to turn those decisions into action items . List out what needs to be done and allocate owners and timescales to each.
One thing that should definitely be on the action list is how you are going to communicate the decisions made today to everyone else in the team. Add them to the decision log . Make sure someone is responsible for creating and circulating meeting minutes.
This is an important part of the strategy meeting and it answers the question: how will we do it?
4.30pm: Any Other Business
Use this time for the 'one last thing' that people want to bring up.
5pm: Wrap up and close
Finally, wrap up the meeting, draw it to a close and if you are going to meet again, put the date in the diary. Then go down the pub!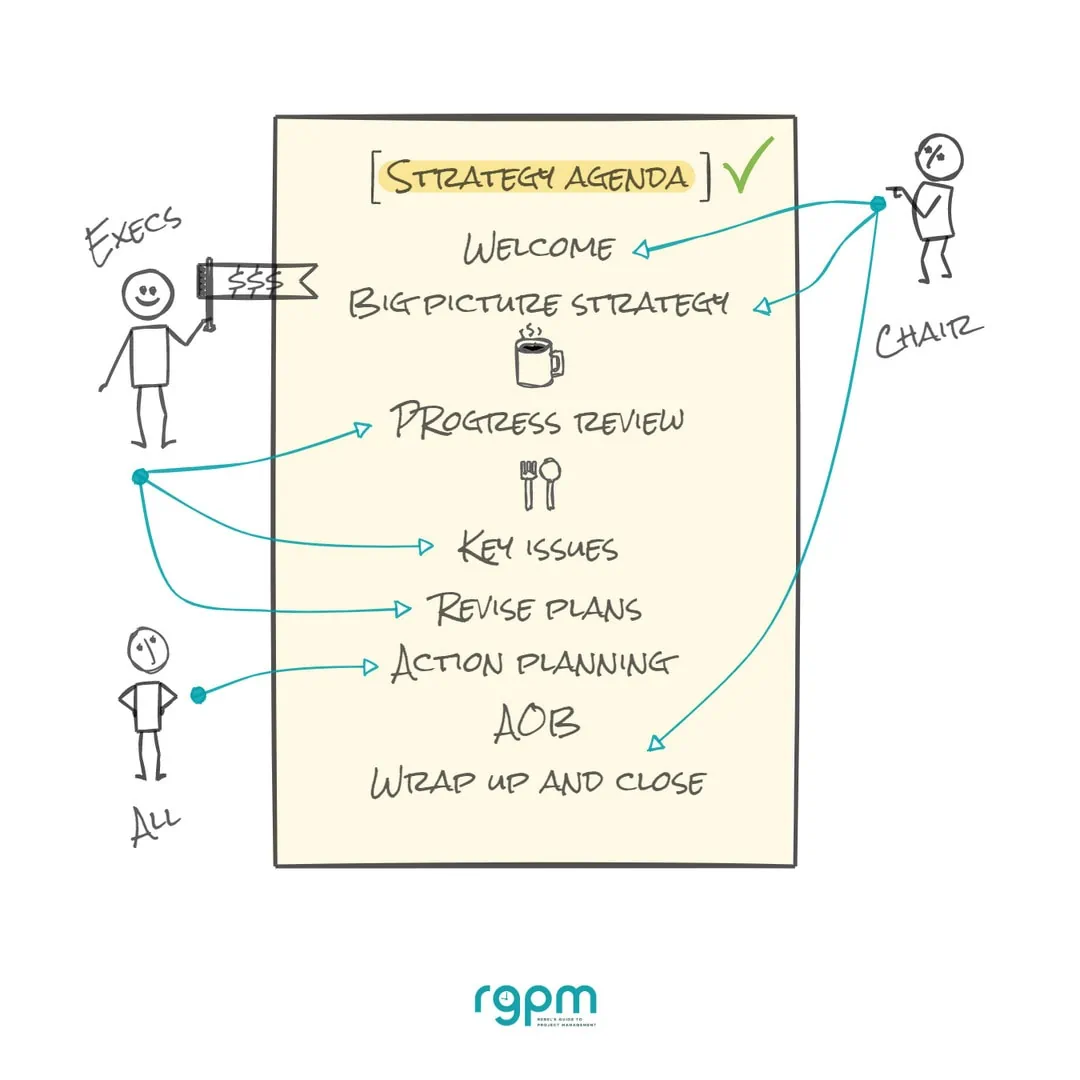 Tailoring the strategy agenda
As you've probably realized, there is no one-size-fits-all strategy meeting agenda that will suit every need. If you are starting from scratch and are using the time to write your strategy, you'll need to put time aside for brainstorming new ideas, a presentation of market research analysis or feedback from customer focus groups.
If you are reviewing the projects that make up the strategy, you might bring each project manager in to present their project, before discussing as a team what initiatives need to be brought into the portfolio to ensure the strategic goals can be met.
The important thing is to always go back to the why: why are you meeting and what do you want to get out of the time? You can't go wrong if you start there.
5 Considerations for a strategy planning workshop
So you're ready to draw up that meeting agenda. Here's what to consider before you get going.
1. Set the objective
I like to write the objective for any meeting at the top of the agenda. It helps focus people's minds and keeps the conversation on track. Think about what you are meeting for and what the leadership teams are expecting to get out of it. Here are some examples:
To define the 5-year growth plan for the organization
To establish the projects we want to focus on to meet our strategic goals for the next 12 months
To review the new products we intend to bring to market in the next 3 years
To set the IT agenda for the next 24 months
You can hold strategic planning workshops for departments, teams or for the business overall. You can plan for the long term or adopt a rolling wave planning approach to plan ongoing. So which is it for you?
2. Let people know what is going to happen
Set expectations for the meeting. Let people know what contributions are expected from them. What do they need to prep in advance? Ask them for their agenda items – you might not include them as 'real' agenda items but it would help to know what talking points they intend to bring up.
Share any papers, timelines, business cases, strategy documents etc that make useful background reading. The more ready people are to contribute, the more you will get done during the meeting.
3. Prepare for conflict
As the meeting facilitator, you'll have a good idea of the topics that will come up. And the potential flashpoints. For example, there are always conversations about budget. Doing anything strategic seems to cost a lot, and investing in one area means another area doesn't get the investment.
Try to spot any sources of potential disputes in advance so you have pre-meeting conversations to manage expectations and ensure everyone comes to the session with an open mind (and the data to support their case). Healthy debates are to be encouraged!
Think about how to resolve conflict as a team if you can't get to consensus. There are several group decision-making techniques you could try. In my experience, it's often the most senior person in the room who makes the final call – strategy is not always a team game. It might not feel fair, but there are often political, economic, commercial and environmental reasons for decisions that might not always be clear to everyone in the room.
Whatever you think the outcome might be, have a few phrases to help facilitate the debate if it seems attendees are getting stuck. For example:
"Ultimately, it's Fiona's decision. Fiona, what do you want us to do?" "Let's continue this conversation for another 10 minutes and if we aren't able to reach a decision at that point, I suggest that Henry and Priya book some time to review and come back to us with a recommendation next week." "IT are the guardians of that process. Do you agree to that approach?"
4. Prepare to go off script
I've been in strat planning meetings where we started with an agenda and then went totally off script… and the output was all the better for it. It's great to have an agenda, and the template above gives you a starting point, but if it feels like the right thing to do is to delve into a particular area, then do it.
Strategy is too important to shortcut. If it feels like the meeting is taking longer, just say: "This feels like an important topic. Is everyone OK with staying with it for a little longer?" or "That isn't something we were going to cover today but it sounds like it's important that we get into it. Does everyone agree?"
Talk about what needs to be talked about. Strategy work takes time. The agenda is there as a guide but sometimes you just need to get it all out on the table.
5. Define success
What would a successful meeting look like? Sometimes it's going to be OK to just talk and debate until you get to the heart of your strategy. Other times you might want to go all in on a brainstorming session and success will look like 20 new ideas.
It might be that you want to gain agreement on three new projects or prepare an update to go to the next board meeting. Think about what would constitute a successful outcome and try to guide people towards that.
Your next steps
Agree the goals of your strategy meeting
Write the agenda
Socialize some of the ideas
Adequately prepare for the session so you feel ready to facilitate it
In this article you learned what to include in your strategy planning meeting agenda and what considerations go into planning a successful strategy workshop. Don't forget to grab a free action log template to record all the good stuff that comes out of your meeting. I hope it goes really well for you!
Pin for later reading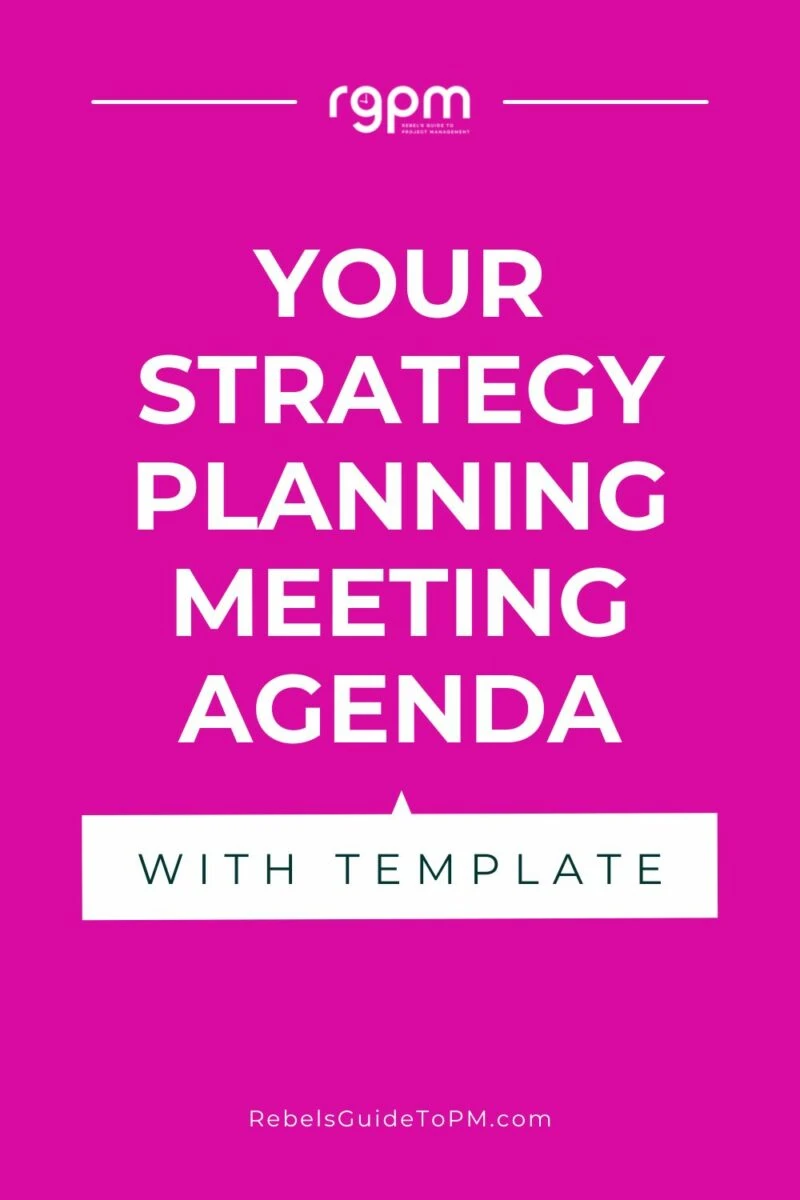 Project manager, author, mentor
Elizabeth Harrin is a Fellow of the Association for Project Management in the UK. She holds degrees from the University of York and Roehampton University, and several project management certifications including APM PMQ. She first took her PRINCE2 Practitioner exam in 2004 and has worked extensively in project delivery for over 20 years. Elizabeth is also the founder of the Project Management Rebels community, a mentoring group for professionals. She's written several books for project managers including Managing Multiple Projects .

The 4 Meeting Agendas that Drive Strategic Execution (Plus Guidebooks for Each)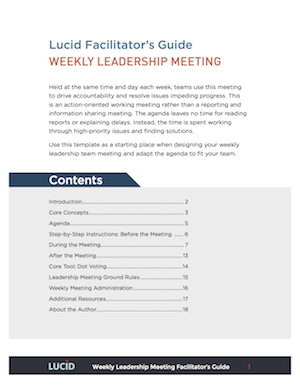 Introduction
The Dual Cadence of Leadership Meetings
The Leadership Team Meeting Agenda Templates
The Daily Huddle
The weekly leadership team meeting, annual strategic planning, the quarterly strategic refresh.
BONUS: The Monthly + Anytime Decision Making Meeting
How the Leadership Cadence Meetings Work Together
Additional Resources
1. Introduction
When we started Lucid Meetings , it wasn't because we were all excited about meetings.
It was because meetings are the most powerful tool, but also the most neglected, underdeveloped, and misapplied tool, we can use to create a healthy business.
The meetings aren't the goal. It's the well-run business that we're after.
Recently we've been exploring the science and theory behind what makes meetings successful.
You can read all about the core function of meetings , the underlying structures that make them work , and the science behind effective decision making in meetings on our blog.
Today, we're putting all that into practice. This post covers the core meetings that drive effective business management.
2. The Dual Cadence of Leadership Meetings
In his 2017 letter to shareholders , Amazon CEO Jeff Bezos emphasized the importance of accelerating decision making velocity. High-performing leadership teams make decisions rapidly, but not recklessly.
To do so, they need to understand the organization's overall strategy, so they can make decisions in line with that strategy. They also need to understand the context in which they operate, so their decisions can be implemented.
The leadership team's job is to make decisions that keep reality aligned with the strategy, and the strategy relevant to the day-to-day reality.
To make this work, they must act at two levels.
They work on the business , setting strategy, reviewing performance, and safe-keeping the organization's long term health. This is the strategic level, setting the organization's aspirations.
They work in the business , managing teams, monitoring programs, and clearing any roadblocks that get in the way. This is the operational level, grounded in the organization's reality.
These two levels of focus are deeply linked yet distinct. But the kind of thinking and decision making we need when resolving a logistics problem ( operations ) is not the kind of thinking we need when evaluating the threat posed by a looming budget shortfall ( strategy ).
The way a team talks about their work changes the work. If we talk about the big strategic challenges the same way we approach our day-to-day tasks, we waste unnecessary time on the small items and give the big ones short shrift.
This is why it's important to keep meetings at the operational and strategic levels separate.
The frequency of operational meetings drives the organization's work momentum.
Leadership teams hold operational meetings often to make sure all the moving parts stay coordinated and problems can be raised and solved quickly.
Frequent operational meetings also ensure that leaders know their reality. They do not let days of change and drift pass between check-ins; they have their fingers on the pulse.
The frequency of strategic meetings drives the organization's adaptability.
Adjust strategy too often and the organization flails. Wait too long, though, and the organization either stagnates by sticking with a plan that no longer works, or loses coherence as people forget the original strategy and become lost in the everyday minutiae.
This creates the following rules for leadership team meetings:
Keep operational and strategic meetings separate.
Hold operational meetings frequently. Weekly at a minimum.
Hold strategic meetings periodically. Quarterly at a minimum.
Plan for both. Strategy drives the operational reality, and a grounding in reality keeps the strategy relevant.
3. The Leadership Team Meeting Agenda Templates
The meeting agenda templates and guides outlined below provide a solid foundation for scheduling and running your leadership team's meeting cadence .
There are 5 meetings in the series.
The Operational Meeting Cadence:
The Strategic Meeting Cadence:
Quarterly Strategic Refresh
The Monthly + Anytime Decision Making Meeting
Before you invest the time figuring out if these meeting agenda templates will work for your team, let me address some questions you may have.
What can I expect from these meetings?
Running these meetings will change how you work together, how you feel about your work and how you feel about each other.
Teams that adopt this meeting cadence dedicate time to solving problems and making decisions together, and to using proven methods that result in the best decisions available to them.
This cadence increases transparency and accountability. It demands discipline and encourages constructive debate. It will challenge any team that isn't confronting their elephants.
These meetings demand more, and deliver more. They're also way more fun than the traditional soul-sucking staff meeting.
The templates themselves provide a framework for each meeting based on best practices. Each is a good example of how to approach that meeting, adapted from many other good examples.
How important is it that we follow a template exactly?
It isn't! These templates show one way to run each meeting. The facilitator's guide also includes tips for adapting each meeting and links to other good examples.
The specific agendas can and should change to match your team's work requirements, as long as you stick to a regular cadence and ensure each agenda you use achieves the goals for that meeting.
"The process is not the thing. It's always worth asking, do we own the process or does the process own us?" another gem from Jeff Bezos' 2017 shareholder letter
That said, before changing an agenda too much, make sure you're doing so for the right reason. While it may not feel natural at first, every agenda item in these meetings serves a results-oriented purpose.
What do I need to use these templates?
You need a strategy.
You need a way of measuring progress.
You need the discipline to work your strategy.
Your team needs the ability and willingness to raise and wrestle with hard issues.
Can I use these templates if my team doesn't have any of that?
Yes, but you'll have to adjust many of the agendas to find another way of discussing your progress.
If you lack a strategy or a way of measuring progress, we recommend starting there. For a simple soup-to-nuts approach, try Anna O'Byrnes Essential Strategic Planning Toolkit , which walks you through the basics and gets you some measurable goals.
Alternatively, start here and do some shopping: Navigating the Dozens of Different Strategy Options
If the team lacks discipline or constructive dialogue techniques, you can try establishing this meeting cadence as part of how you build that. Expect resistance. Coaching may help.
Books you might also find helpful: Five Dysfunctions of a Team , Crucial Conversations .
My ( leadership coach, executive consultant, favorite management book, etc. ) says we must ( use XYZ technique, measure ABC, etc. ) to succeed. Why isn't that included in your templates?
These templates are designed to work regardless of the specific strategic planning framework or management methodology you use. They provide an effective foundation for teams that don't have an established meeting practice, and inspiration for teams who need to try something new.
If your practice says you need to varnish the OKRs/Rocks/KPIs, please substitute those anywhere that we talk about scorecards and metrics below. If you need to establish quorum to start a meeting, or open with a prayer, please do.
You are free to color outside the lines.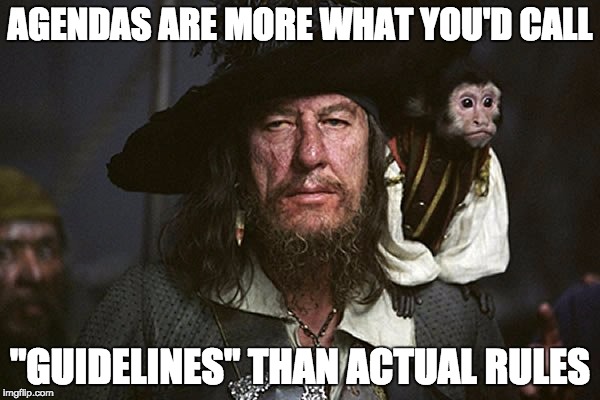 We've prepared facilitator guides for all the meetings described here, and put them together in a single packet that you can download at the end of the post. You can also get the guide for each individual meeting if there's one that interests you.
Let's take a look at these meetings in more detail.
4. The Operational Management Meetings
Driving day-to-day execution.
There are two meetings in the operational cadence; a short Daily Huddle and a longer weekly team meeting. Both meetings include time spent sharing information, ensuring all leaders work with the latest updates.
Both meetings also devote some time to building inter-team relationships, which helps the leadership group work well together. The main focus for these meetings, however, is problem solving.
The Daily Huddle is a short meeting designed to keep teams in synch and kick the day into gear. You may know it by its other name: the daily stand-up .
This meeting is administrative in nature, covering who's doing what today, where they're stuck, and any opportunities they can share.
Desired Outcomes
When run well, a Daily Huddle:
Eliminating a lot of email back-and-forth spent coordinating schedules, hand-offs, etc.
Answering the "What is Fred up to?" question
Relieving anxiety caused by uncertainty
People share info & resources that can help a colleague with an immediate problem
Teams prevent wasted or duplicative effort
Someone discovers a chance to learn or participate in a new activity
Getting someone help quickly when blocked
Re-routing dependent activity
Re-balancing assignments during crunch times
The Daily Huddle Process
Process: 15 minutes or less. Everyone stands if meeting in person.
When assembled, the group starts an informal go around. Each person shares:
Plans for the day
Stuck/Blocks and possibly
New key decisions or learning
Confidence on goal completion
Tips for the Huddle
The Huddle is for identifying obstacles and finding help. The problem solving itself happens after the Huddle between only those people who need to be involved.
If no one raises any issues for more than a few days in a row, probe harder. There are always issues, and this meeting is about finding them while they're still small.
Make sure people share any time when they plan to be unavailable, either due to work or personal commitments. This lets everyone else know to expect delays getting replies and plan accordingly.
For more details, download the facilitator's guide for running this meeting: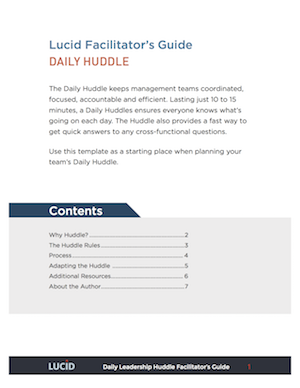 The Weekly meeting lasts 60 – 90 minutes, and is scheduled for the same time and day each week. In this meeting, teams drive accountability to the plan and identify and resolve issues impeding progress.
While there is some discussion of status and progress, this agenda keeps all that short. Instead, much more time goes directly into problem solving.
It's a very rewarding way to work, because not only do you stay up-to-date, you see that you're part of a group that can deal with issues and get stuff done.
When run well, a Weekly Leadership meeting:
Keeping strategic priorities visible
Revealing progress (or lack thereof) on goal achievement
Alerting the team to changes or trends that indicate a bigger problem
Dedicating time to resolving one or two blocking problems every week
Requiring that the most important issues get addressed, not ignored
Celebrating victories together
Sharing personal connections
Building trust through guided, constructive confrontation
Fostering a sense of accomplishment
The Weekly Leadership Team Meeting Agenda
Duration: 90 minutes
Welcome & Review Actions List (5 minutes)
Schedule Announcements (5 minutes)
Victories (5 minutes)
Review the Numbers (5 minutes)
Quarterly Priorities & Progress (5 minutes)
Identify Top Issues (5 minutes)
Tackle Top Issues (50 minutes)
Review and Confirm Actions List (10 minutes)
Tips for the Weekly Leadership Team Meeting
The first 5 agenda items reconnect the team with each other, their commitments, and the previously stated goals. This is how you keep accountability to execution front-and-center.
An issue or challenge has been addressed when the team decides on a course of action and assigns an owner and due date. To drive follow-up, you'll review this action list at the close and beginning of every weekly meeting.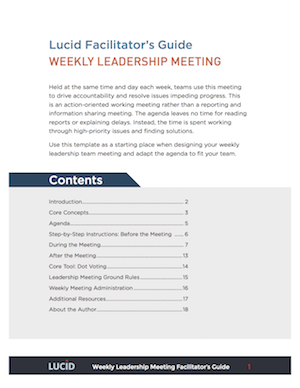 5. The Strategic Management Meetings
Driving the correct course of action.
There are three meetings in the strategic cadence: an Annual Strategic Planning meeting, a Quarterly Strategic Refresh, and the Monthly + Anytime Strategy meeting. The three meetings operate at different levels of detail and scope.
The Annual meeting establishes the high-level strategy for the coming year.
The Monthly + Anytime meeting solves a specific strategic challenge. This meeting can be scheduled any time it's needed (hence the name) and/or scheduled on a recurring monthly basis.
The strategic planning process is where teams paint their grandest visions. It is a time to imagine bright futures and think big thoughts, then wrestle these visions into a form that can be translated into action.
Most groups dedicate at least one to two days for strategic planning every year. In our case, we run strategic planning sessions as a set of short two-hour workshops.
Many larger organizations will spend weeks gathering input before leading a series of planning workshops that then produce annual, 5-year, and even longer-range plans.
What constitutes big or strategic? That's relative, and because it varies so dramatically from group to group, there is no one-size-fits-all approach to strategic planning.
The design for your Annual Strategic Planning sessions will depend on:
Whether you have an existing plan, or are starting from scratch
The stability of your organization and operating environment
The size and nature of the planning team
The time you can devote to planning
Our gallery has a sampling of Strategic Planning meeting templates appropriate for those of you who need a place to start.
You can pick and choose the ones you need, or run all of the meetings in this series:
Vision & Mission
Organizational Values
Goals & Strategies
The Essential Strategic Planning Toolkit (all meetings)
Stable groups might prefer Paul Axtell's Quick Strategic Refresh .
This meeting requires at least 4 hours to run, but while it's possible to cover the material in that time, it's not ideal. Where the annual planning meeting asks everyone to think big picture and long term, the Quarterly meeting requires that teams face their truths.
Are the organization's actions lined up with the vision? How well have the projections matched reality? What's going on in the outside world that means your plans need to change?
90 days—or one quarter—is long enough that teams can see results (or lack thereof). It's also long enough that it's become hard for everyone to keep the spirit of the original strategy fresh in their minds.
Quarterly Strategy meetings often raise questions about what the original strategy actually meant, as differences have had time to grow.
When possible, we recommend scheduling a 1 to 2 day off-site for this meeting. Moving off site helps the group step away from the day-to-day operations, and provides better opportunities for reinforcing the relationships you need in place in order to work through challenging questions.
When run well, a Quarterly Strategic Refresh meeting:
Revisiting the plan and clarifying definitions
Challenging assumptions
Reviewing recent events for impact to the overall strategy
Reviewing past performance against targets so new reality-based targets can be set
Documenting the specific programs and targets for every functional group in the coming 90 days
Celebrating victories and accomplishments
Sharing key learnings, goals and challenges
Working together to establish a 90 day plan to which the whole team can commit
The Quarterly Strategic Meeting Agenda
This is an outline only. You'll find more detail in the facilitator's guide.
Past quarter highlights
Key learnings
Goals for the day
Review Agenda
Review the overall strategy
Review quarterly progress
Review the open issues list
What went well and why?
What didn't go well and why?
What's changed in our overall context in the past 90 days?
What do we need to adjust in our approach for next quarter?
Checkpoint and LONG Break
Reconnect One-word phrase: How are you feeling about tackling the planning in front of us?
What do we specifically need to start, stop, and continue?
Define metrics: New quarterly targets, KPIs, etc
Define action plan: Who, What, When
Review Parking Lot
Confirm plans
Identify key messages to be shared with stakeholders
Anything else that needs to be said?
Offer appreciations
One-phrase review
Tips for the Quarterly Strategic Meeting
Take breaks every 90 minutes or so. This gives people time to talk in small groups and think through any hard issues. It also helps everyone stay more focused in the meeting, giving them a chance to check in on the day-to-day activity.
Keep the discussion structured but not rigid. You're a team of colleagues working together to drive your business – this should feel more like an intense meeting and less like an over-planned workshop.
If you have the time, add more to the agenda. The quarterly meeting can be a good time for the leadership team to evaluate key personnel, for example. A shared meal or two creates opportunities for deeper discussion and relationships.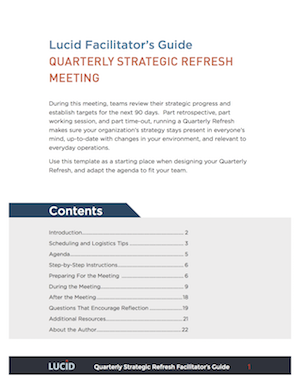 Does all that look like too much? Paul's Strategic Refresh is a shorter meeting that can be used as a Quarterly Refresh for groups that don't want or need to go this deep.
Last but not least, the Monthly + Anytime meeting dedicates time to deeply investigating and addressing a specific strategic challenge. The process follows best practices for problem solving and decision making with a group.
We call this an "anytime" meeting because it should be scheduled any time a serious strategic issue comes up. That said, we've included it in the leadership cadence because many organizations find it useful to put one of these meetings on the calendar every month – before a problem occurs.
Why schedule a problem solving meeting before you know you have a problem? Three reasons:
This is a longer meeting involving key decision makers in your organization. It can be very hard to get time on their calendar on short notice.
Without a monthly time reserved, it's tempting to tackle strategic issues during the weekly meeting, which sabotages the tactical nature of that meeting and leads to rushed and/or sloppy decision making.
There are always strategic challenges! New opportunities, new threats, hard decisions: c'mon! You know this stuff will come up, so you might as well have a plan for dealing with it.
When run well, a Monthly + Anytime Strategic meeting:
Establishing a clear understanding of the issue and goals
Driving healthy debate between informed options
Documenting the decision
Setting clear expectations about the decision authority and criteria
Using an inclusive process to hear from all voices
Defining next steps with identified owners and due dates
The Monthly + Anytime Strategic Meeting
Confirm purpose
Clarify the decision making process
Present the Decision Challenge
Debate & Discuss Options
Decide and Commit
Set next steps: who, what, when
Determine cascading messages: who needs to know what?
Set a date to review the decision outcome
Final review: anything that needs to be answered, said, or addressed?
Appreciations
Meeting feedback
Tips for the Monthly + Anytime Strategic Meeting
You can tackle more than one topic if they're not too large. This process is designed to tackle a single strategic challenge. If you want to tackle more than one topic, you will need to repeat steps 2 through 5 for each. Anticipate at least 30 minutes for each smaller decision.
Preparation is required. The team needs good information to make good decisions, which means someone has to do the research first.
Decide on the appropriate decision making process in advance. Learn more about that in our guide to Making Decisions in Meetings .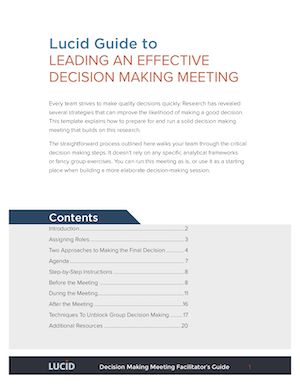 6. How the Leadership Cadence Meetings Work Together
Now that we've looked at the individual meetings in the series, let's see how they all work together to keep an organization humming.
A 90 (ok, 94) Day Schedule
Here's one way you might plan out this cadence for a quarter.
Days 1-2: All day Annual Strategic Planning (16 hours) Your team sets the strategy, annual priorities and target metrics for the first quarter.
Day 3: Daily Huddles begin. Huddles take 10 minutes. The Huddle is a short meeting with verbal reports, so no one needs any extra prep time.
Week 2 – 13:
In the first week, there isn't much to report. As the weeks go by, though, it gets easier to see which parts of the plan aren't working out as planned. Some issues are straightforward, so the team knocks those out in the weekly meeting. Others are harder, so they get put on the list for the monthly strategic meeting.
Held every day except Monday, when the team already spends 90 minutes together. After a few weeks of this regular check-in, you start to notice patterns. Maybe you discover that the different groups aren't working at the same pace, creating constant delays. Maybe some departments are crushing it and others always seem to be struggling. No big emergencies, but you've got a feel for the pulse and a sense for where you need to make adjustments in how the organization operates.
Weeks 4 and 9:
In one of the Monday meetings, your team brought up a problem or an opportunity that couldn't be resolved in 30 minutes. So in your Weekly Leadership meeting, you assigned one or two people to conduct more research and make recommendations.
The leaders researching the challenge dug into the details, and sent a report to everyone outlining the facts. They also worked with their teams and colleagues to find at least 3 viable options to decide between. Depending on the challenge, this could have taken hours or days – time spent making sure the team makes the best possible decision they can.
Not everyone on the leadership team needs to attend the Monthly Strategic meeting. If this month's challenge comes from the marketing department, and the safety lead doesn't really have any skin in that game, she may choose to bow out. Those who do participate make sure they've read the report in advance and come prepared, each spending up to an hour getting ready for the meeting.
At the end of the Monthly Strategic meeting, the team has a decision and a set of new action items to add to the list they'll review during next Monday's Weekly Leadership meeting.
Week 14 and it's been 90 days since your team set the strategic plan. With the Daily Huddles, you've learned the day-to-day rhythm of how work flows through the organization. The Weekly Leadership meetings have shown where the original plan is working well, and where it's not. You've been deeply involved in all the small, important work of execution.
Finally, during the Monthly Strategic meeting you've learned how to critically examine big issues and refine specific strategies.
Now it's time to pull back and look at the big picture. Given everything you've learned about each other, the organization, and the work at hand, what needs adjustment? What should the targets for this coming quarter be? Which big challenges do you still need to dig into? You'll dedicate Monday afternoon and Tuesday morning to refining the plan, enjoying a nice dinner in between.
After the Quarterly Strategic meeting, one person will make sure that the new targets are all set up so you can start reviewing them in next Monday's Leadership meeting.
… and repeat.
A 10% Time Investment That Drives Your Business
I did the math, and here's a surprise. While the plan above looks and sounds like a ton of time spent in meetings, it represents just 10% of a full-time employee's available time.
Actually, just under 10%; 4.9% spent in operational meetings (26.5 hours) and 5% in strategy sessions (27 hours) over the course of 13 weeks and 2 days (536 hours).
In reality, some people will spend more time than this. Anyone researching an issue for the Monthly Strategic meeting needs to spend considerable time there. Everyone needs to add another hour or two over the course of the quarter to prepare for the Weekly meetings by updating their metrics and action items.
And the Quarterly meeting requires yet another hour or two of prep from everyone involved. Annual Planning also takes more time – but far less in years 2 and 3 than it did before you put this cadence in place, because you're building and refining instead of starting from scratch.
This is an incredibly efficient approach to managing a business.
Personally, I've worked in environments without this structure where we spent WAY more time talking about our progress, lack of progress, and strategic challenges – rarely ever deciding on ways to solve our problems.
We just kept talking about them and pointing fingers and bemoaning how impossible it all was because we didn't know what else to do.
I'm happy to have learned a better way.
7. Next Steps
Lucid Meetings is a system designed to support a meeting cadence like this.
If you use or want to try out this pattern with your team, you should give our software a try. We have a template for each meeting described here that will make your setup, action item tracking, and meeting management a breeze.
You can also download our facilitator's guides to learn how to lead these meetings and run them however you see fit.
We have a guide for each meeting, and a packet that includes the guides to all the meeting templates mentioned in this post. Expect to kill some trees if you want to print it out; it's hefty stuff.
Finally, we developed this meeting cadence after lots of research and experimentation. We are building on the work of the many others who have gone before.
Our choices may or may not be right for you, so I've listed a selection of additional resources below. There you'll find lots of variations on this theme, and perhaps some alternate techniques that better fit your crew.
As always, comments, questions, and corrections are very welcome. Now go run a magnificent organization!
General FAQ
What is 'the dual cadence' of leadership meetings.
Leadership Teams must act at two levels.
They work in the business , managing teams, monitoring programs, and clearing any roadblocks that get in the way. This is the operational level, grounded in the organization's reality.
What are the five critical Leadership Team meetings?
The Daily Huddle (an operational meeting)
The Weekly Leadership Team Meeting (an operational meeting)
Annual Strategic Planning (a strategic meeting)
Quarterly Strategic Refresh (a strategic meeting)
The Monthly + Anytime Decision Making Meeting (a strategic and/or operational meeting)
What can I expect from these Leadership Team meetings?
How important is it that we follow your example template exactly.
It isn't! These templates show one way to run each meeting. The facilitator's guide also includes tips for adapting each meeting and links to other good examples.
What do I need in place before using your example templates?
Can i use your example templates if my team doesn't have discipline, why don't your example templates include my leadership coach's favorite techniques, how do the leadership cadence meetings work together.
You'll want to develop your own Meeting Flow Model that connects all the dots. We've provided a great starting point for you and you should probably begin with that. But in the end you'll want to make this your own ⏼ and we heartily encourage that!
8. Additional Resources
Business management.
Patrick Lencioni " Death by Meeting: A Leadership Fable…About Solving the Most Painful Problem in Business "
Geno Wickman, " Traction: Get a Grip on Your Business "
Verne Harnish , " Scaling Up: How a Few Companies Make It…and Why the Rest Don't (Rockefeller Habits 2.0) "
Peter Drucker, " The Effective Executive: The Definitive Guide to Getting the Right Things Done "
Meeting Design
Dick and Emily Axelrod, " Let's Stop Meeting Like This "
Rick Lent, " Leading Great Meetings: How to Structure Yours for Success "
Paul Axtell, " Meetings Matter: 8 Powerful Strategies for Remarkable Conversations "
The Role of Meetings in the Social Practice of Strategy
Articles and Blog Posts
The Art of the Huddle
Counter-Intuitive Leadership: Building Teams That Can (Accurately) Predict the Future (about the Weekly meeting)
The Importance Of Management Meeting Agendas (Before, During, & After)
Recognize and Plan for Results – The Quarterly Meeting
Effective Quarterly Meeting Planning
How to Make a Big Impact at Your Next Quarterly Meeting
The Big Lie of Strategic Planning
Five Steps to a Strategic Plan
Video: Dave Snowden – How leaders change culture through small actions
Strategy: Blog posts and templates
Debunking 4 Common Myths about Stand-Up Meetings
How often should you meet? Selecting the right meeting cadence for your team.
Making Decisions in Meetings
The Meeting Performance Maturity Model
Share this:
Categories: leadership & facilitation ​ strategy
Elise Keith
Related Posts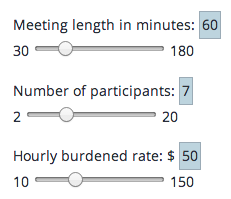 Measuring the Cost and Value of Meetings: Part III – Determining Meeting Value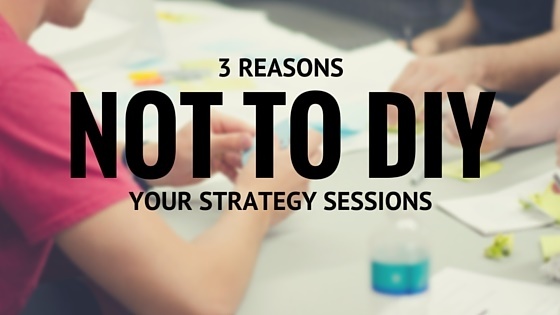 Why It's a Mistake to Run Strategy Sessions Yourself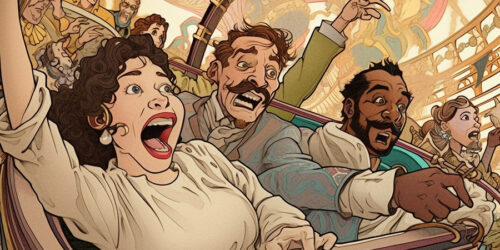 How I Learned to Stop Worrying and ❤️ Using AI in Meetings